By Bill Dawson
Texas Climate News
After Hurricane Ike struck Texas in 2008 and after Hurricane Harvey brought devastation to the state in 2017, Texas Climate News explored the possibility that those storms might change Texans' attitudes about climate change – to take its threats more seriously.
Last fall, a year after Harvey inundated much of Houston, we posed a related question in a series of four articles: Did Harvey change Houstonians' minds about climate change? In responses that we solicited from four keen observers of local attitudes in the city, we discovered evidence that it did.
Now, Rice University's annual Kinder Houston Area Survey has found that an apparently Harvey-inspired increase in Houston residents' concerns about climate change has held firm a year later.
Just a few months after Harvey hit Houston in 2017, the 2018 Rice survey found that 52 percent of Harris County residents viewed the threat of climate change as a "very serious problem" – a jump from 46 percent in 2016 and 39 percent in 2010.
In this year's survey results, released last week, the "very serious problem" view was held by 53 percent, essentially the same number as a year before. The 2019 survey was conducted Feb. 14 and March 4.
Consistent with the results explicitly dealing with climate change, basically the same number of respondents also agreed in 2018 and again this year – 76 and 75 percent respectively – that "it is almost certain the Houston region will experience more severe storms during the next 10 years compared to the past 10 years."
One of climate scientists' core projections about what human-caused disruption of Earth's climate will mean is that extreme weather events like severe storms will increase. Still, the Rice survey found the percentage of Houstonians that spontaneously named flooding as the city's biggest problem fell from 15 percent in 2018 to 7 percent this year, below traffic, crime and the economy.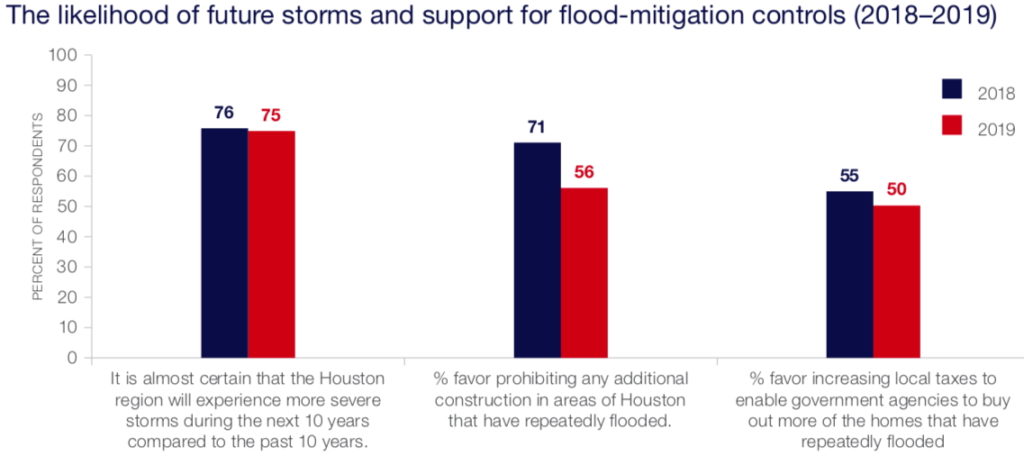 The survey also revealed a seeming disconnect between the concern evident in Houston residents' climate-specific attitudes and their support for relevant public policies in the zoning-free and historically laissez-faire city.
The percentage backing a ban on additional construction in areas with repeated flooding dropped substantially – from 71 percent in 2018 to 56 percent this year.
And the percentage who support higher local taxes so government agencies can buy out owners of more chronically flooded homes also dropped – from 55 percent to 50 percent.
The authors of the 2019 survey report noted drolly that "the instinctive resistance to an increase in government controls over the initiatives of the private sector is still firmly embedded, it would seem, in Houston's basic DNA."
It's not just in Houston, however, that there's an apparent mismatch between avowed climate concern and support for climate action.
Citing examples in the U.S. and other nations, Amy Harder, a reporter at Axios, observed this week that "more people around the world say they're worried about climate change — but that concern is not translating into a willingness to pay more for energy or vote for candidates supporting aggressive action on the issue."
+++++
Bill Dawson, no stranger to Houston's flooding problems, is TCN's founder and editor.
Image credits: Photo (slightly cropped) – J. Daniel Escareño / Flickr. Graphic – Kinder Institute for Urban Research, Rice University