By Bill Dawson
Texas Climate News
Two events on Tuesday – the release of a new national poll and the announcement that Donald Trump had picked Texas-based ExxonMobil's top official to be secretary of state – have set up a puzzling political divide on crucial climate issues as Trump prepares to take office.
On one side of that divide is Trump himself, who has harshly disparaged the vast scientific consensus on climate change – calling researchers' conclusions "a hoax" and "bullshit" – and, despite a little recent hedging, has not dropped his opposition to international and U.S. actions to fight manmade disruption of the planet's climate system.
On the other side, accepting the science and supporting pollution-reducing action to limit climate disruption, are large majorities of U.S. voters (according to the new poll) and Trump's own nominee to be secretary of state, ExxonMobil chairman and CEO Rex Tillerson, whose selection was announced the same day.
Leading environmentalists have greeted Tillerson's nomination with intense skepticism about the sincerity of statements that he and Exxon have made in favor of climate action in recent years, but those statements, sincere or not, at least contrast starkly with Trump's. That fact alone has prompted some energy analysts to speculate that the Exxon chief might influence the president-elect to change his mind on the climate issue – on some points, at least.
The new national poll was conducted by the Yale University Program on Climate Change Communication soon after Trump's victory in the Nov. 8 election. Here's a selection of some of its key findings, along with corresponding positions and statements by Trump and Tillerson.
Paris Climate Agreement
The Paris accord, which 195 nations including the U.S. endorsed last December, included voluntary national pledges to reduce atmosphere-warming carbon emissions from fossil fuels in an effort to avoid the worst projected climate consequences.
Trump harshly criticized the Paris agreement in his campaign and promised to cancel U.S. participation, though since the election he has said he has "an open mind" on the pact.
The Yale poll found that 69 percent of registered voters – 86 percent of Democrats, 61 percent of independents and 51 percent of Republicans – want the U.S. to continue to participate in the Paris agreement. The Republican figure included a plurality of conservative Republicans favoring participation – 40 percent said yes, 34 percent said no, 26 percent had no opinion.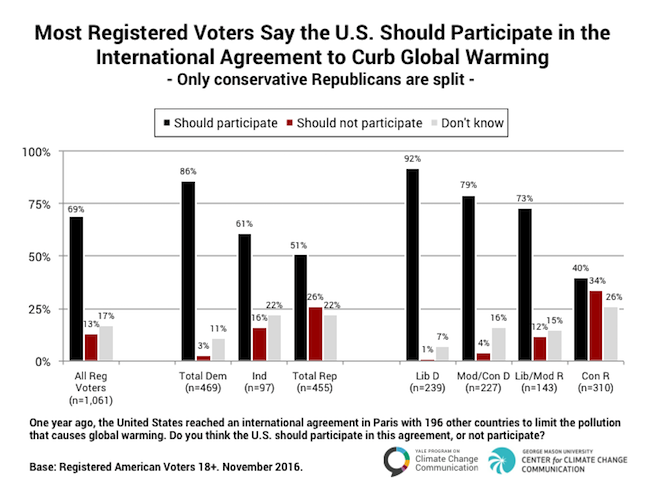 Tillerson and ExxonMobil have spoken out on several occasions in favor of the Paris pact and in contrast with Trump's dismissiveness about the dangers of climate change. In a speech on Nov. 7 in Abu Dhabi, United Arab Emirates, for instance, the CEO said this:
We continue to face the dual challenge of increasing global energy supplies while also reducing emissions. To many, this may seem difficult and even daunting. As industry's advancements are helping meet the supply challenge, it is important to note we are also working to mitigate the risks of climate change.
At ExxonMobil, we share the view that the risks of climate change are serious and warrant thoughtful action. Addressing these risks requires broad-based, practical solutions around the world.
Importantly, as a result of the Paris agreement, both developed and developing countries are now working together to mitigate greenhouse gas emissions, while recognizing differing national responsibilities, capacities and circumstances. The best hope for the future is to enable and encourage long-term investments in both proven and new technologies, while supporting effective policies.
Exxon issued a corporate statement supporting the Paris agreement on Nov. 4, the day it took effect (and four days before the election). The opening passage:
Today marks the entering into force of the Paris climate agreement. The agreement is an important step forward by world governments in addressing the serious risks of climate change.
ExxonMobil supports the work of the Paris signatories, acknowledges the ambitious goals of this agreement and believes the company has a constructive role to play in developing solutions.
If his cabinet nomination is confirmed by the Senate, Tillerson will play a crucial role regarding the future of the Paris agreement, which resulted from years of international negotiations, with U.S. participation in those talks led over the last eight years by secretaries of state Hillary Clinton and John Kerry.
Clean Power Plan
The Obama administration's Clean Power Plan is the central element in the United States' initial pollution-reduction pledge under the Paris agreement.
Halted in the courts, for now, by legal action by Texas officials and others, the plan sets limits on carbon emissions from existing coal-fired power plants and instructs states to come up with their own customized plans for meeting them. One way they might do that is by substituting lower-emission natural gas (a key product of Exxon) for coal.
The Yale poll revealed that 70 percent of all voters favor the basic element of the Clean Power Plan –  "strict" limits on coal-fired power plants' carbon pollution. (Eighty-five percent of Democrats, 62 percent of independents and 52 percent of Republicans expressed support).
Both Trump and Tillerson have opposed such legal limits, at least as embodied in the particular regulations included in the Clean Power Plan.
Trump campaigned on promises to rescind the Clean Power Plan and boost the U.S. coal industry (something that wouldn't be pleasing, if Trump manages to make it happen, to coal's competitors among natural gas producers).
Exxon and Tillerson, meanwhile, have criticized the Clean Power Plan despite its potential to increase the company's natural gas sales. In a speech last year to the National Association of Manufacturers, he called it "an unfortunate example of EPA exceeding its authority, and the plan will likely raise electricity rates for American consumers due to its prescriptive nature." That argument echoes statements by other industries.
Carbon tax
The Yale poll, revealed, however, that voters in general agree with Tillerson and Exxon – and strongly differ with Trump – on the idea of a tax on carbon dioxide emissions to combat climate change.
Voters and Exxon support a carbon tax. Trump has said emphatically (deploying one of his frequent exclamation marks in a Twitter pronouncement) that he will have nothing to do such a policy.
Differing versions of a carbon tax are typically promoted as a superior pollution-reducing alternative to regulations such as those in the Clean Power Plan.
Unsurprisingly for a man who has said the very problem that a carbon tax targets is "bullshit," Trump tweeted on May 13: "I will not support or endorse a carbon tax!"
That puts him at odds with voters, according to the Yale poll's findings. Seventy-eight percent said they "support taxing global warming pollution, regulating it, or using both approaches, while only one in ten opposes those approaches," the Yale sponsors of the survey reported.
On a separate question, 66 percent of voters – 81 percent of Democrats, 60 percent of independents and nearly half (49 percent) or Republicans – supported imposing a carbon tax on fossil-fuel companies, with the proceeds reducing other taxes such as the federal income tax. Such a plan is often called a "revenue-neutral carbon tax." Self-described conservative Republicans were the only party sub-group opposing such a plan, with just 39 percent in favor.
Responding to the Paris agreement last December, Exxon laid out a number of principles it favors to "put a tax on greenhouse gas emissions" in pursuit of the agreement's pollution-reducing goal, and added:
A revenue-neutral carbon tax is the best option to fulfill these key principles and could be a workable policy framework for countries around the world. It is the policy most likely to preserve the ability of every sector of society to find new efficiencies and develop effective technologies.
Tillerson closely echoed that statement in a speech in October in London:
We have long supported a carbon tax as the best policy of those being considered. Replacing the hodge-podge of current, largely ineffective regulations with a revenue-neutral carbon tax would ensure a uniform and predictable cost of carbon across the economy. It would allow market forces to drive solutions. It would maximize transparency, reduce administrative complexity, promote global participation and easily adjust to future developments in our understanding of climate science as well as the policy consequences of these actions.
Activists' skepticism, then and now
While Exxon has, at least in public pronouncements, supported a carbon tax for a number of years, climate-action critics of the company's general record on climate change have questioned whether that support is genuine in light of the company's longer history on the issue.
Wikipedia summarizes a part of that history that Exxon's critics still frequently cite:
After the 1980s, the company was a leader in climate change denial, opposing regulations to curtail global warming. ExxonMobil funded organizations critical of the Kyoto Protocol [a predecessor to the Paris agreement] and seeking to undermine public opinion about the scientific consensus that global warming is caused by the burning of fossil fuels. Exxon helped to found and lead the Global Climate Coalition of businesses opposed to the regulation of greenhouse gas emissions.
Exxon says it stopped funding of climate-change-denial organizations in 2008. But critics have continued to highlight its recently revealed record of what they charge was the improper withholding of its own scientific findings about the risks of climate change from its shareholders (an issue under investigation by New York,  Massachusetts and other states) and the company's continuing campaign contributions to politicians opposing climate action.
Bill McKibben, a prominent writer on environmental subjects and the founder of a leading climate-action group, 350.org, in an interview about Tillerson's nomination to join Trump's cabinet, scoffed at Exxon's stated support for the Paris pact and a carbon tax (also called "a price on carbon") in the United States:
No serious thinker believes that they mean a word of it, especially because they've continued to dump all their very large political contributions straight into the laps of politicians who've made it clear they oppose anything to do with carbon pricing or anything else. We're clearly not going to get any of that out of a Trump administration.
Many climate scientists and climate-action proponents have said a rapid transition from the use of all fossil fuels to cleaner energy sources is needed if humanity is to prevent the worst impacts of a changing climate. Exxon, however, has repeatedly indicated recently that it favors more use of natural gas (the cleanest burning fossil fuel) and the development and dissemination of technology to capture and bury carbon emissions, without any rapid phase-out of oil use.
Texas Climate News' Randy Lee Loftis reported on the company's 2016 shareholder meeting in May:
Michael MacCracken, chief scientist for climate-change programs at the nongovernmental Climate Institute in Washington, D.C., spoke on behalf of a shareholders' group. He pressed Tillerson to admit that a 2-degree C limit [on global warming since the 19th century – the key goal of the Paris agreement] is not nearly strict enough to hold off catastrophic damage, a position many scientists hold, and that CO2 emissions – and therefore oil consumption — have to drop much more than the company says.
Oil, the CEO responded, will continue to remain the world's main energy source – "for as far as we can see."
Opponents of Tillerson's confirmation as secretary of state have stressed the possible conflicts-of-interest questions he would face over his successful global deal-making for Exxon as the company's chief executive and before he assumed that position. His company stock holdings and pension plan were worth nearly $300 million earlier this year.
One of Tillerson's deals that has gotten considerable media attention in recent days is an agreement with the Russian state oil company to explore for and produce oil in Siberia. Now on hold because of U.S. sanctions on Russia, the arrangement could lead to a massive surge of new production, reportedly worth tens to hundreds of billions of dollars, if the Trump administration lifts those sanctions.
+++++
Bill Dawson is the founder and editor of Texas Climate News.
Image credits: Photo: Office of the president of Russia via Google Images; chart: Yale University.