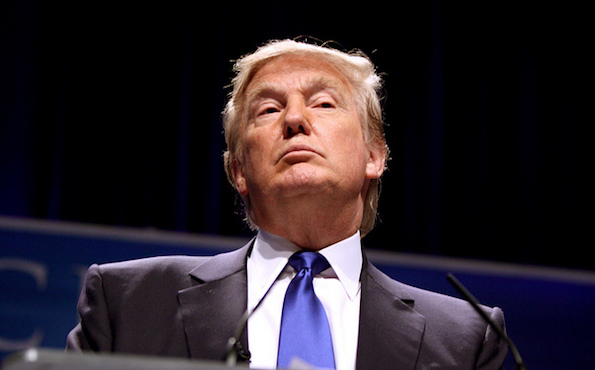 Update: The following article was based on very brief excerpts of Donald Trump's remarks to New York Times staff members that the newspaper reported shortly after the interview. Subsequently, the Times published a complete transcript of the exchange. In it, Trump, a longtime scoffer at climate science and foe of climate action, repeatedly said he has "an open mind" on the subject. But he also echoed longstanding arguments against action to limit manmade climate disruption – suggesting incorrectly, for instance, that major uncertainty and disagreement remains among climate scientists: "It's one issue that's interesting because there are few things where there's more division than climate change. … It's a very complex subject. I'm not sure anybody is ever going to really know."
+++
By Bill Dawson
Texas Climate News
As TCN has noted in the days following his upset election, Donald Trump has been poised to enter the White House as denier-in-chief when it comes to climate science and manmade climate change.
He has a long record of denouncing pollution-driven global warming in the strongest terms – as a "hoax" and "bullshit" – and fiercely opposing action to combat it.
Just Monday night, Trump's YouTube video outlining his key plans in a number of areas included reiteration of campaign promises to do away with the Obama administration's initiatives to reduce climate-disrupting emissions of greenhouse gases.
Those actions by Obama, particularly his Clean Power Plan to reduce coal use in electricity production, are in sync with the United States' voluntary emission-reduction pledge in last year's Paris Climate Agreement.
On Tuesday morning, less than 24 hours after releasing the video, Trump shockingly seemed ready to veer away from his hard-line positions on climate change and the use of fossil fuels, which is causing it. Now, it appears, Texans and others with a keen interest in federal climate policies – from environmental activists to electric-utility planners – will have to wait for clarity that they thought they already had on the new president's basic stance and intentions.
In a group interview with New York Times journalists, Trump offered these highly surprising responses to questions about climate and energy:
Asked if human actions are linked to climate change, as the world's scientific community has concluded in a vast and strong consensus, Trump said, "I think there is some connectivity. Some, something. It depends on how much."
("Some connectivity" may be a sizable step beyond "hoax" and "bullshit," but it's still far away from the prevailing scientific view. The Intergovernmental Panel on Climate Change, the world's leading scientific body on the subject, declared in its latest major report two years ago that atmospheric and ocean warming is "unequivocal" and it is "extremely likely" human influence has been the main cause since the mid-20th century. Numerous leading scientific organizations in the U.S. and around the world endorse this conclusion.)
Asked about his pledge to pull the U.S. out of the Paris accord, which was signed by 195 nations and is widely regarded as perhaps the world's last chance to avoid catastrophic impacts from climate change, Trump replied, "I'm looking at it very closely. I have an open mind to it."
At the same time, however, Trump echoed a longstanding Republican argument on the issue of international climate pacts when he said he is paying attention to the economics of efforts aimed at curbing climate change –  "how much it will cost our companies" – and to the financial impacts on U.S. competitiveness in world markets.
Time alone will tell if the president-elect's altered language on the climate issue reveals an altered outlook that will prevail in policy decisions when he's in office. Presidents have a way of zigging and zagging on issues, not to mention making U-turns.
For instance: The last Republican in the White House, George W. Bush, promised to reduce planet-warming carbon dioxide from coal-fired power plants in his 2000 campaign against Democrat Al Gore.
But just a few weeks after he took office in 2001 as a result of the Supreme Court's 5-4 decision to shut down the ballot recount in Florida, Bush essentially said, never mind. Urged to drop the CO2 pledge by Vice President Dick Cheney, Bush did just that – and then didn't launch any significant climate-action initiatives in his eight years as president.
As for Trump, it's probably best to keep in mind that, changing language or not, the man heading his transition team for the Environmental Protection Agency – Myron Ebell, a non-scientist who works at the libertarian Competitive Enterprise Institute – has built a reputation over many years as one of Washington's strongest and most tireless critics of climate science and opponents of climate action.
+++++
Bill Dawson is the founding editor of Texas Climate News.
Image credit: Gage Skidmore / Flickr. Used under a Creative Commons license.