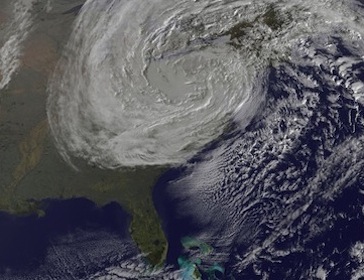 Back in November 2008, Texas Climate News' very first article asked "whether Hurricane Ike, which roared across the upper Texas coast in September … will combine with the memory of other recent storms in Texas and Louisiana to help propel Texans toward new ways of thinking and behaving with regard to climate change and sustainability."
This week, Hurricane Sandy's devastation, particularly in the New York City area and elsewhere in New Jersey, is prompting similar questions – both for that region and the nation as a whole – as climate-action advocates try to use the storm to mobilize support for their lagging cause.
It seemed four years ago that Ike might well lift climate-change concerns upward on the Texas agenda. Some thought the 2009 session of the state Legislature, for instance, appeared poised to take bipartisan action explicitly based on an acknowledgment of the scientific and political realities of climate change – a growing scientific consensus about human influence on the climate system and a newly elected president, whose Democratic Party had won control of both houses of Congress, pledging dramatic climate action.
Factors including an unfolding economic crisis, however, meant the Legislature did not meet those expectations. And in succeeding years, Texas' top political leaders became national champions of a sometimes mockingly skeptical dismissal of the science of climate change and a fierce legal and political assault on federal regulatory efforts to limit greenhouse emissions. Those leaders' actions paralleled a growing skepticism about climate science and action that polls documented, particularly in their Republican Party.
Perhaps the most ambitious responses to flooding concerns raised by Ike were a pair of dueling and still-pending proposals to limit damage in the Houston-Galveston region and elsewhere along the Texas coast from storm surges accompanying future hurricanes.
Neither of the two proposals – the surge-blocking network of structures of the Ike Dike, conceived by a professor at Texas A&M University–Galveston, and the surge-buffering wetlands at the heart of the Lone Star Coastal Recreation Area, conceived at a Rice University center – has come to fruition yet.
At the same time, neither project's proponents appear to be making their case with any substantial effort to appeal to concerns about the stronger tropical storms that scientists project will accompany a changing climate or the more destructive storm surges that they expect to be caused by sea levels rising because of the same climate trend.
A search by Texas Climate News this week found no references to climate change or sea level rise in the most prominent materials posted by sponsors of the recreation area proposal at the website of the non-profit Houston Wilderness organization; the Ike Dike website maintained by its original proponent, the A&M-Galveston marine sciences professor William J. Merrell, or in a recent article by A&M's TAMU Times that promotes the Ike Dike as "a solution for saving lives and preventing storm damage."
Challenges for climate-action supporters
None of that means, of course, that Sandy's impacts won't necessarily do more to boost consciousness, concern and action directly linked to climate change. This week's storm has been receiving enormous media coverage, undoubtedly due in part to the fact that it slammed into the nation's largest metropolitan area and media capital. Also, recent national polls have shown declining skepticism about climate change.
Still, those favoring action against climate change face major challenges in highlighting Sandy – and linking it to other extreme weather events such as the drought conditions of 2011 and 2012 – as a result or at least cautionary harbinger of a climate being disrupted by global-warming pollution.
Climate-action advocates have long cited the threat of more numerous and more intense weather extremes as one of their arsenal of arguments for reducing greenhouse emissions and at the same time preparing for future shifts that scientists say are already locked into the earth's climate system because of past and present emissions.
The complexities and uncertainties of climate science – features it shares with all scientific inquiry – have made the advocates' job difficult, however, and have been constantly trumpeted by their adversaries among climate-change skeptics, contrarians and deniers.
Scientists' comments about Sandy have underscored that feature of the climate-policy debate – their unwillingness to say, declaratively and definitively, what the influence of manmade climate change on the hurricane was.
Taking to Twitter, the Texas Tech University climate scientist (and climate-action advocate) Katharine Hayhoe, issued these three messages (reproduced here with her truncations for Twitter's 140-character-per-tweet limit):
We can't attribute any individual event to long-term climate change. However there are at least 3 ways climate change has made #Sandy worse:
1. Sea level is 7″ higher now compared to 100y ago. 2. About 15% of the unusually warm sea sfc temps fueling Sandy are result of climate chg
3. did 2012 record Arctic sea ice loss contribute to huge High over Greenland, steering #sandy into the coast instead of out to sea? TBD!
Associated Press science writer Seth Borenstein, a veteran of the climate-science beat, reported that "… climate scientists have been warning about the risk for big storms and serious flooding in New York."
A 2000 federal report about global warming's effect on the United States warned specifically of that possibility.
Still, they say it's unfair to blame climate change for Sandy and the destruction it left behind. They cautioned that they cannot yet conclusively link a single storm to global warming, and any connection is not as clear and simple as environmental activists might contend.
"The ingredients of this storm seem a little bit cooked by climate change, but the overall storm is difficult to attribute to global warming," Canada's University of Victoria climate scientist Andrew Weaver said.
Some individual parts of Sandy and its wrath seem to be influenced by climate change, several climate scientists said.
Borenstein went on to note these specific aspects of climate change that may have played a role – sea level rise, warmer Atlantic Ocean temperatures, a "warmer-than-normal Gulf Stream," and "more hurricanes late in the season and even after the season."
He added: "After years of disagreement, climate scientists and hurricane experts have concluded that as the climate warms, there will be fewer total hurricanes. But those storms that do develop will be stronger and wetter."
Pre-disaster warnings for Galveston, New Orleans … and New York
As with Ike, before it flooded Galveston, and as with Hurricane Katrina, before it even more catastrophically inundated New Orleans in 2005, there were warnings that climate change could mean bigger hurricane hazards.
Seven weeks before Sandy struck, the New York Times reported on the situation in its hometown:
So far, Mayor Michael R. Bloomberg has commissioned exhaustive research on the challenge of climate change. His administration is expanding wetlands to accommodate surging tides, installing green roofs to absorb rainwater and prodding property owners to move boilers out of flood-prone basements.
But even as city officials earn high marks for environmental awareness, critics say New York is moving too slowly to address the potential for flooding that could paralyze transportation, cripple the low-lying financial district and temporarily drive hundreds of thousands of people from their homes.
Only a year ago, they point out, the city shut down the subway system and ordered the evacuation of 370,000 people as Hurricane Irene barreled up the Atlantic coast. Ultimately, the hurricane weakened to a tropical storm and spared the city, but it exposed how New York is years away from – and billions of dollars short of – armoring itself.
Perhaps signaling a growing willingness by politicians to talk explicitly about climate change in Sandy's wake, both Bloomberg and New York Gov. Andrew Cuomo were doing just that.
Cuomo: "There has been a series of extreme weather incidents. That is not a political statement, that is a factual statement. Anyone who says there is not a dramatic change in weather patterns is denying reality. … We have a 100-year flood every two years now. We have a new reality when it comes to these weather patterns. We have an old infrastructure and we have old systems and that is not a good combination."
Bloomberg: "What is clear is that the storms that we've experienced in the last year or so around this country and around the world are much more severe than before. Whether that's global warming or what, I don't know. But we'll have to address those issues."
[Update, Nov. 1, 2012: After this article was posted, Bloomberg announced that he was endorsing President Barack Obama for re-election because he believed Obama was the candidate best-suited to address climate change. The New York Times quoted the mayor: "The devastation that Hurricane Sandy brought to New York City and much of the Northeast — in lost lives, lost homes and lost business — brought the stakes of next Tuesday's presidential election into sharp relief. Our climate is changing. And while the increase in extreme weather we have experienced in New York City and around the world may or may not be the result of it, the risk that it may be — given the devastation it is wreaking — should be enough to compel all elected leaders to take immediate action."]
Meanwhile, climate-action proponents who are not elected officials are hoping that this hurricane will provide the jolt for their cause that Ike did not.
Phil Plait, an astronomer and writer, noted on his Discover Magazine blog that he had already seen some "political opportunism" attached to Sandy, but added:
I am not a fan of such parasitism; latching on to an opportunity under the thinnest of pretense to trump a partisan view. However, let me be clear: we just had the world's biggest metaphor come ashore in the United States. Years of outright climate change denial and faux skepticism will hopefully be shaken by this event. Sea ice melting happens far away; droughts, fires, shifting weather is unpredictable and difficult to grasp; statistical graphs are easily manipulated by special-interest groups and generally difficult to interpret anyway. But a hurricane a thousand miles across doing tens of billions of dollars of damage and causing untold chaos is more than a wake up call.
It should be a shot of adrenaline into the heart.
– Bill Dawson
[Disclosure: William J. Merrell, originator of the Ike Dike proposal, is a member of the board of directors of the non-profit, non-partisan Houston Advanced Research Center, which publishes Texas Climate News. Merrell is George P. Mitchell '40 chair in marine sciences at Texas A&M University-Galveston. Mitchell, a prominent businessman, was HARC's founder. The proposal for the Lone Star Coastal Recreation Area was developed by the Severe Storm Prediction, Education and Evacutation from Disasters (SSPEED) Center at Rice University with funding from Houston Endowment, a major philanthropy. Houston Endowment has been the principal funder of Texas Climate News since the magazine's launch. Texas Climate News is independently written and edited by journalists who are not HARC employees and who make all editorial decisions without direction or influence by HARC, its funders or affiliates.]
Image credit: NOAA/NASA GOES Project