Our readers have played a big part in keeping Texas Climate News alive for 11 years. Your contribution will help us continue. Donate here.
+++
By Bill Dawson
Texas Climate News
Hard though it is for me to believe, Texas Climate News has just turned 11 years old.
I founded what I decided to label a "magazine about climate and sustainability" in 2008 without any thought to whether it would survive this long.
If I had paused to wonder, the chances of this nonprofit news outlet lasting this long wouldn't have seemed good. American journalism was already struggling mightily. In both its for-profit and not-for-profit incarnations, it still is struggling in a multitude of ways.
Ponder the somber findings that the Pew Research Center announced in July:
Newsroom employment across the United States continues to decline, driven primarily by job losses at newspapers. And even though digital-native news outlets have experienced some recent growth in employment, they have added too few newsroom positions to make up for recent losses in the broader industry, according to a Pew Research Center analysis of Bureau of Labor Statistics Occupational Employment Statistics survey data.
From 2008 to 2018, newsroom employment in the U.S. dropped by 25 percent. In 2008, about 114,000 newsroom employees – reporters, editors, photographers and videographers – worked in five industries that produce news: newspaper, radio, broadcast television, cable and "other information services" (the best match for digital-native news publishers). By 2018, that number had declined to about 86,000, a loss of about 28,000 jobs.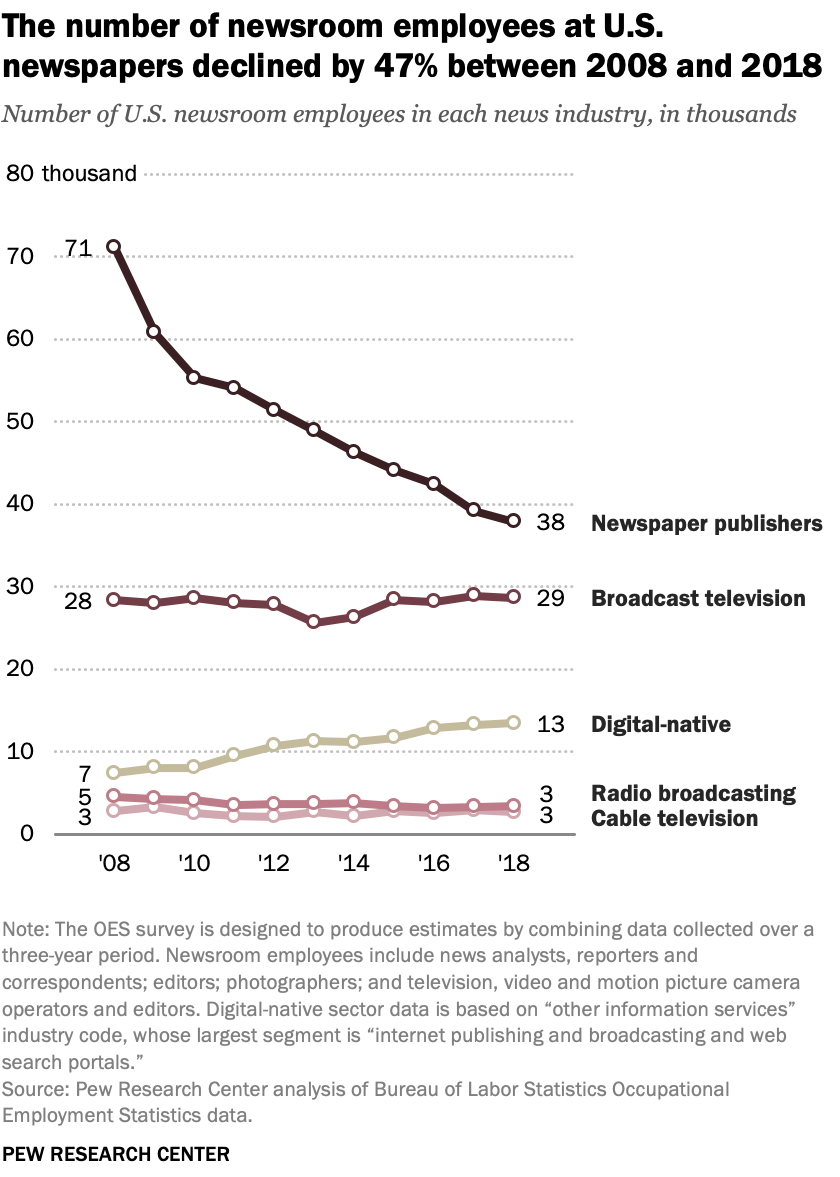 The causes are manifold and far too complex to do justice to here. The internet – and people's expectation of free content there – is a big part of it. But it's only one of many reasons. That and the other sources of journalism's troubles have been examined elsewhere, thoughtfully and thoroughly. For one recent example, see this New Yorker article: "Does journalism have a future?"
Whatever the causes, to my mind (and to many others), the most important result of the trend documented by Pew is the growing threat to American democracy posed by the decline in fact-based news reporting and news analysis.
I touched on that concern when I presented this thought in late 2008 when I introduced TCN to the world: "Reporting about complex issues such as climate change and sustainability nourishes the ability of citizens in a democratic society to understand and deal with the challenges they pose."
In the 11 years since then, climate science has marched on, its findings and conclusions underscoring, in a solidifying consensus, the growing seriousness, scope and urgency of those challenges. Researchers have calculated, for instance, that human disruption of the climate system aggravated Hurricane Harvey in 2017 and Texas' record-setting drought and heat wave of 2011.
Perhaps at least partly in reaction to those and other extreme weather events that have struck Texas in recent years, 65 percent of 1,660 Texas registered voters told opinion researchers from Yale and George Mason universities a few months ago that they now support government action to address climate change.
However, as we reported in legislative coverage earlier this year, state-level officials in Texas have continued to be anything but keen on climate action. But as we also reported in 2019 and will continue to follow in 2020, it's a different story altogether in Texas' major cities. There, municipal officials are forging climate action plans to reduce climate-altering pollution and adapt to the impacts that are happening already and projected to increase.
Here's my explanation of TCN's inaugural mission in 2008. It still expresses what we strive to do today:
Our goal is to enhance Texas citizens' knowledge and understanding of important developments in science, government, business, citizen action and other areas. We want to help inform the public dialogue that's unfolding as Texans confront a changing climate and work to build more sustainable futures for themselves and their descendants.
"Nonprofit initiatives like this one," I added, "are gearing up across the country in an effort to replace some of the public-affairs coverage that's vanishing as commercial news organizations eliminate more and more jobs."
We produce this website on what it's safe to say would be considered by just about anyone to be an extremely modest budget. We rely on the generous financial support of readers to help us continue this work in the public interest. To those of you who have contributed in the past and to anyone who wants to contribute now, please know you have our deep appreciation.
And to everyone: Best wishes for this winter holiday season and in the new year.
+++++
Bill Dawson is the editor of Texas Climate News. He started covering climate change in Texas in 1988 while he worked for the Houston Chronicle.
Image credits: Logo – Texas Climate News. Chart – Pew Research Center.