By Bill Dawson
Texas Climate News
Is the climate issue poised for a historic breakthrough – from an era of persistent debate and piecemeal response into sweeping, concerted action?
Bill McKibben, the activist, writer and teacher who has been a prominent voice for climate action since the 1980s, thinks so. He commented last week in The New Yorker:
Having followed the issue closely since I wrote my first book about climate change, thirty years ago, I think I can say that we're in a remarkable moment, when, after years of languishing, climate concern is suddenly and explosively rising to the top of the political agenda. Maybe, though not certainly, it is rising fast enough that we'll get real action.
McKibben, like others, was struck by a particular result in a new CNN poll. It was a dramatic departure from opinion surveys' usual finding over many years that the U.S. public typically assigned a very low priority to man-made climate disruption among issues that concern them.
In contrast, the new CNN survey taken from April 25-28 found Democratic voters now rank climate change as their issue of top concern. Ninety-six percent said "taking aggressive action to slow the effects of climate change" is very or somewhat important to them.
"Providing health insurance for all Americans through the government" was ranked second at 91 percent and "taking executive action if Congress fails to pass stricter gun laws," was in third place at 85 percent.
Democratic candidates for president are rolling out major climate-action proposals while some Republican politicians, reluctant to embrace even modest measures to reduce climate-warming pollution until recently, have begun to talk about addressing the issue.
The New York Times reported last week that there are signs of "an important shift among Republicans in Congress." The article elaborated:
Driven by polls showing that voters in both parties — particularly younger Americans — are increasingly concerned about a warming planet, and prodded by the new Democratic majority in the House shining a spotlight on the issue, a growing number of Republicans are now openly discussing climate change and proposing what they call conservative solutions."
One example of the kind of polling cited by the Times was a March 8-20 survey by Harvard's Institute of Politics that found growing support for climate action among Americans aged 18-29.
By a 30-point margin (46 percent to 16 percent), the young respondents agreed that the "government should do more to curb climate change, even at the expense of economic growth." In the 2015 edition of their Youth Poll, the Harvard researchers found only a nine-point margin – 32 percent agreed with that statement and 23 percent disagreed.
Seventy-three percent of this year's young poll respondents told the Harvard researchers they disapproved of Donald Trump's handling of climate change. Forty-five percent said climate change is "a crisis and demands immediate action," while 25 percent called it "a problem" that doesn't warrant "urgent action now."
Efforts by climate-action advocates to frame climate disruption explicitly as a "crisis" in the public mind – Al Gore has used that word for years – may be achieving greater success now with increasing use of "crisis" and "emergency" to describe the situation.
Recent events in the U.K. demonstrated this interplay of activism, public opinion and political action.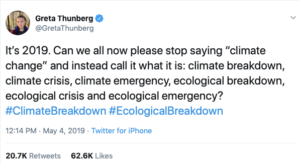 Last month, Greta Thunberg, the 16-year-old Swedish activist whose solitary protests launched a movement for "climate strikes" by hundreds of thousands of students worldwide, used both "crisis" and "emergency" in a speech to the British Parliament. So did participants in disruptive London sit-ins by a non-violent action group called Extinction Rebellion that drew international attention.
A few days later, poll results indicated nearly two-thirds of Britons (63 percent) agreed the world is in a "climate emergency." The day after the poll's release, Parliament endorsed a Labour Party resolution to formally declare that such an emergency exists. It was adopted without opposition from the ruling Conservative party.
Labour leader Jeremy Corbyn said approval of the resolution would spark "a wave of action from parliaments and governments around the globe" and send a message to Trump, who mocks climate science and opposes climate action. The Conservative government's environment secretary, Michael Gove, agreed that "the situation we face is an emergency" and called for collaboration by all British parties so the nation can lead the world in combatting climate change.
A rapid transition to renewable energy sources is at the heart of almost all proposals for major action against climate change, but another recent poll indicates a significant partisan divide still exists on that issue in the United States.
Ninety-two percent of Democrats said they favor producing 100 percent of electricity from renewables like wind and solar "in the future," eclipsing the 27 percent of Republicans who agreed. Fifty percent of Republicans said shifting to all-renewable electric power is "costly and unnecessary."
Fifty-five percent of all respondents (including 55 percent of independents) favored moving to 100 percent renewable power. The survey was commissioned by a pro-renewables group and conducted March 5-6.
Other recent poll findings are also consistent with the possibility that coalescing momentum could be setting the stage for major action, as McKibben said he thinks may finally happen.
A poll by Pew Research Center from March 27 to April 9 found 59 percent of Americans think climate change is already affecting their local community "a great deal or some."
And a national poll by NPR, conducted March 21-22, found that 81 percent of U.S. parents agree that "schools should teach about climate change and its impacts on our environment, economy and society."
+++++
Bill Dawson is TCN's founding editor.
Image credits: Extinction Rebellion (photo), Greta Thunberg/Twitter (tweet)