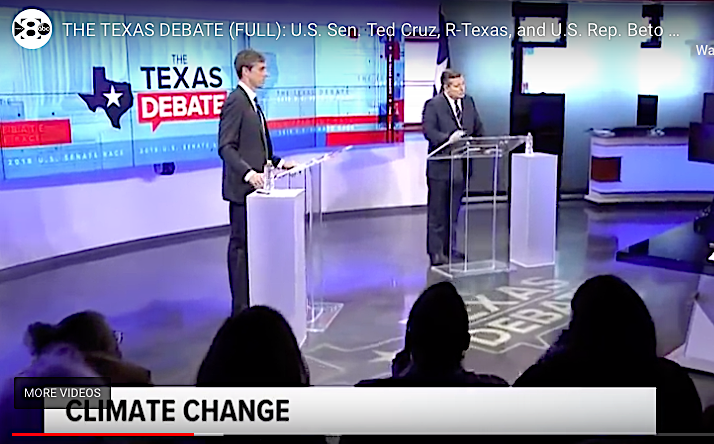 By Bill Dawson
Texas Climate News
Concern about manmade climate change – how to limit it, how to get ready for it – originates in a sweeping, worldwide, scientific consensus:
The earth's climate is being dangerously disrupted by warming of the atmosphere. That warming is mainly being caused by greenhouse pollution in the form of carbon dioxide and methane from humanity's use of coal, oil and natural gas.
The stark disagreements over the climate issue between Republican Ted Cruz and Democrat Beto O'Rourke start with the enormous difference in their views on that scientific consensus.
Cruz, the incumbent Texas senator seeking reelection, has consistently rejected and challenged the consensus, saying public acceptance of the international scientific community's conclusion that humans are causing climate change is akin to "a religion."
O'Rourke, the U.S. House member from El Paso running against Cruz, accepts the scientific consensus. "The climate is changing. And man-made climate change is a fact," he said in the candidates' second debate last month. Scientists, O'Rourke added, "tell us that we still have time but the window is closing to get this right."
+++
Cruz and O'Rourke debated climate change last month
+++
He didn't explicitly refer to the most recent report from the Intergovernmental Panel on Climate Change (IPCC), the world's leading scientific body on the subject, in the Oct. 16 debate, but his "window is closing" statement was consistent with it.
Issued on Oct. 8, the IPCC report warned that limiting harm by keeping the global average temperature from rising more than 1.5 degrees C (2.7 degrees F) will require "rapid, far-reaching and unprecedented changes in all aspects of society" to eliminate nearly half of the emissions of carbon dioxide, the main human-produced greenhouse gas, in just the next 12 years.
In the debate, Cruz did not attack the mainstream scientific consensus, updated in the IPCC report, as he has done in the past. His attacks have drawn firm rebuttals from climate scientists, in one key instance from a researcher whose work Cruz had cited as a basis for challenging the consensus.
Cruz declined to answer a debate moderator's question about whether he thought Texas-based Exxon-Mobil, the oil-and-gas giant, is wrong in endorsing the scientific consensus and saying climate change is a threat warranting action.
Instead, he echoed a common rhetorical device of politicians who reject the consensus about human causation: "The climate has been changing from the dawn of time. The climate will change as long as we have a planet Earth."
The candidates' dramatic differences on the science are naturally reflected in their respective views of the threats posed by climate disruption and the corresponding need to take action against them.
In a Twitter post, O'Rourke's campaign summed up his basic stance on that part of the issue: "Climate change is the defining existential threat of our time. Beto believes Texas should take the lead in confronting it head on. It's how we'll meet our responsibilities to those of future generations."
The Democrat has consistently emphasized Texas' vulnerability to climate disruption when he addresses the topic. In the Oct. 16 debate, he referred to the state's recent string of catastrophic flooding events, saying it "will see more Harveys going forward" and "we know that there will be more of these floods coming."
Texas can play a crucial role in fighting climate change while enjoying the economic benefits of both its growing renewable energy industries and its traditional and thriving oil-and-gas industries, O'Rourke has argued.
Many of his climate-action supporters would disagree with his debate assertion that deciding between renewable energy and fossil fuels is "a false choice," but he has earned high ratings and ringing endorsements from environmental groups.
In terms of policy, O'Rourke supports a U.S. return to the Paris Climate Agreement, a pollution-cutting accord that President Donald Trump has begun withdrawing from.
To reduce greenhouse emissions to meet climate-protection goals, O'Rourke told a Houston Climate Forum in January, he sees "no better way" than placing "a price on carbon." That is the central concept behind proposals for a carbon tax, an idea endorsed by diverse groups and individuals including Exxon-Mobil and Houston Republican James Baker, a former cabinet secretary under Presidents Ronald Reagan and George H. W. Bush.
Instead of talking about threats posed by climate change, Cruz has chosen – in the race with O'Rourke and throughout his Senate career – to highlight the threats to the Texas economy that he says would be caused by actions to regulate and limit greenhouse pollution from fossil-fuel use.
Pivoting swiftly away from the debate moderator's question about Exxon-Mobil's position on climate-change, for example, Cruz assailed what he called O'Rourke's support for a tax on oil. (O'Rourke rejected the charge, which the PolitiFact Texas fact-checking project rated as "mostly false.")
Reiterating points he has made frequently in recent years, including during his unsuccessful presidential bid, Cruz said measures promoted to protect the climate are really prompted by a desire to advance "government power" by "liberal extremists" and would lead to the loss of "thousands of jobs in Texas."
Cruz's website calls him "a champion for Texas energy," citing stances like his support for withdrawal from the Paris pact and for measures to reverse climate-conscious energy regulations adopted by the Obama administration.
O'Rourke's website calls, in contrast, for "comprehensive energy reform that optimizes the uses of current energy sources while incentivizing the innovation of new and renewable sources of energy."
+++++
Bill Dawson is the founding editor of Texas Climate News.
Image and video credit: WFAA via YouTube