By Bill Dawson
Texas Climate News
Although California's frightening and destructive wildfires have often dominated U.S. news coverage of this summer's globe-spanning weather extremes, federal statistics show Texas leads the nation with the largest number of wildfires of any state this year.
Experts say increasing wildfire threats in both states – and elsewhere – are a result of a warming climate among other factors.
The map below, released last week by the Idaho-based National Interagency Fire Center (NIFC) and representing year-to-date statistics for the five top wildfire states in 2018, indicated California had the second-largest total area burned (more than 705,000 acres) and Texas had the greatest number of fires (6,900).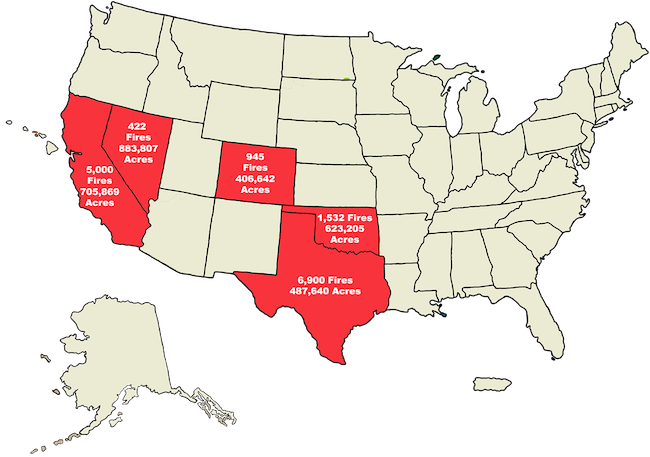 NIFC, the federal government's support center for wildland firefighting, compiles data from all firefighting agencies in a state.
The particularly stubborn, dramatic and dangerous nature of California's wildfires this year has kept them in the national spotlight.
Two of that state's continuing wildfires – the Mendocino Complex Fire with more than 360,000 acres burned and Carr Fire with more than 210,000 acres  – rank as California's first and eighth largest blazes on record, according to the state's Department of Forestry and Fire Protection. (The Los Angeles Times reported today that the Mendocino blaze was still growing as winds whipped the flames.)
The critical nature of the situation in California was underscored in Texas last week when 98 firefighters from 29 Texas fire departments in 20 counties headed to California to help beleaguered colleagues there. Six first responders have died in connection with California's wildfires this year.
Statistics compiled by the Texas A&M Forest Service (TFS) suggest Texas itself is on track to record its largest number of wildfires since the state's record-setting drought and heatwave of 2011 – at least in terms of the wildfires to which the state agency itself responds.
Texas wildfires fought by the Texas A&M Forest Service
(TFS reports data representing only wildfires that it helped to fight. Local fire departments also combat additional wildfires in Texas on their own, explaining the higher numbers reported by NIFC. Local fire departments in Texas "will request TFS assistance when local capacity is exceeded, air resources are requested or heavy equipment is needed for wildfire suppression," TFS spokesperson Christi Powers said.)
Another NIFC map – this one issued at the start of August – illustrated the expectation by wildfire experts then that conditions in parts of Texas, along with parts of California and a large swath of the Northwest, would continue to be particularly ripe for wildfires to occur.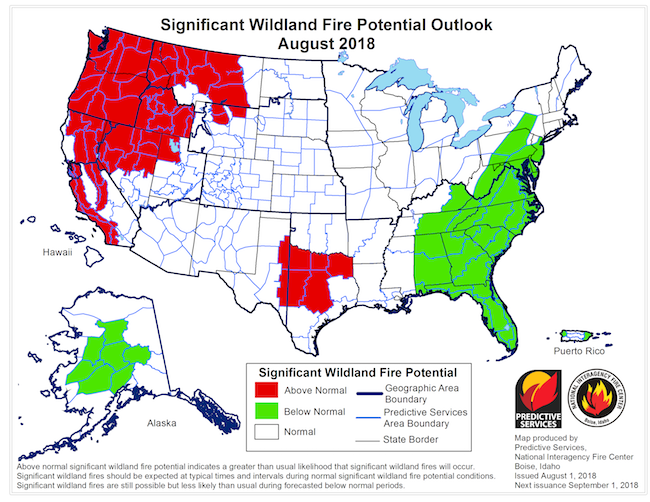 Drought conditions are a key factor in an area's susceptibility to wildfire formation, and scientists project more dry spells for Texas in a changing climate.
As shown on the map below – the latest released by the U.S. Drought Monitor – nearly 78 percent of Texas was classified last week as "abnormally dry" or in various stages of drought. A year ago at the same time, just 10 percent of the state was in those categories.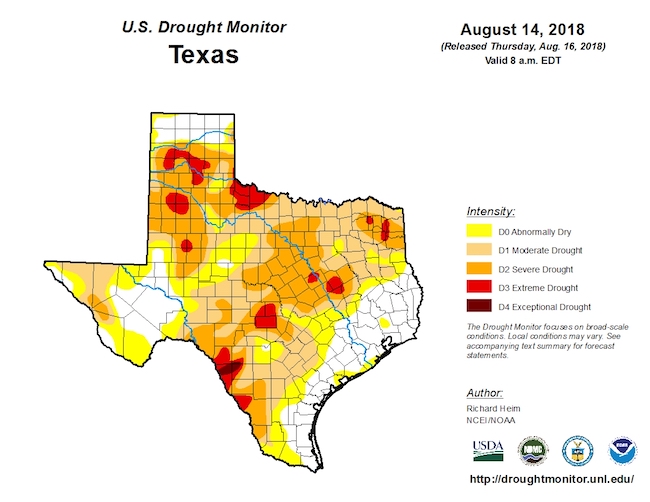 About 12.7 million Texans live in areas that were in "abnormally dry" or drought conditions on Aug. 14, according to the Drought Monitor.
The Texas A&M Forest Service has witnessed an increase in wildfires in the last three decades – a trend that experts at the agency blame partly on climate change, with accompanying warmer and drier weather, and partly on population growth in fire-prone areas, the Austin American-Statesman reported recently.
Other wildfire authorities echo that appraisal for other areas.
Assessing the links between California's 2018 fires and climate change, the Washington Post recently reported: "For the western United States – and most of the world – deadly and destructive blazes like the Carr Fire are the 'new normal,' researchers say."
NIFC reports that U.S. wildfires today burn about two times as long as they did 28 years ago, while the average wildfire's burned acreage has doubled, the Post added.
+++++
Bill Dawson is the founder and editor of Texas Climate News.
Image credits: Photo and Texas statistics table – Texas A&M Forest Service. Wildfire maps – National Interagency Fire Center. Drought map – U.S. Drought Monitor.