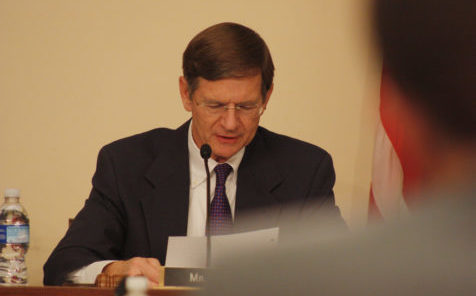 By Joseph A. Davis
Texas Climate News
WASHINGTON – Rep. Lamar Smith, a San Antonio Republican, announced Nov. 2 that he would not seek re-election to represent his Central Texas district when his term expires next year. As chair of the House Science Committee, he has often led a charge against the established science of global warming.
In the arena of climate change skepticism and denial, things will change – but they will also stay the same.
Climate science denial and skepticism have many homes, the administration of President Donald Trump now being the biggest. The 69-year-old Smith's departure from the House Science Committee may mute one platform, but others, inside and outside government, will endure.
While it is not yet clear who will replace Smith as chairman, the political cast of the Science Committee is so conservative that it may continue to be a center of climate-change skepticism.
In announcing his retirement, Smith pointed to the fact that he would have to step down as chairman anyway, because House Republican rules currently limit the terms of committee chairs to six years. Smith came to Congress in 1987 (16 terms ago) and ascended to the Science chairmanship in 2013. But he was also facing more competition for re-election than he had seen for some time in his normally solid Republican district.
In 2016 Smith had faced a Democratic challenger, Tom Wakely, who had made climate an issue. And Smith's margin of victory in that election was lower than it had been since he first won the district. Before he announced his retirement he was already facing a young, serious 2018 Democrat challenger, Derrick Crowe, who was campaigning specifically as a "nerd for science," criticizing Smith's positions against mainstream climate science. The devastation Hurricane Harvey rained down on Texas may well have strengthened Crowe's hand.
The House Science, Space, and Technology Committee (its full name) is unlike many other Congressional panels, in that it does relatively little legislating. It has no exact Senate counterpart and lacks the "authorizing" jurisdiction over spending that many other panels have. But it does have oversight authority, which makes it a platform for launching all kinds of Congressional policy interventions into federal science and technology agencies.
Over many past decades, the panel stood as a place where House members with NASA and federal aerospace facilities in their districts (in states like Florida, California, and Texas) could guide and protect federal pork-barrel spending popular with their constituents. During his tenure, Smith had considerable success crafting legislation on patent reform, STEM education, and online piracy.
But one hallmark of Smith's chairmanship has been aggressive questioning of established climate science. His hand has been strengthened by a unique subpoena power House Republicans gave committee chairs in 2015 – allowing them to issue subpoenas unilaterally without vote or consent from the committee.
For example, when scientists from the National Oceanic and Atmospheric Administration (NOAA) published a study in 2015 correcting global temperature data in a way that removed grounds for belief in a warming "pause," Smith hit the roof. Even though NOAA scientists had published all their data and supporting documents, Smith subpoenaed almost everything related to the study. He failed to show any faults in the data.
Smith pursued his battle during the last election year by going after Obama administration Environmental Protection Agency officials' air travel records. Smith has continued his quest to discredit climate science since President Trump took office.
Who will succeed Smith in the Science chair is still uncertain. Leading contenders are Frank Lucas (R-Okla.) and Dana Rohrabacher (R-Calif.). Both are conservative. But Rohrabacher is more of a climate-change denier – he declared, for instance, that "global warming is a total fraud."
The idea that Democrats could gain control of the House has recently gained more plausibility. If that were to happen, Eddie Bernice Johnson now the ranking Democrat, could take over the committee. Her district includes part of the Dallas area. Johnson has been an outspoken critic of Smith's attacks on climate scientists.
Smith's retirement is seen as part of a wave of GOP House retirements that increase the chance of Democrats taking over the House. Even in a year of chaos and uncertainty, though, that is speculative.
Some groups, such as the Union of Concerned Scientists, see Smith's departure as an opportunity to reset, and perhaps improve, the relationship between the Science Committee and the science community.
In any case, Smith's departure hasn't happened yet – and there is another year for him to provoke liberals, environmentalists, and scientists. An early supporter of Donald Trump, he has most recently used his platform to suggest that the Russians were behind the movement in the U.S. to oppose fracking (a movement populated by environmentalists, community activists, social justice campaigners, property-rights advocates and others). In September, he started inquiring about what he thought might be a massive Russian disinformation campaign. He has asked Facebook, Twitter, and Google for information on anti-fracking ads. Environmentalists, of course, say this is baloney. But fracking (which brought an oil and gas boom to Texas) has certainly (along with sanctions) undercut Russian earnings from the world energy market.
And even without Smith heading the House Science panel, there will be plenty of others challenging climate science. Trump may think climate change is a "Chinese hoax."  Groups like the Heartland Institute, who have been active in the arena of climate-science deniers, dismissers and skeptics even longer than Smith, think the Trump administration has not gone far enough.
+++++
Joseph A. Davis, a veteran journalist covering environmental and energy issues in the nation's capital, is the Washington correspondent of Texas Climate News.