By Bill Dawson
Texas Climate News
Public opinion and the Trump administration are moving in opposite directions on climate change.
A new Gallup poll measured "record" public concern about climate change, but the administration's 2018 budget proposal reflects a dramatically contrasting view of the issue – that federal spending on climate change is "a waste of money."
"Record percentages of Americans are concerned about global warming, believe it is occurring, consider it a serious threat and say it is caused by human activity," Gallup announced last week, reporting findings of a nationwide survey conducted in early March.
In contrast, the administration's proposed federal budget for 2018 would demolish Obama administration initiatives to combat, research and increase resilience to climate change, eliminating some programs entirely and slashing funding for others.
White House budget director Mick Mulvaney explained the administration's rationale last Thursday, two days after the Gallup report was issued:
"I think the president was fairly straightforward – we're not spending money on (climate change) anymore; we consider that to be a waste of your money to go out and do that. So that is a specific tie to his campaign."
Donald Trump's earlier statements about climate change – "a hoax" and "bullshit" and the like – as well as his campaign attacks on federal climate-protection efforts had indeed clearly telegraphed the approach that his first budget proposal embodies.
However, as Trump has scoffed at climate science and dismissed climate-change concerns,  public opinion has generally been tracking in a different direction, according to Gallup's findings.
The polling organization said, for instance, that its March survey found "significant" increases since 2015 in acceptance of climate science and corresponding concern about human-caused global warming that scientists overwhelmingly say is happening now.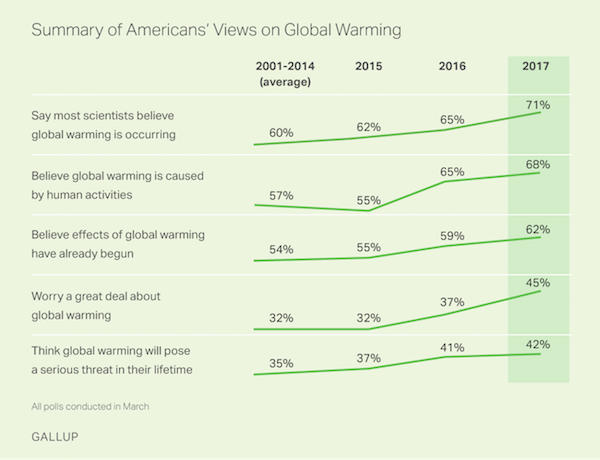 Gallup said the number of Americans who "worry a great deal" about climate change jumped eight points – from 37 percent last year to 45 percent in this year's poll – and was up even more strikingly from the survey's recent low point on that question when 25 percent expressed "a great deal" of worry in 2011.
The pollster also found a major partisan divide on the question, with increasing concerns among Democrats and Independents in recent years but an essentially steady trend line on the question in Republicans' responses, which continue to show markedly lower levels.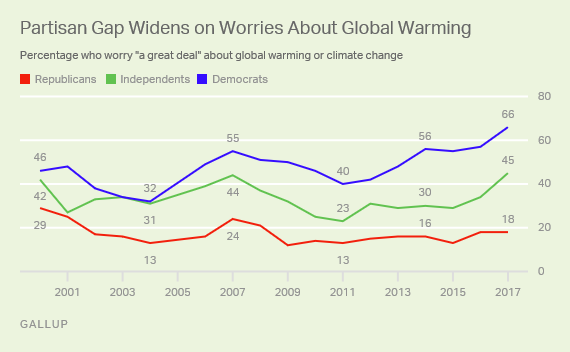 Gallup also recorded a sharp contrast in early March between public opinion and the administration's budget proposals to slash climate-conscious spending on programs to boost energy efficiency and develop cleaner forms of energy production.
The pollster found that large majorities of Americans instead strongly support environmental protection and cleaner alternative energy sources over the development of fossil fuels, which scientists say produce atmosphere-warming carbon pollution that is the leading cause of climate change.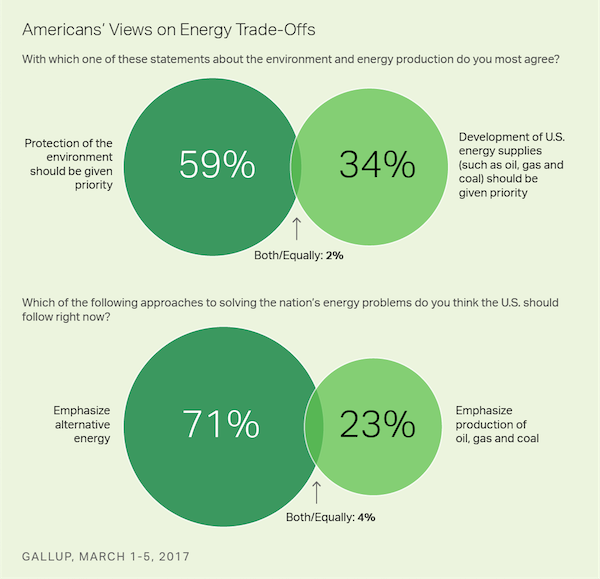 The administration's budget proposal is just that, a proposal. The document released last week by the White House was an uncommonly sparse outline that will be fleshed out with many more details in May and then subject to potentially major changes in the congressional appropriations process.
Still, last week's proposal provides a clear indication of President Trump's priorities on climate change and related energy issues, demonstrating a fundamental antipathy to climate science, concern and action, as well as to federal support for developing cleaner energy sources.
Some key elements of the administration's budget proposal on climate and energy:
Environmental Protection Agency
The Environmental Protection Agency's budget would be cut by 31 percent (from $8.3 billion to $5.7 billion), with 3,200 of 15,000 staff positions eliminated. All funding (more than $100 million) would be eliminated for administering the Clean Power Plan (the Obama administration's signature climate program to reduce greenhouse pollution by slashing coal use to produce electricity) and for "international climate change programs, climate change research and partnership programs, and related efforts." Trump is reportedly preparing to announce administrative steps soon to scrap the Clean Power Plan. The EPA's Energy Star program, which helps companies, government entities and consumers carry out voluntary energy-efficiency measures, would also be ended under his budget proposal.
State Department
Trump said in his campaign he would withdraw the United States from participation in the landmark Paris Climate Agreement of 2015, which aims to avoid the most dangerous impacts of climate change by spurring a worldwide transition away from fossil fuels. Abolishing the EPA's Clean Power Plan will eliminate the central plank in the Obama administration's pledge to reduce the United States' emissions of greenhouse gases in the Paris agreement. In the administration's proposed budget for the State Department, Trump would also end U.S. funding for the Green Climate Fund, which finances low-carbon and climate-change-resilient initiatives in developing nations. As part of its Paris pledge, the Obama administration promised $3 billion in U.S. funding to this fund and provided $1 billion of the total before Trump took office.
Energy Department
The Department of Energy, actively involved in researching lower-carbon technologies in the Obama administration, would receive about $2 billion less than it did for 2017 under Trump's proposed budget. His plan would cut spending at a variety of research programs (including those at its Office of Energy Efficiency and Renewable Energy) and eliminate of the Weatherization Assistance Program and the State Energy Program, which carry out a range of energy-saving, carbon-reducing initiatives. Another program that would be axed is Advanced Research Projects Agency-Energy, or ARPA-E, an initiative that was established to spur alternative energy research and has been praised recently by Energy Secretary Rick Perry, the former Texas governor.
NASA
The space agency has been intensively involved in documenting and analyzing climate change with data obtained from Earth-monitoring satellites. The Trump budget proposal would terminate four satellite-based Earth science missions and reduce funding for the agency's Earth science research grants.
National Oceanic and Atmospheric Administration
The proposed budget would eliminate more than $250 million in funding for NOAA grants and programs (including Sea Grant, based in Texas at Texas A&M University) that support marine industries and provide local assistance to coastal regions in such climate-related areas as hurricane preparedness and protection of wetlands and watersheds.
+++++
Bill Dawson is the editor of Texas Climate News.
Image credits: Gallup