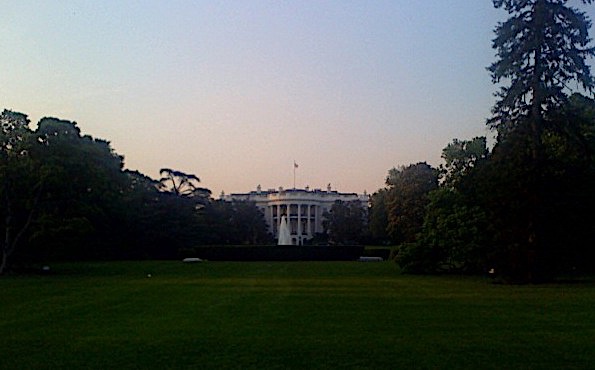 By Bill Dawson
Texas Climate News
A burst of news in the days since Donald Trump's swearing-in as president clearly signals his intention to follow through on campaign promises about climate and energy issues and quickly launch actions to begin gutting the Obama administration's climate-protection agenda.
The developments began Friday, Inauguration Day, when the routine transformation of the official White House website, whitehouse.gov – a traditional action for a new president – included removing Obama's climate-change page (archived copy here) from the site and adding Trump's America First Energy Plan.
The Trump energy blueprint included a statement that he is "committed to eliminating harmful and unnecessary policies such as [Obama's] Climate Action Plan," a multifaceted initiative by the former president to reduce climate-disrupting pollution and advance renewable energy, increase readiness for the impacts of climate change, and engage in collaborative climate action with other nations.
In line with his own campaign promises, the Trump plan on whitehouse.gov again pledges to boost oil and gas production and the coal industry. It does not mention renewable energy sources such as wind and solar, or nuclear power, promoted by its advocates as a way to combat climate change.
Some climate-action supporters may have been hoping that Trump would not be as fiercely committed to undoing Obama's climate legacy as his campaign and previous statements on the issue strongly indicated.
Trump, who had harshly ridiculed manmade climate change "bullshit" and "a hoax," surprisingly said soon after his election that he now saw "some connectivity" between human-generated pollution and global warming, proclaimed that he had "an open mind" on the subject, and met with climate-action champion Al Gore.
But soon after those events, his White House chief of staff, Reince Priebus, said Trump still believes that human-caused climate change is essentially "a bunch of bunk," leaving no reason to think he could also regard it as a cause for concern and action.
Consistent with the transformation of the White House website on Friday, subsequent reports since then about Trump's intentions have underscored "bunk" as the presidential viewpoint that will propel an aggressive drive by his administration to trash former President Obama's climate programs.
Clean Power Plan in the crosshairs
The McClatchy news service reported Saturday that as early as this week, the Trump administration is expected to take action, promised in his campaign, to junk Obama's Clean Power Plan, a centerpiece of his broader Climate Action Plan. The Clean Power Plan is an ambitious set of regulations to compel the states to develop plans for reducing the use of coal (the dirtiest of the fossil fuels) in making electricity and boost the use of natural gas and renewables, as well as efficiency and conservation, to reduce climate-disrupting emissions.
McClatchy reported:
Trump is expected to ask a federal court for a "voluntary remand" on a lawsuit filed against the Clean Power Plan by industries and states, said William Yeatman, a senior fellow with the Competitive Enterprise Institute, a conservative think tank with close ties to the Trump administration.
Such a remand would delay the possibility of a court ruling upholding the regulations and give the Trump administration time to revise them. "I'd expect that to happen immediately . . . at least in the next few days," said Yeatman, whose organization includes Myron Ebell, a climate change skeptic Trump appointed to lead his environmental transition team.McClatchy also reported that the administration is expected to delay or change Obama-era rules to curb climate-changing methane emissions from oil and gas wells.
Other actions foreseen
The Wall Street Journal, meanwhile, reported on Sunday that the new administration is expected to "take action within days to reverse…Obama's climate agenda and show its commitment to promoting fossil-fuel infrastructure."
A presidential directive ordering the Environmental Protection Agency to start work on administrative actions to cancel the Clean Power Plan is likely in the next few days, the Journal reported, though the complex bureaucratic work of doing that "could take years."
Texas, unlike even some other states fighting the Clean Power Plan in the courts, never began the process of developing a required plan to implement its pollution-cutting mandates.
Besides abandoning the Clean Power Plan, the administration is also planning actions that would "virtually eliminate the U.S. government's focus on climate change," the Journal reported, including advancing the Keystone XL from Canadian oilfields to Texas refineries and excluding attention to climate-warming emissions from regulatory scrutiny of projects requiring federal environmental reviews.
Several news organizations reported Tuesday morning that Trump would sign executive actions later in the day to advance both Keystone XL and Dakota Access pipeline, planned to run from North Dakota to Illinois. Intense opposition to the pipeline projects, both halted by the Obama administration, has coupled complaints about localized environmental impacts and the pipelines' role in perpetuating reliance on climate-disrupting fossil fuels.
Still more targets
The news website Axios reported that it had obtained the "Agency Action" plan created by Ebell for the the EPA – "a tightly-held document that fleshes out Trump's campaign promises to gut the agency." The bottom line, Axios concluded, is that the EPA is "set for an absolute hammering under Trump."
Climate-related details in the document, Axios reported, include saving $193 million by "terminating climate programs," eliminating the Clean Power Plan for existing power plants as well as a separate regulatory program to reduce climate pollution at new power plants, and stopping Obama administration moves to tighten pollution-limiting automotive rules.
Cancelled conference raises self-censorship fears
The ClimateWire news service was first to report on Monday that the U.S. Centers for Disease Control and Prevention (CDC) had "quietly and abruptly canceled a major climate change summit scheduled for next month shortly after Donald Trump was elected president."
The action by CDC is raising concerns that others may follow the agency's example and now self-censor public discussions about climate change, given Trump's long record of dismissive hostility toward established scientific findings surrounding the subject.
The conference, to be held by CDC with partners including the American Public Health Association (APHA), would have addressed the "state of the science on climate and health, adaptation efforts through interagency collaboration, and communication and stakeholder engagement strategies," according to a flyer.
Public health experts, physicians and other health-care experts have increasingly warned in recent years that current and projected impacts of climate change such as hotter temperatures, deadlier extreme weather events, and the greater spread of insect-borne diseases pose a variety of hazards that deserve health professionals' attention.
Georges Benjamin, executive director of APHA and a scheduled speaker at the cancelled conference, told the Washington Post that CDC officials had made a "strategic retreat" because "it was so close to the inauguration, the chances of it being canceled [by Trump appointees] were pretty real with the administration that was coming in."
Another scheduled speaker, Edward Maibach, director of the Center for Climate Change Communication at Virginia's George Mason University, told the Post that he fears the cancellation will set a precedent for "self-silencing" by government officials who will be afraid of retribution by the Trump administration toward those who accept and discuss consensus scientific conclusions about climate change.
Such acceptance and discussion has been extremely widespread among many federal agencies during the Obama administration, as well as at public and private universities where scientists and others received federal funding for climate-related research.
+++++
Bill Dawson, is the founder and editor of Texas Climate News.