Below this article is a gallery of photos of Peace & Dignity Journey participants, some thoughts they expressed about that effort, and a recording of a song that greeted them.
+++
By Greg Harman
Texas Climate News
It's considered the fulfillment of a prophecy dating back 500 years: the reuniting of indigenous communities from the north and the south, peoples fractured by the forces of colonization. The Eagle and the Condor – symbols of both the northern and southern American communities, symbols of the intuitive and feminine and the technical and masculine – are believed by many indigenous peoples to be coming back into harmony as a reemergence of traditional values of Earth stewardship begins to dislodge dominant industrial and profit-driven priorities.
Peace & Dignity Journey, an effort led by Native Americans to help facilitate that process, is a months-long ceremony held every four years since 1990 in which Native runners and their allies embark from locations in the far north and far south of the hemisphere – Chickaloon, Alaska, and Tierra del Fuego, Argentina. The runners weave their way across the Americas, visiting members of indigenous communities along the way with a message of Native unity, healing, coexistence, and, according to the event's web page, "making people aware of the sacredness and delicate balance of nature and the environment."
Last month, about a dozen runners and support staff were welcomed to San Antonio with a ceremony at San Pedro Park, where the headwaters of the San Antonio River are located.
"Welcome to Yanaguana, the sacred spring," one local elder called out as the sun crept beneath the cypress leaves and the wind began to rise.
"Common struggles, common blessings"
Peace & Dignity runners and organizers, joined by community and family members, formed a circle as a conch shell was blown and sage smoke began to envelop the group. There was to be dancing and prayers and eating. The group came together, said one attendee, to "see our common struggles and recognize our common blessings." Curious onlookers rolling up their yoga mats at a nearby pavilion began to approach, stopping at a respectful distance.
Peace & Dignity's 2012 run was dedicated to awareness of the sacredness of water; this year's trek spotlights the importance of seeds, the source of  human life, and seeds collected during the run were laid out at the eastern end of a huge mandala assembled at the circle's center.
"These seeds, they hold ancestral memory," said San Antonio-based Maribel Hermosillo, a Peace & Dignity supporter and runner. "These are seeds of consciousness, seeds of culture."
Uruguayan runner Mauricio Andrada added: "We are honoring the seed in this run because the seed is being challenged in this time; we eat poisoned food."
Reflecting on cascading, human-caused, global crises – global warming, biodiversity collapse, a decimation of ocean life – runners and organizers emphasized that indigenous peoples have espoused the need to live in balance with creation from the earliest times – a message they say has grown only more crucial.
"For us on the Gulf Coast, there were three oil spills while we were on the run," said runner and organizer Beto DeLeon. "So there's a big connection to climate change right now as we see things changing around the planet."
Message of the seeds
The message of the run, the message of the seeds, holds that violence against the earth and violence against women are intimately connected, participants said.
"Women are seed carriers; women have the gift of life, you know?" said Hermosillo. "So we're thinking about a larger picture: how there's a higher rate of Native women who are missing and murdered in all of our communities."
In fact, among the many staffs the runners collected on their journey – unique and often ornate objects that carry the prayers of their origin communities – is a lead staff: One adorned with large knots of green and red fabric, a small feather at its top. It was carried into the circle first, representing the many murdered and kidnapped indigenous women and girls. Coahuiltecan-Apache run supporter Jennifer Alvarado carried it forward, tears on her face.
In Canada, there are thought to be as many as 4,000 missing or murdered indigenous women and girls – a number many times the murder rate of non-indigenous peoples there. Closer to home, Bexar County, where San Antonio is located, is one of the leading Texas counties for domestic violence. Across the Rio Grande, women are being targeted and killed at epidemic levels: Six women are assassinated in Mexico every day, with only one in four cases ever investigated and less than two percent leading to a conviction.
As "land defenders," indigenous peoples often lead direct action campaigns against extractive industries across Canada and are increasingly assuming leading roles in related U.S. protests – including shutting down pipeline construction in North Dakota and organizing a sizable protest in Eagle Pass, Texas, opposing the expansion of a borderlands coal mine. Indigenous voices have also begun to assume leading roles in major climate actions, such as 2014's People's Climate March in New York, thought to be the largest such demonstration of the climate movement.
The Peace & Dignity runners on their way to join their South American counterparts for a three-day ceremony in Panama ran along the West Coast. But they have also run the Eastern seaboard, through the Midwest, and across the Gulf Coast. Along the way they have met with numerous Native communities, nations, and tribes. The run is a prayer, participants say, that gathers the hopes and needs of every community touched.
Environmental concerns
The concerns of the people, said runner Teo Parocio-Asterisk, are "pretty much the same wherever you go. The big ones are environmental issues: There was a big spill in Alberta not too long ago [into the Saskatchewan River] and that's affecting a lot of people along the river. Communities don't have running water. Cancer rates are just insane."
Around Fort McMurray, Alberta, for instance, Native residents ("First Nations" people in Canadian usage) have sought for years to call attention to what they say is the harm done by the region's booming oil-sands development to wildlife, water resources and the land. A government-funded study by university researchers, released in May, reported elevated levels of chemical contaminants, which might cause health effects, in some traditionally harvested foods.
But there's something else that Darocio-Asterisk hopes to bring to light, a message rooted in the theme of seeds. "There's another thing dividing people: You make food so unhealthy and available and you push it through advertising [that] you create unhealthy populations in these poor communities."
Part of the prayer of the 2016 run, organizers say, is a call not only for a return to Native values, practices, and the recovery of indigenous languages, but for a return to local agriculture, Native foods, and the preservation of the integrity of traditionally-sourced seed.
It was not surprising then that the contentious subject of genetically modified crops came up.
While several scientific bodies in the U.S. have concluded that they are safe for human consumption, the World Health Organization says such determinations should be made on a case-by-case basis. And debates continue over whether genetically modified crops increase or decrease use of harmful herbicides and pesticides.
Andrada sounded a strongly cautionary note: "Nobody knows the consequences."
+++
Peace & Dignity Journey: Faces and voices
Texas Climate News contributing editor Greg Harman photographed and talked with runners and organizers of the Peace & Dignity Journey at the springs in San Antonio's San Pedro Park and during their two-day stay in nearby Floresville, 30 miles to the southeast. 
Here's a selection of Harman's photographs, plus participants' thoughts about the run and a recording of a song by San Antonio resident Emma Ortega, one of several Native American elders who welcomed the runners and offered their prayers and encouragement.
+++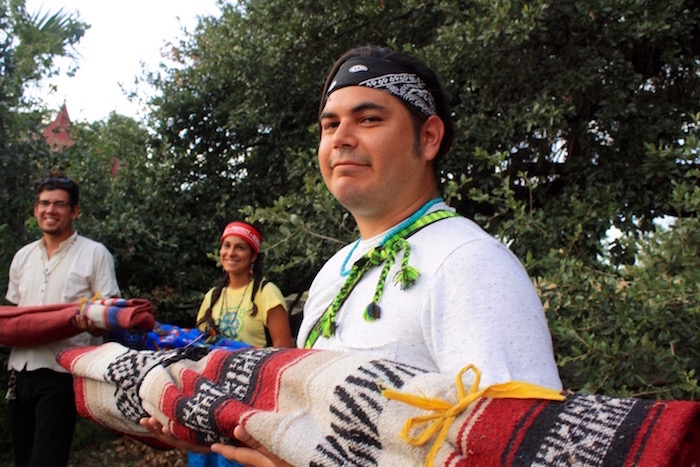 Beto DeLeon of San Antonio, runner and organizer
"There's a big connection to climate change right now as we see things changing around the planet. That's going to become a bigger issue for folks who are not just indigenous: coastal people, our frontline communities – it's going to affect all of us. So this prayer at its core is Native-led, but it's a prayer for everybody; it's a prayer for all people."
+++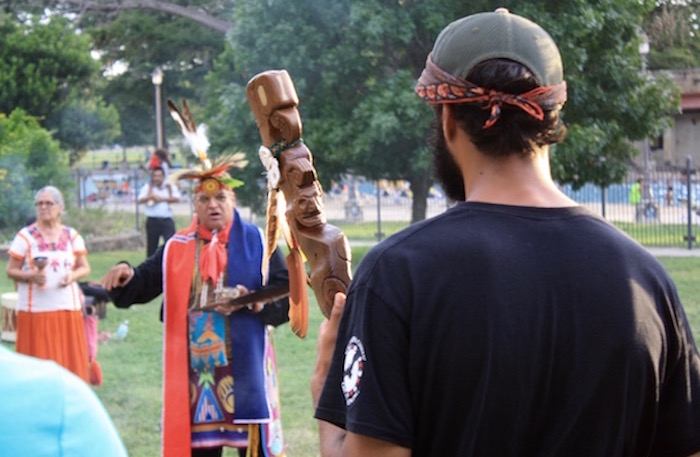 Runner Teo Barocio-Asterisk holds his staff as Isaac Cardenas, elder of the Tap Pilam Coahuiltecan Nation, greets the runners. Elder Linda Ximenes is pictured in the background.
+++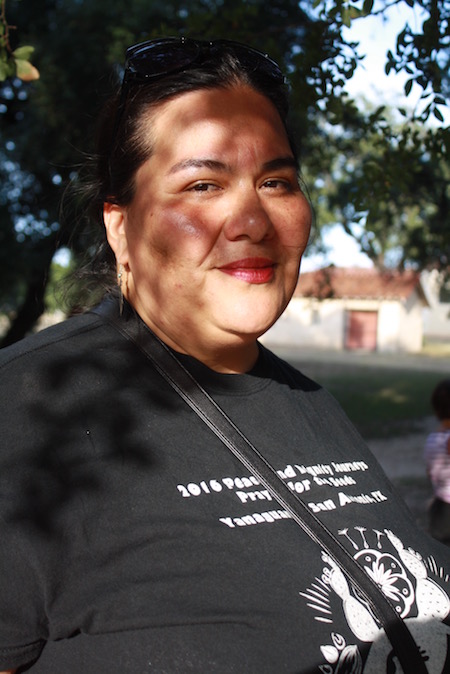 Jennifer Alvarado of San Antonio, Coahuiltecan-Apache, organizer
"The prayer is on the seeds. But for me it speaks about building communities and mending bridges that have been gapped. I'm not talking about just the Natives; I'm talking about everybody. For me it's about learning about patience and having compassion and not taking it personal when things don't go your way, when something doesn't work out. It's a journey."
+++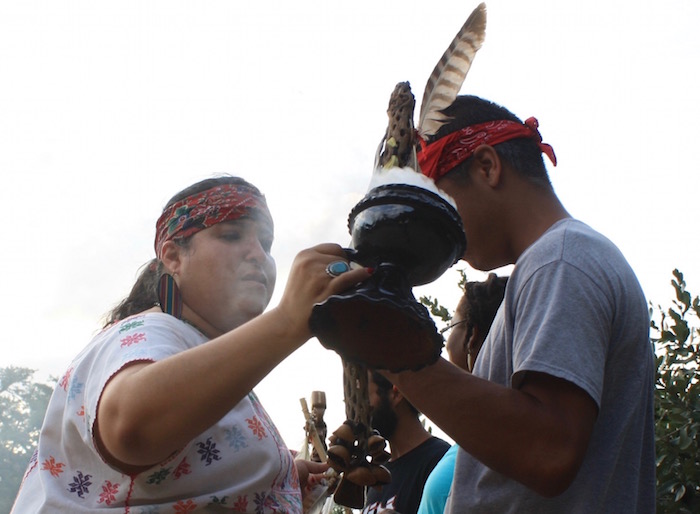 Karla Aguilar, development coordinator at American Indians in Texas, blesses runner Diego Romero, from Boriken, Puerto Rico.
Aguilar: "This prayer run gives me hope at a time when the world around us is sick on so many levels. We have a long-term view of things. This run is fulfilling a necessary reconnection between nations whose traditions are being nourished through this prayer."
+++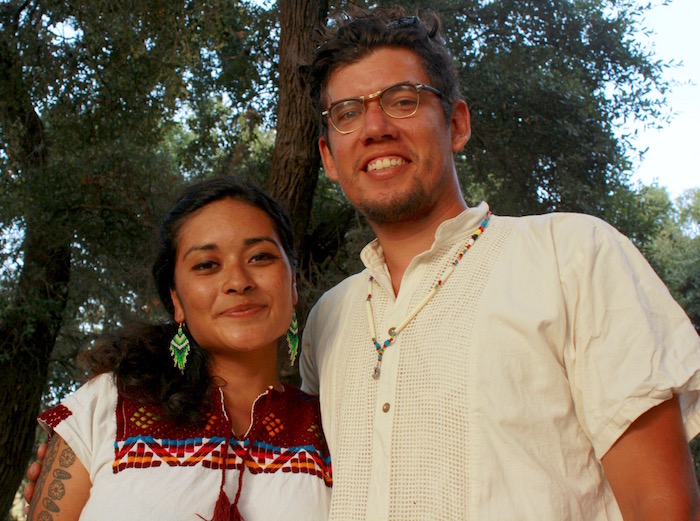 Maribel Hermosillo and Antonio Gonzalez of San Antonio, runners and organizers
Hermosillo: "If you have that love and compassion for the future generation then you have to care about the land, you have to care about the sustainability of the land so our people can exist. Native people have been at the forefront, have been activists in environmental issues from the beginning, and it's definitely a big part of the prayer. But it's a circle; there's no hierarchy."
+++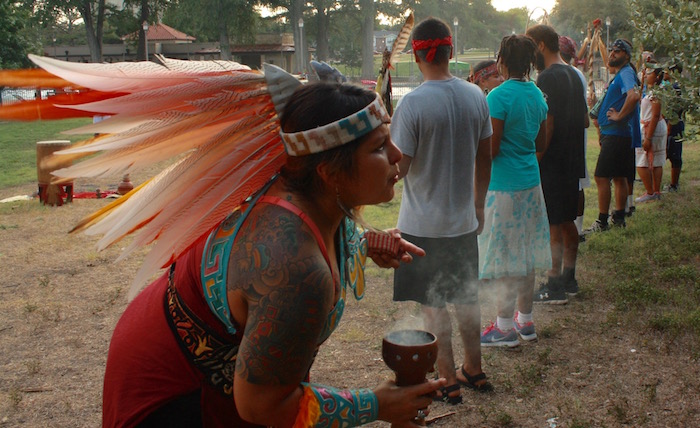 Laura Rios Ramirez checks in on her child (not shown) during the ceremony at San Pedro Park.
+++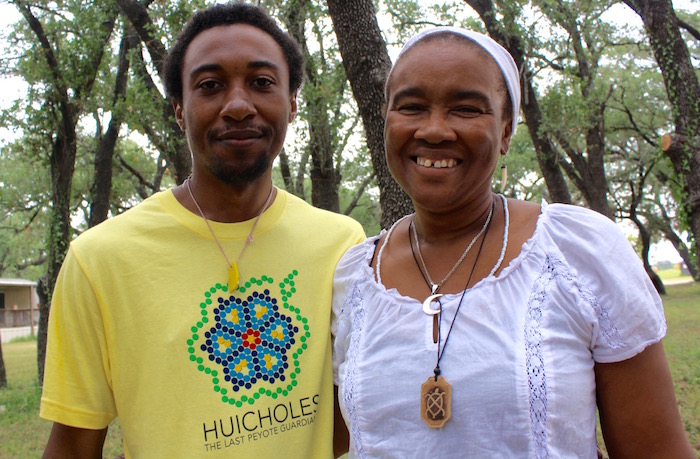 Kalaan "Robert" Nibonrix and Velva Lawrence of Jamaica, Taino, runners
Nibonrix: "In running through these areas it brings to awareness that these borders are manmade, they are illusions. What happens on one side of these borderlines is happening to all of us. When one person is affected we are all affected because we share this space together."
Lawrence: "We walk every day on [the Taino's] blood that was spilled. We walk everyday over their remains because we don't know where all the burial sites are. Part of this is to give thanks to them for passing along so many things: how we plant, the medicines that we have, a lot of that came from them. And they helped us to fight."
+++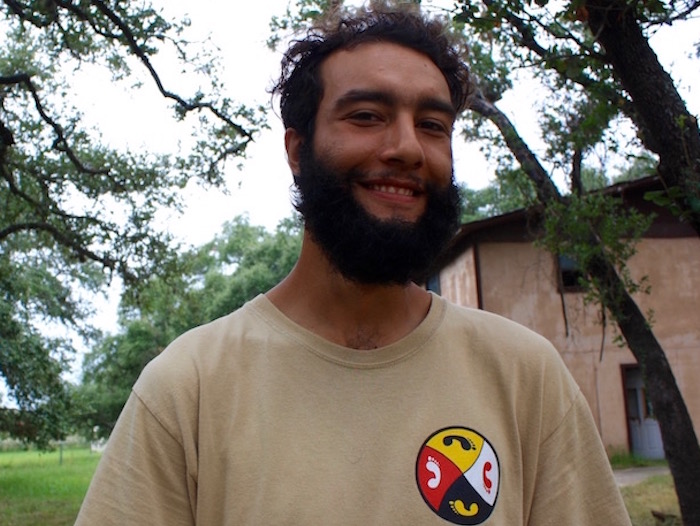 Teo Darocio-Asterisk of Slave Lake, Alberta, Canada, runner
"It's always been to bring people together. So in a way it's always been that, just to bring people together. … Then there's also the staff: to get back to traditional ways, learn your languages, grow your own healthy food, protect the water. But first and foremost it's always been to get people together."
+++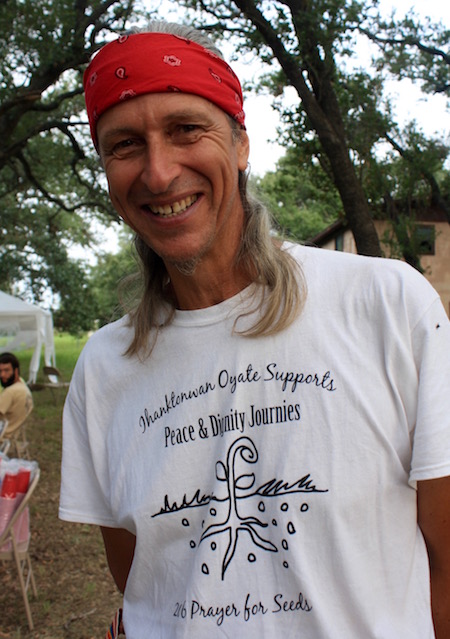 Marcelo Andrada of Uruguay, Charrúa-Guaraní, runner
"Maybe the colonization way showed that man is a superior being, but as a superior being we need to take care of the other beings. No abuse. … We are starting a new era. It's a spiritual time. We need to remember we are spiritual beings and we need to act in this direction."
+++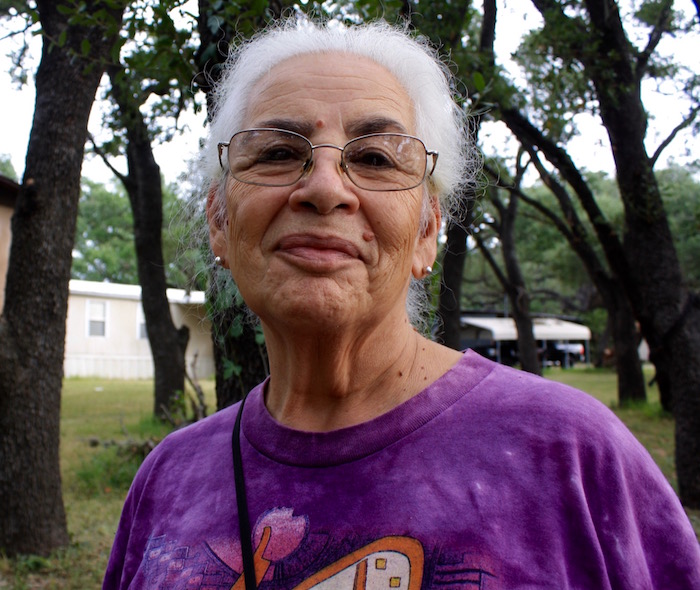 Emma Ortega of San Antonio, Lipan Apache
"I'm not against progress. I'm against the way they go about it. It's all destroy, destroy. … We need to stop, we need to just stop and look. We're destroying ourselves in the name of progress. And they've been destroying [Native peoples] in the name of progress, trying to say that we're not here. Yes we are. We've always been here."
Emma Ortega's song
+++++
Journalist Greg Harman is a contributing editor of Texas Climate News and graduate student in the international relations program at St. Mary's University in San Antonio.
Image and audio credit: All photos and sound recording by Greg Harman for Texas Climate News