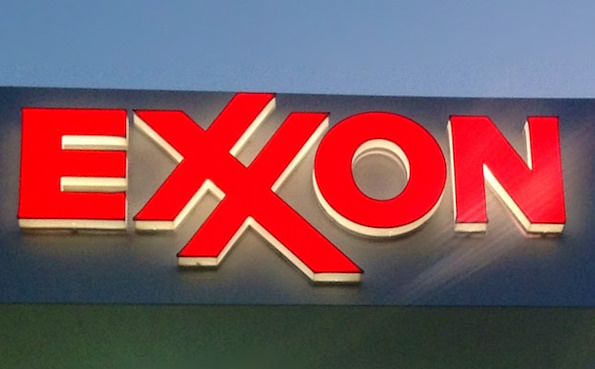 By Randy Lee Loftis
Texas Climate News
It was no surprise on Wednesday when ExxonMobil's shareholders, meeting in downtown Dallas, turned down a raft of resolutions on climate change. That was more or less business as usual.
Still, the Irving-based global giant and the rest of the oil industry are feeling once-familiar ground shifting a little – but not necessarily because of shareholder revolts or activist pressure. Those are real, but big companies have shrugged them off before.
The more fundamental question for the companies is whether they can find a way to stay in their old business forever in a world committed to slashing the carbon dioxide that their products create.
The Paris Agreement under the U.N. Framework Convention on Climate Change, which seeks to hold global temperature rise to 2 degrees Celsius (3.8 degrees Fahrenheit) or less, is a done deal, at least for now. ExxonMobil chairman and CEO Rex Tillerson told shareholders that all of the company's forecasts assume that Paris-required commitments for reducing greenhouse gas emissions will stay in place.
In the short run, ExxonMobil faces investigations – and probably more to the point, subpoenas for documents – from several states over the adequacy of its shareholder disclosures of climate-related business risks. Much of that stems from reports by InsideClimate News and the Los Angeles Times tracking the company's own climate research and public statements over the years.
The ensuing #ExxonKnew campaign by climate activists has gained public attention by charging that "Exxon knew about climate change half a century ago" but "deceived the public, misled their shareholders, and robbed humanity of a generation's worth of time to reverse climate change."
The company has denied the accusations, saying that reading old company documents in the news reports about its climate research "shows that these allegations are based on deliberately cherry-picked statements attributed to various ExxonMobil employees to wrongly suggest definitive conclusions were reached decades ago by company researchers."
But the state lawsuits might be just symptoms of bigger issues. While the oil business is built to ride out short-term volatility – prices rise and fall, and oil-producing nations shift strategies or even overthrow their governments – the fundamentals are supposed to remain.
A couple of the accepted eternal verities – that fossil fuels will always rule the world economy and that climate change can never change that – might be wavering,
In ExxonMobil's home state of Texas, the political status quo has seemed secure enough. Statewide elected officials dismiss climate-change concerns as a non-issue or a nuisance. Texas Attorney General Ken Paxton's recent court attempt to block an ExxonMobil probe by the U.S. Virgin Islands, and a broadside against the investigations in Congress by House science committee chair Lamar Smith, a Republican from San Antonio, add an odd Texas flavor to that fight.
But nearly carbon-free Texas wind energy is growing fast, and climate science is quietly slipping into the state's affairs. After years of avoidance, water planners now consider climate change. And just this week, Texas and Oklahoma received federal money to improve habitats for imperiled pollinator species, including monarch butterflies, based in part on climate-change worries.
A key goal, the states' wildlife agencies said in their joint grant request, is to study the potential impact of climate change on the species – climate change that political Texas doesn't really admit is real. A butterfly flapping its wings in Texas might affect state policies as well as the weather.
Oil under fire
For ExxonMobil's short-term problems on shareholder disclosure, companies are supposed to use their expertise to research and published details on business risks. But it seems questionable whether any oil investor doesn't know in general that climate change might threaten the enterprise. It's been in the news for a while.
The Dallas Morning News reported some evidence of that this week: Oil company shareholder resolutions on climate change have been getting bigger votes in recent years. The highest vote for an ExxonMobil resolution on Wednesday was 38 percent for one simply requiring an annual climate and business disclosure.
Another, which would have required a company commitment to the Paris goal of capping warming at 2 degrees C got just 18.5 percent.
Among industries that have been under fire, oil companies may be in a unique spot. Although many have made the comparison, they're not like tobacco companies in that cigarette makers can't claim any broad benefits from their product. They're not like carmakers, since the pressure on them has been to make cars safer and cleaner, not to stop making them altogether.
Oil's benefits for economic activity translate into shareholder dividends and corporate health – a fiduciary responsibility that the company can't abandon, as ExxonMobil has taken pains to remind the public lately. Standard accounting methods don't consider external costs such as health or environmental damage.
But a modern corporation is also expected to provide broader societal benefits, as some rebellious shareholders and outside activists note. That's why companies like ExxonMobil issue social responsibility reports and tout their charitable giving.
Both fiduciary and societal concerns motivate shareholder resolutions and stock divestment drives. At Wednesday's ExxonMobil annual meeting, the climate-related resolutions had social elements, but were couched mainly in terms of the company's long-term health – mostly to broaden their appeal.
"Combined, these proposals will set Exxon on a long-term path for success," Beth Richtman, a portfolio manager for CalPERS, told shareholders. The California state employees' pension system, which owns about $1 billion worth of ExxonMobil stock, faces calls to drop that investment over climate concerns.
The possibility that climate change might pose an existential threat to oil in the next century or so is on executives' minds. Tillerson spoke at length about ExxonMobil's plans to develop carbon capture and sequestration, which is meant to insure a future for fossil fuels without planet-warming CO2 emissions. And he touted natural gas as a lower-carbon alternative to coal, although methane leaks from production are a major worry, and gas still is a carbon-based fossil fuel.
Michael MacCracken, chief scientist for climate-change programs at the nongovernmental Climate Institute in Washington, D.C., spoke on behalf of a shareholders' group. He pressed Tillerson to admit that a 2-degree C limit is not nearly strict enough to hold off catastrophic damage, a position many scientists hold, and that CO2 emissions – and therefore oil consumption — have to drop much more than the company says.
Oil, the CEO responded, will continue to remain the world's main energy source – "for as far as we can see."
+++++
Randy Lee Loftis is senior editor of Texas Climate News. An independent journalist in Dallas, Loftis was formerly The Dallas Morning News' environmental writer for 26 years.
Image credits: Exxon sign – Mike Mozart / Flickr. (Cropped slightly and used under a Creative Commons license.); Demonstration – 350.org / Twitter.