By Bill Dawson
Texas Climate News
The record-obliterating warm temperatures of February and the December-February winter quarter provided a verbal challenge for scientists trying to do them justice in their descriptions.
"The startlingly high temperatures so far in 2016 have sent shockwaves around the climate science community," explained David Carlson, director of the World Climate Research Programme in a statement marking this year's World Meteorological Day, March 23, whose theme is "Hotter, wetter, drier. Face the future."
Carlson was referring to an announcement last week by the U.S. National Oceanic and Atmospheric Administration, a similar report by NASA a few days before, and other scientists' confirmatory findings – that last month's global average temperatures and those of the 2015-16 winter quarter had smashed previous records in a stunning way.
Seth Borenstein of the Associated Press suggested just how stunning the winter warmth was to researchers in his account of the NOAA findings:
Earth got so hot last month that federal scientists struggled to find words, describing temperatures as "astronomical," "staggering" and "strange." They warned that the climate may have moved into a new and hotter neighborhood.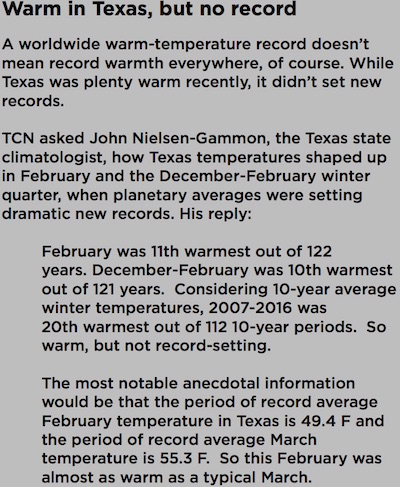 Among NOAA's key conclusions, echoing recent reports by other atmospheric scientists:
Last month was the planet's warmest February since record-keeping started in 1880.
The new February record was set by the biggest margin for a new average-heat record (it was the most "anomalously warm") in that 137-year period.This past December-February was the warmest on record, also marking the largest jump above a previous three-month average temperature.
Both the global average land temperature and sea temperature were the highest on record for a December-February quarter.
The contiguous United States saw its warmest December-February period.
The World Meteorological Organization placed the record-breaking temperatures of recent months in the context of its conclusions about planetary conditions last year:
The global average surface temperature in 2015 broke all previous records by a wide margin, at about 0.76 degrees Celsius above the 1961-1990 average because of a powerful El Niño [a cyclical weather pattern in the Pacific Ocean] and human-caused global warming. With 93 percent of excess heat stored in the oceans, ocean heat content down to 2,000 meters also hit a new record.
Scientists commenting on the new February and December-February records have observed that they resulted from two related factors – the effects of heat-trapping fossil-fuel pollution plus an El Niño-caused release of heat from the waters of the Pacific.
NOAA's report highlighted some examples of regional temperature variability amid the record-setting planetary warmth.
For the December-February period:
With a record warm December and seventh warmest February, the contiguous United States observed its warmest December–February on record, at 2.6 degrees C (4.6 degrees F) higher than the 20th century average. The six states in the far northeastern part of the country were all record warm for the period. With its warmest February on record, Alaska observed its second warmest winter on record, at 5.9 degrees C (10.6 degrees F) above average.
And in February:
Most of Earth's land surfaces were warmer than average or much warmer than average…with record warmth notable across various areas of South America, much of southern Africa, southern and eastern Europe, around the Urals of Russia, and most of Southeast Asia stretching to northern Australia. Of significance, a vast region stretching from central Russia into eastern Europe, along with most of Alaska, observed February temperatures more than 5 degrees C (9 degrees F) above the 1981–2010 average….A few pockets in Asia were cooler than average, including part of Far East Russia, with one area record cold in the upper Kamchatka Peninsula.
+++++
Bill Dawson is the founder and editor of Texas Climate News.
John Nielsen-Gammon is a member of TCN's volunteer Advisory Board, serving strictly in his capacity as regents professor of atmospheric sciences at Texas A&M University.
Image credits: From top, NASA/Climate Central, NASA, NOAA, WMO