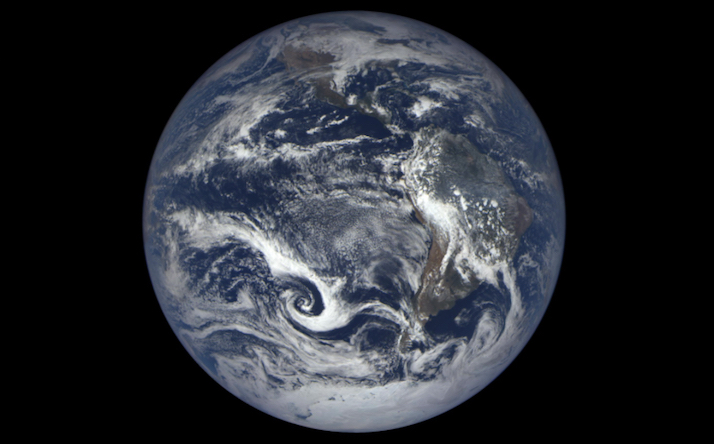 An updated guide to TCN's special coverage of the Paris climate conference: Our conference series, continuing reports on key developments, introduction to the negotiations and recommendations for background reading. Scroll down for earlier items.
Americans in Paris: Assessment of the US role
Historic moment: Nations agree to limit warming
Ultimately, it all boils down to temperature
Close to the wire, more work to be done
Rich, poor uniting, but big hurdles remain
Republicans in Congress try to thwart climate pact
Texans in Paris for conference-related events
The home stretch: Can major issues be resolved?
What would an independent Texas tell the UN?
Initial days: Renewables, carbon tax, early trouble
A brief introduction to the negotiations
Recommendations for a little background reading
---
Americans in Paris: Assessment of the US role
Dec. 16, 2015
In an exclusive analysis for Texas Climate News, Bernhard Poetter of the German newspaper Die Tageszeitung describes "how the U.S. delegation at the climate talks got its groove back. And where they put on the brakes." Read the article
---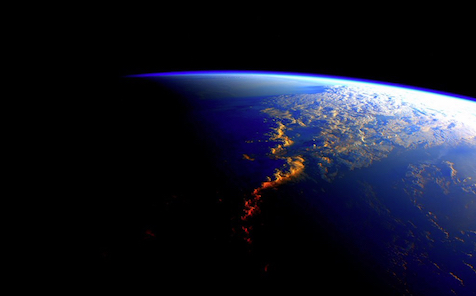 Historic moment: Nations agree to limit warming
Dec. 13, 2015
Virtually all nations on Earth supported an agreement to turn from fossil fuels, transforming humanity's use of energy in a bid to avoid the most devastating impacts of man-made climate change. Read the article
---
Ultimately, it all boils down to temperature
Dec. 12, 2015
Limit warming to 2 degrees Celsius? Or 1.5? As recent temperature statistics and scientific assessments have underscored, achieving either goal will present daunting, historic challenges on a monumental scale. Read the article
---
Close to the wire, more work to be done
Dec. 10, 2015
Yet another revised draft of a world climate agreement was distributed at U.N.-sponsored negotiations involving close to 200 nations at Paris on Thursday, with some previously unresolved issues tentatively decided and other big issues still to be settled.
The two-week conference – convened to forge a pact to slash planet-warming pollution from humans' use of coal, oil and natural gas through an overhaul of the world's energy systems – is scheduled to end Friday night.
But many signs on Thursday pointed to possible overtime sessions, with a final agreement possibly not emerging until the weekend.
Here are highlights from initial news reports on the latest draft and the outlook for the dwindling remainder of the conference:
From The Associated Press:
The 27-page draft — two pages shorter than a previous version — included a long-term goal of keeping global warming "well below" 2 degrees Celsius (3.6 degrees F), while pursuing efforts to limit the temperature rise to 1.5 degrees C.
The draft also said governments would aim to peak the emissions of heat-trapping greenhouse gases "as soon as possible" and strive to reach "emissions neutrality" by the second half of the century.
That was weaker language than in previous drafts that included more specific emissions cuts and timeframes. Emissions neutrality wasn't defined in the text. Previous versions have included similar terms that are generally understood to mean no more emissions than the Earth can naturally absorb.
[…]
The biggest challenge is to define the responsibilities of wealthy nations, which have polluted the most historically, and developing economies including China and India where emissions are growing the fastest.
From Climate Central:
Uncertainty lingered in the latest draft on key issues, including issues of financing for poorer countries, and on how an agreement would differently affect richer and poorer nations. But consensus appeared to growing on what once had been stubborn divides.
"We are extremely close to the finishing line," said the president of the negotiations, French foreign minister Laurent Fabius, before the 27-page draft was handed to delegates from nearly 200 nations. "It's time to come to an agreement."
It seems almost certain now that the final agreement will compel nations to strive to limit global temperature increases to less than 1.5 degrees C (2.7 F) compared with preindustrial times, alongside a firmer goal of keeping warming "well below" 2 C (2.7 F).
That highly ambitious target had once seemed unlikely to be included. Global temperatures have already risen by 1°C (1.8°F), triggering floods and worsening deadly heatwaves and wildfire risks.
[…]
Contents of the new draft raised the specter that a "loss and damage" mechanism, which would see developed countries help poorer ones recover from crises triggered by climate change, would be diminished. That would be a victory for wealthier countries.
In a potential victory for poorer countries, the latest draft suggests that wealthier ones are prepared to commit to clarifying how they will provide $100 billion a year to poorer countries to help deploy clean energy and adapt to the changing climate.
From The Guardian:
[…W]hen it came to recognising irreversible effects, such as land loss and migration, the draft was a huge disappointment, campaign groups said.
"The current options provide no hope for people who will suffer the impacts of climate change the hardest," according to WWF.
Christiana Figueres, the United Nations climate chief, said she remained confident negotiators were closing in on a fair and ambitious agreement but there were still big gaps.
"The political crunch issues, as expected in any negotiation, remain open," she said. These included climate finance for developing countries, transparency, and the most divisive issue of all: how to share responsibility for climate change between developed and developing countries.
– Bill Dawson
---
Rich, poor uniting, but big hurdles remain
Dec. 9, 2015
Climate negotiators in Paris agreed Wednesday on a new, shorter draft for the emission-reducing pact that they're hoping to finalize by the end of the week. John Upton, a journalist for Climate Central, a nonprofit reporting and research organization, filed this report explaining the disagreements that still remained as the clock ticks down to the summit's scheduled end.
+++
Hundreds of negotiators huddling in a conference center here Wednesday were preparing to work through the night to try to achieve something nearly 20 years of talks have so far been unable to do: unite rich and poor nations on climate action.
A draft United Nations pact designed to tackle the problem of runaway global warming was released Wednesday. It showed negotiators had made substantial progress, whittling an earlier draft to 29 pages from 48. Resolution on some earlier sticking points now seems virtually certain.
But on several critical issues, delegates from the developed and developing world appear to have made little progress during the last week and a half of talks.
There was little agreement on whether to formally differentiate the responsibilities of richer and poorer countries to curb releases of heat-trapping pollution, nor on how richer countries would help fund the work of poorer ones as they strive to do so.
The limit – 2 degrees or 1.5?
Key issues that would define how ambitious a new climate pact would be also continued to divide developed and developing nations. For example, there was no unity on whether it would address a growing desire to curb warming to less than 1.5 degrees C, or 2.7 F, which is lower than the prior target of 2 C (3.6 F) — roughly double the amount of warming that is already triggering floods and worsening heat waves.
Time to resolve the stubborn disagreements is running short, and negotiators took turns rattling off their long lists of concerns — some of them minor quibbles, others threatening to scuttle the talks — during a high-level meeting.
The mood at the negotiations remained optimistic, however, particularly when compared with the seemingly irreconcilable tensions that led to a weak outcome at the close of a lower-level round of talks in Lima a year ago.
"I'm optimistic that they can get to an agreement here," said Alex Hanafi, an Environmental Defense Fund attorney who is attending the climate talks.
"The text has shrunk significantly," Hanafi said. "You don't want it to shrink so much that it's basically a nothing burger, but I think there are good signs that they can get to a text that is simplified but not overly simplistic."
Laurent Fabius, France's foreign affairs minister who is serving as president of the negotiations, is pushing to finalize the agreement by Thursday.
That would provide time for legal vetting and multiple translations of the proposed agreement by Friday, when the meeting is scheduled to end. Previous rounds of climate negotiations have run past schedule, but Fabius has repeatedly said he aims to finish the meeting on time.
"We have to resolve these issues," Fabius said.
The rapid emergence of a new coalition fighting for a highly ambitious pact — an informal group comprising countries rich and poor, including the U.S., European Union, Tuvalu and Gambia — raised hopes that the world would soon commit to abandoning the heavy reliance on fossil-fueled development that has defined the past 200 years.
The coalition is pushing for an agreement to mention the 1.5 C goal, to require regular reviews of climate pledges submitted by countries, and to allow for regular reviews of those pledges and of progress toward meeting them.
Who pays?
The coalition also wants an agreement to provide a clear path forward as wealthier countries work to provide at least $100 billion a year by 2020 to help poorer ones slow and adapt to climate change.
"There are some countries here who are not in the coalition and, indeed, who seek a more minimal outcome," lead U.S. negotiator Todd Stern told reporters Wednesday. "But we need to press forward for ambition."
The notable absence of rapidly industrializing nations, particularly India and China, from what's being called the High Ambition Coalition, suggested that while rich and poor might be uniting on meaningful climate action in Paris, the club of the newly wealthy remains wary of sacrifices they fear will be demanded of them.
While other countries are ready to dump rigid divisions of responsibility between richer and poorer, which defined the largely unsuccessful 1997 Kyoto Protocol, China, India, Brazil, and South Africa were leading a fight to retain them.
The BASIC negotiating bloc, which comprises those four fast-developing nations, says it's fighting to protect the interests of the world's poorest countries, with which it wants to continue to be grouped in a new climate agreement.
"We are not suggesting that we remain stuck in the past," India's environment minister, Prakash Javadekar, said. "But a durable agreement cannot be crafted diluting historical responsibilities, or by putting the polluters and victims at the same level. How can we do this?"
But BASIC's negotiating positions on the so-called issue of differentiation, and its reluctance to embrace more stringent and ambitious steps and goals to tackle global warming, are increasingly isolating it from the positions being taken by the majority of the world's richest and poorest nations.
Loss and damage
Some other disagreements that continued to linger also divided the haves from the have nots, such as a proposed loss-and-damage mechanism, which could provide support and money to help vulnerable countries cope with disasters triggered or worsened by climate change. It also remained unclear how the agreement would handle the need for communities to adapt to global warming, which is a high priority for poorer and low-lying nations.
Yet another disagreement divided the U.S. and the European Union, despite recent diplomatic breakthroughs.
American negotiators want progress toward meeting climate pledges by individual nations to be voluntary but carefully monitored. European negotiators want those pledges to become mandatory under international law.
Wednesday's draft agreement contained multiple options, each of them in square brackets, characterizing how those pledges could be treated under international law.
As negotiators prepared for a tough haul to turn the draft agreement into one that could recast the global energy industry — and reshape the future of the planet, its coastlines and the wellbeing of its residents — France's Fabius urged them to work hard.
"You need to be ready to be working overnight and tomorrow," Fabius said.
– Bill Dawson
---
Republicans in Congress try to thwart climate pact
Dec. 9, 2015
Ted Cruz's latest attack on the vast scientific consensus undergirding the Paris climate talks comes amid various Republican efforts to block an emission-cutting agreement with signals that it faces opposition in Congress. Read the article
---
Texans in Paris for conference-related events
Dec. 7, 2015
The thousands who travelled to the French capital for the climate talks include many who aren't national negotiators or journalists. These other individuals, including Texans, are there for a kaleidoscopic array of discussions, exhibits and other climate-themed events. Read the article
---
The home stretch: Can major issues be resolved?
Dec. 7, 2015 (Updated Dec. 8, 2015)
With a draft agreement in hand – approved on Saturday by lower-ranking climate negotiators – foreign and environment ministers got to work at the Paris conference this week to try to resolve major points of disagreement that remained.
Their aim – by the end of this week, forge a final agreement, based on individual nations' voluntary commitments to reduce climate-disrupting pollution that mainly comes from using fossil fuels.
Despite accounts of optimism in many quarters, various news accounts portrayed considerable challenges ahead.
"Ministers now have a week to reach consensus on issues that have bedeviled officials during years of talks," the Wall Street Journal observed.
"Negotiators from 195 countries signed off on a draft climate agreement [in Paris] Saturday, but the document left so many huge questions unanswered that the real work is only just beginning," National Geographic reported.
"Negotiators had hoped to be much further forward at the end of [last] week," the BBC noted. "There are worries that far too much has been left to ministers to agree, and that in an effort to reach a deal, too many compromises will be made."
Journalists covering the talks also agreed on what the major unsettled issues are:
Money
Questions of finance still reportedly loomed especially large, as they had in the years of talks leading up to the Paris conference.
They involve how much aid should be allocated for developing countries to help with clean-energy development and making themselves more resilient in advance of future changes that scientists say greenhouse-gas emissions have already locked into the earth's climate system.
A related issue: Should only long-developed nations provide this aid, or (as the U.S. argues) should nations such as China and Brazil, with large, fast-developing economies, also chip in?
Binding?
Should the agreement be "legally binding" or not? Making it so could produce big problems for the Obama administration, working hard to achieve an accord at the talks, because an agreement qualifying as a treaty in the U.S. would require two-thirds Senate approval under the Constitution.
With Republicans hostile to any climate agreement in the majority in the Senate, such approval appears impossible for the administration to win.
If the agreement isn't technically a treaty in the U.S. but is somehow binding, will there be transparency requirements covering monitoring, verification and disclosure of nations' progress toward achieving their voluntarily promised emission reductions?
Updates
How soon should the agreement stipulate that nations revisit and "ratchet up," in negotiators' parlance, their pledged reductions? Five years from now? Ten or 15 years as some nations want?
The question is key to any Paris agreement's success in meeting its ultimate goal of holding global warming, the pollution-fueled phenomenon driving climate change, to 2 degrees C (3.6 F). That was the previously agreed-upon limit to avoid "dangerous" climate disruption. By all accounts, the commitments that nations brought to the current conference won't cut emissions enough to keep more warming than that from happening.
A related issue that surfaced last week at the Paris talks: Is 2 degrees C, compared to pre-industrial levels, a low enough limit for an average manmade increase in the earth's average temperature? Leading scientists have said – and negotiators agreed in climate talks in 2010 – that it was.
But some researchers, now being joined by some nations, have been arguing that in light of recent findings and the climate system's many uncertainties, a lower limit – 1.5 degrees C (2.7 F) – should be adopted.
Holding warming to a lower limit would mean a need for greater reductions in climate-warming greenhouse pollution, especially the principal human-produced greenhouse gas, carbon dioxide emitted when coal, oil and natural gas are burned.
Recommended reading:
– Bill Dawson
---
What would an independent Texas tell the UN?
December 3, 2015
With secession talk still popping up, TCN's Randy Lee Loftis  imagined how a Texas national submission to the Paris climate talks might sound. Given its leaders' stance, a Lone Star republic might find itself pretty lonely on a world stage. Read the article
---
Initial days: Renewables, carbon tax, early trouble
December 3, 2015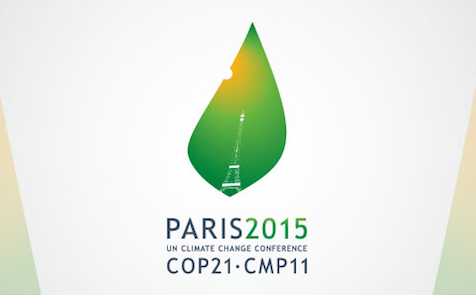 The Paris climate change conference opened this week with a flourish – make that several flourishes – involving new clean energy initiatives intended to help facilitate the transition from fossil fuels to cleaner forms of energy that must accompany any significant reduction in humanity's production of greenhouse pollution.
Receiving a lot of the media attention focused on the conference's initial days were the announcements of a pair of projects that will reportedly work in tandem to boost private and public investment in cleaner energy technologies.
Billions and billions
One is the Mission Innovation Initiative, in which 21 nations including the U.S. China, Brazil, France, Germany and U.K. pledged to double such investments in the next five years – an investment pool totaling $20 billion. From the initiative's launch statement:
New investments would be focused on transformational clean energy technology innovations that can be scalable to varying economic and energy market conditions that exist in participating countries and in the broader world. Research and development projects would be designed and managed to attract private investors willing to advance commercialization.
The second, related initiative involves a group of 28 of the world's wealthiest individuals – including Microsoft's Bill Gates, Facebook's Mark Zuckerberg, Amazon's Jeff Bezos and Jack Ma of China's Alibaba Group – called Breakthrough Energy Coalition.
The coalition will raise a lot of money – running into the unspecified "billions of dollars" – to work with government efforts under Mission Innovation to jumpstart development and introduction of low-carbon energy technologies.
The focus, the Washington Post reported, will be on "provid[ing] early-stage capital for technologies that offer promise in bringing affordable clean energy to billions of people, especially in the developing world."
Tacitly acknowledging what scientists say is the urgency of cutting climate pollution to hold the earth's average temperature rise to 3.6 degrees F (2 degrees C) Gates told the Post:
"Historically, it takes more than 50 years before you have a substantial shift in energy generation, but we need to do it more quickly. We need to move faster than the energy sector ever has."
Promoting renewables in the developing world
Developing nations are also the focus of two other renewable energy initiatives announced at the outset of the Paris conference.
India's Prime Minister Narendra Modi, accompanied by French President François Hollande, unveiled a solar energy project involving more than 120 countries, many of which enjoy ample sunlight in tropical regions.
India, which has pledged to produce 40 percent of its energy output through renewables by 2030, said it would make an initial investment of $30 in the multinational solar initiative, which hopes to raise an additional $400 million from aid agencies and member fees.
"Solar technology is evolving, costs are coming down and grid connectivity is improving," Modi said. "The dream of universal access to clean energy is becoming more real. This will be the foundation of the new economy of the new century."
Meanwhile, an African Renewable Energy Initiative was also announced, which will start with an investment of $12 billion from the African Development Bank in an effort to leverage up to an additional $50 billion from the private sector.
The aim is a 10-fold increase in production of energy from renewable sources in Africa, to 300 gigawatts by 2030. Hollande, also supporting this initiative, announced France's planned investment of two billions of euros in Africa over the next five years on renewable energy and other environmental projects.
Carbon tax, anyone?
A long-discussed mechanism for compelling a shift to renewables and away from fossil fuels is a carbon tax, based on an energy source's output of the principal human-produced greenhouse gas, carbon dioxide.
Six nations – France, Germany, Canada, Chile, Mexico and Ethiopia – were joined by top officials of the World Bank and International Monetary Fund and of Organization of Economic Cooperation and Development to announce their support for wider adoption of carbon taxes.
President Barack Obama lent his support at a subsequent news conference "I have long believed that the most elegant way to drive innovation and to reduce carbon emissions is to put a price on it. Obviously I'm not under any illusion that this Congress will impose something like this."
A longtime supporter in Texas of a revenue-neutral carbon tax, ExxonMobil Corp., weighed in after the conference got started with a statement reiterating its support for the idea and saying the company hopes for a Paris agreement to attack climate change. From Exxon's statement:
"The long-term objective of climate-change policy should be to reduce the risks of serious harm to humanity and ecosystems at minimum societal cost, while recognizing shared humanitarian necessities, including providing reliable and affordable energy to improve global living standards."
Road bump or blockade?
There were optimistic pronouncements by Obama and other world leaders when the conference kicked off that a major emission-cutting agreement would be reached by the meeting's end next Friday, Dec. 11.
But on Thursday, Dec. 3, a difficult, longstanding issue that might prevent that from happening was back in play in a prominent way – the question of climate-related financial aid from rich to developing nations.
Climate News Network reported:
Frustration at lack of progress in negotiations at the U.N. climate summit led to an outbreak of megaphone diplomacy today, with 134 developing countries issuing a statement demanding that rich countries provide more finance for them to adapt to rising temperatures and sea levels.
The statement accused them of trying to amend the U.N. Framework Convention on Climate Change so that the more wealthy developing countries such as China were also forced to help the poorest nations adapt to climate change. The statement said the richer countries were trying to avoid their responsibility for causing global warming in the first place.
The dramatic release of a strongly-worded statement before the two weeks of negotiations had reached the halfway stage showed that the success of the talks is in jeopardy.
Normally, all these tensions are dealt with behind the closed doors, so delegates from the European Union and the U.S. were clearly shocked by the development. They spent several hours discussing how best to respond to avoid a breakdown, but a statement from the rich nations was still awaited as the day's proceedings drew to a close
– Bill Dawson
---
A brief introduction to the climate negotiations
December 2, 2015
Killer heat waves. Longer, harsher droughts. Flooding sea-level rise. Stronger storms. Famine-causing crop failures. Dying forests. Insect-borne epidemics.
These are some of the projected outcomes of an unfolding process of climate change, driven by humans beings' use of fossil fuels, that negotiators in Paris convened this week in an effort to address by forging a binding international agreement to cut emissions of carbon dioxide and other greenhouse pollution.
Here and now
As a growing drumbeat of studies have documented in recent years, manmade climate change is not just something researchers are projecting. It also encompasses weather extremes and other phenomena, recorded by scientists in various disciplines, that are happening now.
Seth Borenstein of the Associated Press reported this week that compared to 1997 – the last time nations agreed to a binding climate pact in Kyoto, Japan – the Paris negotiations are happening on a "hotter, waterier, wilder Earth."
"At the time of Kyoto, if someone talked about climate change, they were talking about something that was abstract in the future," said Marcia McNutt, the former U.S. Geological Survey director who was picked to run the National Academies of Sciences. "Now, we're talking about changing climate, something that's happening now. You can point to event after event that is happening in the here and now that is a direct result of changing climate."
Texas is no stranger to such findings. The severity of the state's punishing, record-setting drought and heat wave of 2011 has been attributed, in part, to human-caused climate change by researchers including the state climatologist.
The stakes for Texas
The climate issues being discussed in Paris are crucially important to Texas in two key ways. First, Texas is a place that is particularly vulnerable to worrisome impacts of climate change because of its long coastline facing the Gulf of Mexico and its drought-prone geography. Second, it is the self-described capital of the oil and gas industry, a major user of that industry's products, and a world-class consumer of coal-fired electricity, meaning it ranks internationally as a major contributor to global warming.
If the Paris talks produce an emission-cutting agreement, in other words, it could help spare Texas some of the worst projected impacts of climate change and at the same time lead to changes in the state's fossil-fuel-dependent economy and way of life, as the U.S. and the world navigate the transition from oil and coal to other, cleaner sources of energy.
The Kyoto Protocol's emission-reducing directives were binding for ratifiers among developed nations, but not binding for developing nations with large and growing emissions such as China, India and Brazil.
That feature of the agreement – no mandates for developing nations – proved to be intensely controversial, drawing political opposition in the U.S., particularly among Republicans. The Senate never ratified the treaty, for instance, and then-Texas Gov. George W. Bush ran for president in 2000 on a platform that included opposition to the Kyoto accord. It had been negotiated by a U.S. team headed by then-Vice President Al Gore, Bush's Democratic presidential opponent in the 2000 election.
2014 breakthrough
A number of conferences followed until a breakthrough on the issue of emissions cuts by developing nations occurred last year when the U.S. and China, the two biggest emitters of greenhouse gases, announced a mutual pledge to reduce that pollution in their own chosen ways. Since that announcement, most nations filed their own emission-reducing pledges in the lead-up to the Paris conference – 185 of 196 nations, representing 98.5 percent of world emissions by the start of the conference on Monday.
By various accounts, the pledges, even if national leaders and their successors implement them as promised, won't add up to enough emission cuts to accomplish the total reduction that scientists say is needed to limit the average planetary temperature increase caused by greenhouse emissions to 3.6 F (2C) and thereby avoid dangerous climatic disruption.
The answer to that conundrum, negotiators drafting a potential agreement in talks before the Paris conference said, is that nations will be expected to adjust their commitments, boosting their pledged emission reductions, in coming years.
In other words, if an agreement does emerge from the Paris talks, as many close observers of the prelude to the conference expect, it will be just a start, although a very significant one in light of past international failures to stem, much less reverse, global emission growth.
– Bill Dawson
---
Recommendations for a little background reading
December 2, 2015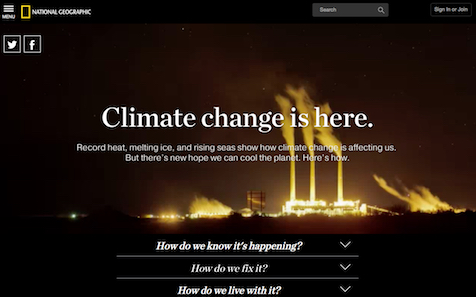 There's been a lot of journalistic attention to the Paris conference in the weeks preceding the meeting. Here are a few recommended examples that can enhance your understanding of the current state of the science of climate change and the possible responses to the problem, in a Paris agreement and otherwise.
National Geographic produced an intensely detailed special issue in November, "Climate change is here," with text and graphic elements divided into three sections: "How do we know it's happening?" "How do we fix it?" and "How do we live with it."
For a more succinct rundown of the science of climate change, various potential future scenarios, and some things people can do about it – individually and collectively, the New York Times published an FAQ-format piece last week, "Short answers to hard questions about climate change."
Among the various useful aids to understanding the diplomacy at the Paris conference were these:
For anyone wishing to dig really deeply into the thorny intricacies of the talks, Climate Nexus, a communications project of Rockefeller Philanthropy Advisors, published a "UNFCCC Jargon Buster," helpfully defining opaque diplomatic terms used in international climate parleys, such as "anchoring," "landing zone" and "ratchet mechanism."
(For the uninitiated, UNFCCC stands for United Nations Framework Convention on Climate Change – the name, perhaps confusingly, of both the initial international treaty on climate change, which was signed in 1992, and the U.N. secretariat that has supported subsequent, related negotiations to build upon that treaty.)
– Bill Dawson
Image credits: Earth photo – NASA; Light show – Connect4Climate; Draft distribution – U.N. Framework Convention on Climate Change; Cameron speaking –  Georgina Coupe / Flickr; Paris 2015 logo – United Nations;  Le Bourget – French government; "Climate change is here" – National Geographic