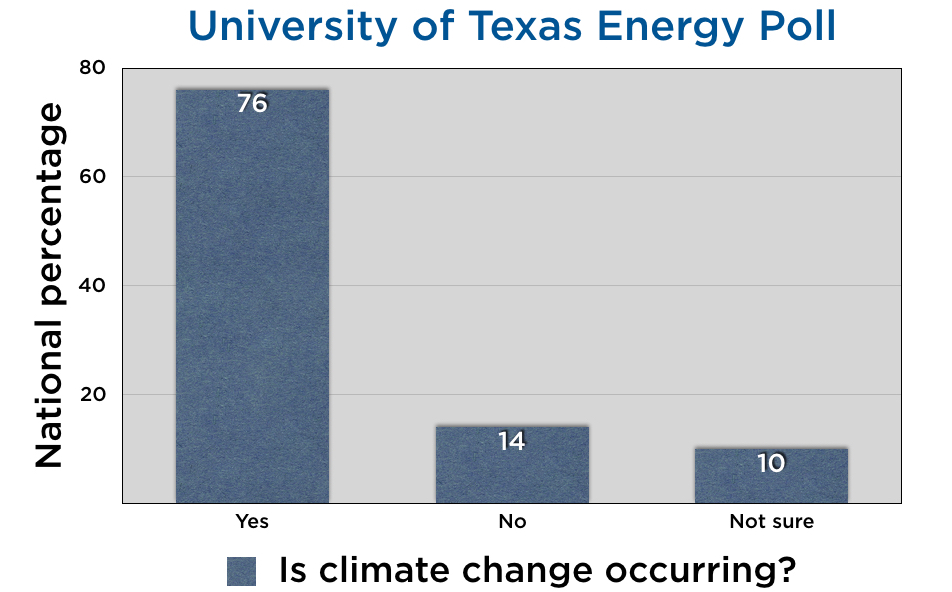 Federal scientists who track temperature readings announced Wednesday that it's now all but certain 2015 will end up replacing 2014 as the planet's hottest year on record – that is, since 1880.
Last month was the hottest September in the historical record and this year's first nine months were the hottest January-to-September period, the National Oceanic and Atmospheric Administration added.
The drumbeat of such announcements in recent years may help explain the results of the latest University of Texas Energy Poll, released on Tuesday.
The twice-a-year UT Energy Poll's national findings in September included its highest numbers yet representing public agreement that climate change is occurring – 76 percent said it is, while only 14 said it isn't. Another 10 percent weren't sure.
The UT poll has been conducted eight times, each spring and fall since 2012. The survey was developed by the university's McCombs School of Business.
A large majority of Texans who were interviewed in the survey last month – 69 percent – told the UT pollsters that they think the climate is changing. That finding is the latest in a string of different survey results indicating most Texas citizens don't share the same strong dismissiveness or doubt about climate change that many of the state's leading political figures persist in expressing.
The new UT survey results are also consistent with other recent findings suggesting that rejection of, or strong doubt about, scientists' conclusion that pollution is disrupting the earth's climate system is waning among Republicans nationally.
The percentage of Republicans across the country who said they think climate change is happening jumped to 59 percent in the latest UT poll from 47 percent in the spring survey. That's the highest number of Republicans who said the climate is changing in any of the UT surveys. Agreement that the climate is changing also reached an all-time high of 90 percent among Democrats in the UT poll.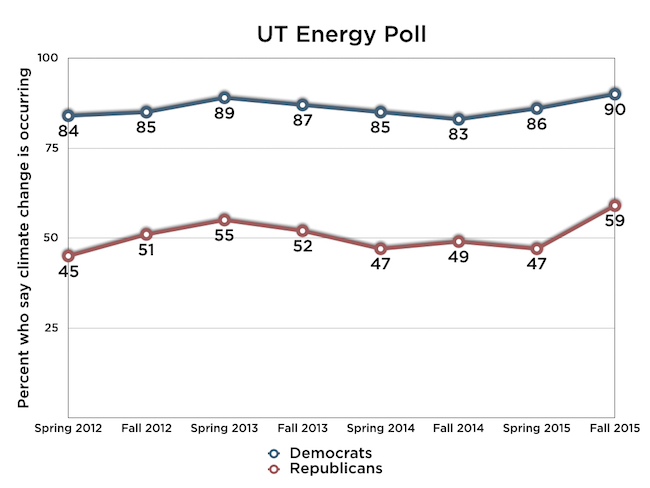 The latest edition of the poll also found growing public attribution of climate change to human causes, as compared to "natural forces." For instance, 73 percent, 63 percent and 60 percent respectively said deforestation, oil use and coal use are significant factors in creating climate change, while only 43 percent said "natural forces" are a significant contributor.
On policy questions, the pollsters found increasing support for measures promoted to reduce the pollution causing climate change:
Fifty-two percent of respondents are more likely to vote for someone who wants to reduce coal use, up from 43 percent in the spring.
Thirty-seven percent are more likely to vote for a candidate supporting a carbon tax, up from 28 percent in the spring.
Sixty-two percent, versus 54 percent six months ago, are likelier to vote for someone who wants to require power producers to make a certain percentage of their electricity from renewable sources.
– Bill Dawson
+++++
Bill Dawson is the founder and editor of Texas Climate News.
Image credit: Texas Climate News charts based on UT Energy Poll data