Cities+Climate is an occasional series in which Texas Climate News is examining some of the ways that Texas cities are responding to scientists' findings and projections about climate change – or not responding.
+++
By Bill Dawson
Texas Climate News
Houston's boosters are fond of calling their city "the energy capital of the world." By which they mean "the oil-and-gas capital," not "the renewables capital" or "all-of-the-above capital."
The banks of the Houston Ship Channel and other industrial zones in the metro area are crowded, after all, with refineries and other oil-related facilities, not windmills and solar arrays.
Houston Mayor Annise Parker is one of those who uses the "energy capital" title in the "oil-and-gas" sense, with that qualification left unspoken. But she does it with a twist that could surprise someone who might find it unlikely that the "oil and gas capital" would have a mayor who is vigorously campaigning – and on the national and world stage, at that – to combat climate change caused by planet-heating pollution from fuels including oil.
"Houston has proven that it can maintain its title as the energy capital of the world while at the same time pursuing green policies that lift our reputation as a world leader in sustainability," she said in April on an investment and trade mission to India. "We are leading by example when it comes to investing in programs that reduce costs, improve efficiencies and decrease greenhouse gas emissions."
Nearing the end of six years in the city's top office because of term limits, Parker, a Democrat, isn't flagging in her tenure-long promotion of Houston's steps to cut greenhouse emissions from municipal operations and her broader, outspoken advocacy of climate action.
That latter political stance has put her at odds – implicitly, at least – with many pro-oil politicians (especially Republicans), business leaders and conservative activists in Texas, as she has supported the Obama administration's federal regulations to cut industrial greenhouse emissions and called for the adoption at a U.N.-sponsored conference in Paris in December of a strong international agreement to reduce emissions.
Most recently, Parker was sounding off on this theme again at the U.S.-China Climate Leaders Summit this month in Los Angeles.
"Cities are on the front lines of battling the extreme weather caused by climate change," she said in a statement on the eve of the Sept. 15-16 meeting. "Mayors are helping lead the way to find solutions to reduce greenhouse gas emissions, and I'm proud to join other leading U.S. mayors and Chinese leaders at this historic convening."
The conference was the first follow-up event resulting from a  binational project called the U.S.-China Climate-Smart/Low-Carbon Cities Initiative, which was launched last November.
According to Parker's office, the meeting was held so local government leaders and others could "declare their resolve, ambition, and actions" and conduct "working-level technical exchanges to share experience and best practices" in reducing emissions and building resilience to climate-change impacts.
The U.S-China cities initiative was announced last year at the same time the top leaders of the two nations declared a joint commitment to reducing climate-disrupting pollution – specifically saying the U.S. would commit to cutting greenhouse-gas emissions by 26 to 28 percent below 2005 levels by 2025 and China would commit to reduce emissions after a peak occurs around 2030.
The New York Times reported in advance of the Los Angeles meeting this month that White House officials said it "was intended to demonstrate that both countries were moving forward to meet the terms of their agreement."
In August, the Obama administration adopted new regulations to cut emissions of carbon dioxide, the principal greenhouse gas from human activities, at existing power plants. After the Los Angeles conference, China announced it would adopt a cap-and-trade system to reduce emissions through a system for trading emission permits.
Participating cities' own updated goals to reduce greenhouse pollution, including Houston's latest pledge, were in the spotlight at the Los Angeles session. An international message was intended: A White House aide told the Times the municipal promises would provide evidence of steps toward implementation of the national commitments in the lead-up to the Paris conference where nations will be trying to craft a broader emission-reducing plan.
For the Los Angeles conference, Parker reiterated a new Houston goal, announced in August, to achieve an 80 percent reduction in municipal greenhouse emissions by 2050, compared to a 2007 baseline. (Meeting that goal, of course, will depend on continuing commitments by a number of future mayors, who would be confined to three two-year terms under the city's current term limits.)
The 2050 goal was the latest and by far the most ambitious of several, progressively higher targets announced in recent years.
In 2013, the mayor's office said the city had achieved a 26 percent reduction in municipal greenhouse-gas emissions, compared to 2007, through efforts such as increasing its purchases of renewable energy and the portion of hybrid vehicles in the city's fleet.
Last year, officials said city operations had reached 32 percent with a new goal of "another aggressive 10 percent reduction by 2016."
Then this past April, Parker's office said the city was "on track to meet [the 42 percent] goal – a progress report that was also restated the day before the Los Angeles meeting.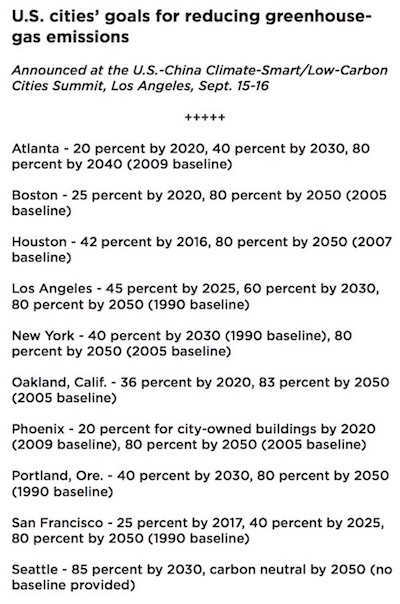 Houston's new goal of an 80 percent reduction in emissions was similar to those announced by most other U.S. cities at the Los Angeles conference, which differed in some details. (See graphic at right for selected examples or the conference declaration for a full list.)
The road to the 80 percent goal for Houston started before Parker took office in 2010. In December 2008, her mayoral predecessor Bill White announced that Houston was undertaking a project to make significant improvements in the energy efficiency of 271 city buildings totaling 11 million square feet.
White noted at the time that Houston had become a member of C40, a group launched in 2005 by London's then-Mayor Ken Livingstone that describes itself as "a global network of large cities taking action to address climate change" through actions "that generate measurable reductions in both greenhouse gas emissions and climate risks."
In announcing the energy-efficiency initiative for city buildings, White added that this retrofit program was at the time the biggest such project among participating C40 cities.
In her now nearly six years as mayor, Parker has continued to pursue White's general engagement with climate issues. Some examples:
In June 2011, she was chosen as the top winner in the U.S. Conference of Mayors' 2011 Mayors' Climate Protection Awards, recognizing programs of Houston's Green Buildings Initiative, aimed at boosting energy efficiency.
In November 2013, Parker was selected to be a member of President Barack Obama's Task Force on Climate Preparedness and Resilience, which was asked to develop recommendations on the best ways the federal government can support state, local and tribal leaders get ready for the impacts of climate change.
In February 2014, Parker was one of two U.S. mayors (the other was Los Angeles Mayor Eric Garcetti) to become members of the C40 Steering Committee. Other Steering Committee members include London Mayor Boris Johnson and Rio de Janeiro Mayor Eduardo Paes.
In September 2014, the Houston mayor joined Garcetti and Philadelphia Mayor Michael Nutter in launching the Mayors' National Climate Action Agenda, a project involving a "mayor-to-mayor, city-to-city outreach effort" to occur over the ensuing year. The initiative's announced aims included building city-level political support for federal regulations to reduce emissions, advocating U.S.  leadership to achieve an agreement for global reductions at the Paris conference, and local-level commitments for cutting greenhouse gases. The effort, Parker's office said, "is intended to demonstrate that emission reduction projects are not only viable, but essential initiatives that must be embraced and scaled across the country."
In June, Parker used the occasion of the U.S. Conference of Mayors' 83rd annual meeting to promote the efforts of the Mayors National Climate Action Agenda and announced a campaign to support Obama in achieving such a pact. (Since it started, mayors of another 24 cities including Austin, Atlanta, Charlotte, N.C., Orlando, Fla., Phoenix and Salt Lake City, Utah, have joined the initiative, Garcetti announced at the same time.)
In July, Garcetti and Parker issued another statement calling for a strong agreement at the Paris conference. The occasion was a Vatican symposium on climate change attended by several members of the Mayor's National Climate Change Agenda who signed a papal declaration for climate action.
In August, the Houston and Los Angeles mayors teamed up again to issue a statement supporting the Obama administration's Clean Power Plan upon its release in final form. The plan, aimed at cutting greenhouse-gas emissions from existing power plants, has been strongly criticized by Texans and others in the Republican House and Senate majorities in Congress. The the two mayors were clearly targeting that stance when they declared it was time for "action" to reduce emissions, not "more debate on climate change from Washington."
Image credit: Los Angeles mayor's office