The Texas Tribune crowed: "In Texas, drought is done."
The Houston Chronicle exulted: "Historic Texas drought over."
The Fort Worth Star-Telegram chimed in: "The Texas drought is so over."
All three news organizations were responding to the determination by the U.S. Drought Monitor last month that after flooding downpours in preceding weeks, not a square inch of Texas was classified in one of its four "drought" categories for the first time since 2010.
No wonder the three news organizations' headline writers seemed so happy. Well, sad to say, but the cause of their exultation was fleeting. Drought wasn't gone from Texas for very long.
Just two weeks, in fact. Fourteen days after its determination that none of state was in a drought category, the Drought Monitor declared on July 29 that a sliver of Northeast Texas – 0.65 percent of the state, to be precise – was back in the "moderate drought" category, the mildest of the four.
Adding to that slightly ominous news, about 12.9 percent of the state (mainly in East and Central Texas) was "abnormally dry" – not as dry as the four "drought" categories, but still a tripling of the "abnormally dry" area from just a week earlier.
Then last week, in the Aug. 4 installment of its drought maps, the Drought Monitor proclaimed that drought and "abnormal" dryness were continuing to spread in East and Northeast parts of the state:
Nearly a quarter of the state (24.1 percent) was "abnormally dry," 4.2 percent was in "moderate drought," and 0.2 percent (a tiny area in the northeast corner) was in "severe drought." All told, those conditions were affecting about 791,000 Texans, the Drought Monitor said.
No one's predicting an imminent return to the punishing hyper-drought that Texas experienced in recent years, especially since a wetter fall and winter may be in store because of this year's strong El Niño weather pattern.
But more evidence that dry conditions can quickly return to Texas – even after this year's tragically flood-causing rainfall – came on July 31 in the official drought outlook for August from the National Weather Service's Climate Prediction Center.
This latest monthly forecast showed drought persisting or intensifying in the small part of Northeast Texas that has returned to "moderate" and then "severe" drought conditions and also indicated that drought of some severity is "likely" to develop across a large swath of the eastern and central parts of the state.
This August assessment represented a drier outlook for the state than the same agency's three-month drought outlook, issued just two weeks earlier on July 16 for the August-October period. The forecast had no areas of Texas where drought was considered "likely" in those months.
The drought declarations and forecasts are manifesting themselves in county-level precautions.
On Tuesday, the Texas A&M Forest Service showed 107 counties (of the state's 254) with bans on outdoor burning on its map of such prohibitions. KBTV, serving the Beaumont-Port Arthur area in Southeast Texas, had reported the day before that the area's Jefferson and Orange counties had joined the growing roster of counties with such burn bans in effect.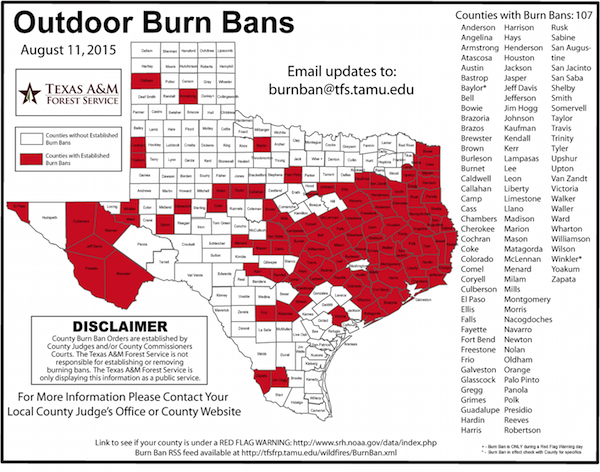 A different drought index from the one used by the U.S. Drought Monitor – one used by A&M's Forest Service and its Texas AgriLife Research to measure and forecast forest-fire potential – portrayed a more troubling picture for the state in its latest version, dated Monday.
The map for a 14-day forest-fire outlook – Aug. 11-25 – showed more than half of the state in the index's three (of seven) driest categories. And all of East Texas was marked in red – the driest, more fire-prone category.
– Bill Dawson
Image credits: Photo – Texas Climate News; Maps – U.S. Drought Monitor, Texas A&M Forest Service