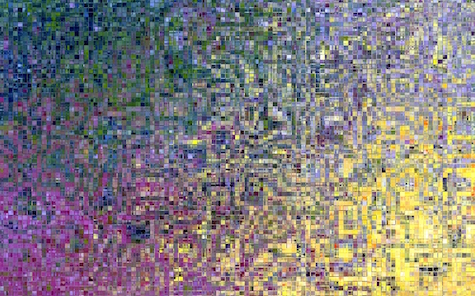 Mosaic: 1. A picture or pattern produced by arranging together small colored pieces of hard material, such as stone, tile or glass. 2. A colorful and variegated pattern. 3. A combination of diverse elements forming a more or less coherent whole. – Oxford New American Dictionary
Here's an understatement: "Sustainability" means different things to different people.
One definition – Wikipedia's group-edited entry on the topic – starts this way:
In ecology, sustainability is how biological systems remain diverse and productive. Long-lived and healthy wetlands and forests are examples of sustainable biological systems. In more general terms, sustainability is the endurance of systems and processes. The organizing principle for sustainability is sustainable development, which includes the four interconnected domains: ecology, economics, politics and culture. Sustainability science is the study of sustainable development and environmental science.
The concept has plenty of fans, ranging from many corporations to their environmentalist critics. It also has its detractors across the political spectrum. Some on the growth-averse left wing of the environmental movement, for instance, ask if "sustainable development" is an oxymoron.
On the free-market political right, meanwhile, some paint sustainability as a stalking horse for a regulatory or collectivist agenda. The prominent conservative columnist George Will recently presented a variation on this theme in a broadside denouncing "academia's embrace of 'sustainability.'"
[T]he term "sustainable" postulates fragility and scarcity that entail government planners and rationers to fend off planetary calamity while administering equity. The unvarying progressive agenda is for government to supplant markets in allocating wealth and opportunity.
For the first installment in TCN's new Mosaic feature, we present some gleanings from recent news articles and institutional announcements about activities in the world of Texas higher education.
The resulting mosaic image, we think, leaves little doubt that "sustainability" has put down roots at a diverse assortment of Texas colleges and universities. Whether it also supports or refutes Will's argument that it's a capitalism-eroding idea may depend on the eye (or ideology) of the beholder.
+++++
– Bill Dawson
Image credit: breyercrazy / DeviantArt; Used under a Creative Commons license