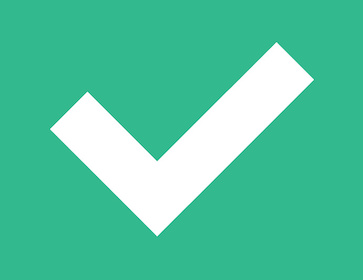 This is the second of two articles analyzing election results of Nov. 4, 2014. This article examines public opinion findings that relate to the federal policy debate shaped by the outcome in congressional races nationwide. The first article examined local votes in a number of places.
+++++
By Bill Dawson
Texas Climate News
Last November's mid-term election, in which voters handed Republicans substantial majorities in both houses of Congress, set the stage for a multifaceted battle between GOP lawmakers and President Barack Obama over climate change.
That contest is just starting, but at the moment, polls are suggesting that Obama increasingly enjoys an edge in terms of public opinion. Today, in the latest such survey, the New York Times reported that its pollsters this month found that "an overwhelming majority" of Americans (74 percent) – including about half of Republicans (51 percent) – support "substantial" federal action to limit global warming, the pollution-caused phenomenon that scientists have concluded is driving numerous current and projected climate disruptions. Ninety-one percent of Democrats and 78 percent of independents favored strong action.
Before considering those survey results, it makes sense to review a couple of events that recently highlighted the two sides' continuing and profound disagreement about the nearly universal scientific consensus supporting the idea that humans are significantly altering the earth's climate.
Obama, in his State of the Union address, said "the best scientists in the world are all telling us that our activities are changing the climate," and those experts are warning of a host of undesirable consequences "if we do not act forcefully."
Most Senate Republicans took a very different position a few days later, however, when 49 of 54 Republican senators (including both Texans) voted against a non-binding resolution declaring that "climate change is real, and human activity significantly contributes to climate change."
In so doing, the 49 senators essentially rejected the central conclusion about the effects of carbon pollution from fossil fuels that is endorsed by the vast majority of the world's climate scientists, including those at leading Texas universities, and provides the basis for Obama's regulatory initiatives to limit those emissions.
The contrasting messages about climate science from the president and Senate Republicans are part of a larger contest over energy policy.
On two major related issues, Republicans have pledged to undo Obama's regulations limiting industrial carbon pollution from coal-fired power plants and green-light the completion of the Keystone XL oil pipeline, a project much favored by fossil-fuel proponents and a key target of climate-action advocates.
Obama, meanwhile, has made clear that he regards the power-plant rules and other climate-related initiatives he has taken to be a major part of his presidential legacy and has threatened to veto legislation approving Keystone before an administrative review is complete later this year. He will have a chance to make good on that pledge very soon – the Senate approved a bill yesterday, following House passage of closely similar legislation, to authorize the pipeline ahead of the review's finish. The Senate measure failed to get enough votes to override a veto.
Support for carbon regulation
Despite the major Republican wins last November, a number of recent polls suggest that Obama's position is increasingly favored by most Americans, continuing a gradual rise in support for action against climate change over the last couple of years. That support, and acceptance of climate science, had notably declined, especially among Republicans, around the time of Obama's 2008 election victory and that year's economic meltdown.
The Times poll, conducted in collaboration with Stanford University and the business-backed, nonpartisan research group Resources for the Future, found potential election-related impacts along with the overwhelming support it recorded for climate action among the public as a whole, including a near-majority of Republicans.
The Times poll also found that for most Americans – again, including nearly half of Republicans – "a candidate's position on climate change influences how a person will vote."
For example, 67 percent of respondents, including 48 percent of Republicans and 72 percent of independents, said they were less likely to vote for a candidate who said that human-caused climate change is a hoax.
[…]
Aliza Strauss, a Republican homemaker in Teaneck, N.J., said in a follow-up interview that climate change had affected her personally and she was concerned about the impact of climate change in coming years. "A tree fell on my house during Hurricane Sandy and in the future it might be worse," she said. "The stronger storms and the flooding will erode the coastline, and that is a big concern for me."
In similar findings, the Associated Press reported last month that its new poll indicated Republican lawmakers' priorities on climate-related matters – which they trumpeted in last year's campaigns – "may be misplaced."
Nearly six in 10 Americans, including half of Republicans, said they support regulation of carbon pollution from fossil-fuel use, according to findings of the poll by the Associated Press-NORC Center for Public Affairs Research at the University of Chicago and Yale University.
According to the AP's report on the poll results:
Nearly half of Republicans said the U.S. should lead the global fight to curb climate change, even if it means taking action when other countries do not. And majorities across party lines said environmental protections "improve economic growth and provide new jobs" in the long run, a popular Obama administration talking point.
An upward track of support for climate action was evident in an opinion survey released this month by the Pew Research Center, which has consistently found over a number of years that Americans ranked global warming at or near the bottom in a list that its pollsters presented to respondents, asking them to name the issues they regard as deserving "top priority" for federal attention.
This time, it was still near the bottom of the list, but nearly four in 10 Americans called it a top priority. That's a major jump, the Washington Post reported:
That 38 percent is almost 10 full percentage points higher than it was last year, when only 29 percent of Americans said global warming should be a priority. The number had barely budged in recent years. In 2013, it was 28 percent. And back in 2009 it was even slightly higher: 30 percent. In fact, 38 percent of Americans haven't called the issue a top priority since 2007.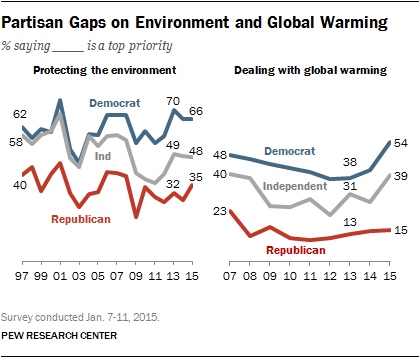 Pew's own report on the survey results noted a wide and continuing partisan divide on the relative importance that Democrats and Republicans assign to global warming (a term that's not as broad as "climate change," but often used as synonym for that broader phenomenon).
While 54 percent of Democrats said it was a top priority for the president and Congress, only 15 percent of Republicans saw the issue that way, Pew found. Thirty-nine percent of independents saw it as a top priority.
"Since 2013, the share saying that dealing with global warming should be a top priority has increased 16 points among Democrats (38 percent to 54 percent) and ticked up eight points among independents (31 percent to 39 percent)," the organization said.
Including all responses, regardless of party identification, Pew found that 67 percent of its respondents said global warming was either a top priority (38 percent) or a still important but lower priority (29 percent).
Examining several years of Pew's findings on issue priorities last year – before the latest findings on climate were announced – the data-analysis website FiveThirtyEight concluded that non-whites consistently have assigned a higher priority to dealing with climate change than whites, including among Democrats.
Every time the question has been asked, a lower percentage of whites have said (dealing with global warming) should be a top priority than non-whites. In fact, the gap between whites and non-whites has widened. The share of non-whites viewing climate change as a top priority hasn't changed much; that same share of whites, meanwhile, has dropped more than 10 percentage points.
Is this just a partisan thing (i.e. Democrats are more in favor of the government developing a plan to combat global warming, and more minorities are Democrats)? This makes sense, but the racial gap exists even when controlling for political party.
Waning support for Keystone?
Thanks to a spirited campaign by climate-action proponents, the Keystone issue grew in recent years as one of the more prominent sub-issues under the general "climate change" umbrella, relating to their contention that Canadian oil flowing through the pipeline to Texas refineries would present a major new addition to worldwide carbon-dioxide emissions.
Beyond the pros and cons regarding the magnitude of the pipeline's ultimate climate impact, the issue has also assumed symbolic importance for people on both sides.
Despite hard-charging efforts by climate activists to link Keystone to the climate degradation, polls have generally found more support than opposition for the project, even in surveys when most people are generally favorable to action to limit climate change.
For example, in last September's edition of the University of Texas Energy Poll, which is a national opinion survey, 59 percent said they were more likely to vote for a candidate who "supports taking steps to reduce carbon emissions." Only 12 percent were less likely, while 24 percent were neither more nor less likely.
In the same survey, 47 percent were more likely to vote for someone who supports building Keystone, only 18 percent were less likely, and it made no difference to 26 percent.
Since then, other polls have found, as a Wall Street Journal headline put it last week, that many Americans are now "on the fence" about the pipeline. ""Approve Keystone XL? Looks like many people still aren't sure," the Journal reported regarding the results of a poll by the newspaper and NBC news, taken earlier in January.
While 41 percent favored building the pipeline in the survey, 20 percent were in opposition and 37 percent said they didn't know enough to say.
The Journal article noted that "other polls show that support from Democrats and independents for the pipeline has waned, amid falling oil prices, while Republican support has remained steady."
A Pew Research poll from November 2014 has support from Democrats down 11 points (54 percent to 43 percent) since March. Among independents, support is down 12 points (70 percent to 58 percent). Overall, that poll found 59 percent of respondents supported the project, with much of that coming from the more than four in five Republicans who support it.
On Jan. 19, the Washington Post reported that a new Post-ABC News poll "suggests that support for Keystone is softer – and less urgent – than previously thought."
The poll found 61 percent of Americans want the Obama administration's administrative review to continue and just 34 percent favoring congressional Republicans' proposal to halt the review and provide a federal go-ahead for the project now in the form of a law.
By contrast, last November, a Journal-NBC poll found 54 percent then favored legislation ending the administrative review, with only 20 percent against such a law.
In the Post's article on the January Post-NBC poll, political reporter Aaron Blake offered three possible explanations for polls' simultaneous findings of support for the pipeline but slipping support for Republicans' "build it now" argument:
1. Completing the administrative review may seem "innocuous" and therefore broadly appealing.
2. People may feel less urgency for the pipeline to be finished amid plummeting gasoline prices and a recovering economy.
3. "Support for the pipeline is wide but shallow."
+++++
Bill Dawson is the founding editor of Texas Climate News. Previously, he was the environment writer for the Houston Chronicle and a senior writer at the Center for Public Integrity, a non-profit, nonpartisan investigative reporting organization based in Washington.
Image credits: Check-mark © Jane Kelly / Fotolia.com; Chart – Pew Research Center