A year ago, with a persistently dipping jet stream blanketing much of the U.S. in polar temperatures, climate-change mockers were trying to score some polemical points.
"Al Gore told me this wouldn't happen," Texas Republican Sen. Ted Cruz joked to reporters in frigid Washington.
Twelve months later, climate scientists at a pair of federal agencies, echoing a recent report by Japanese experts, have just announced that even with 2014's painfully cold start in much of this nation, the year ended as the world's warmest since record-keeping started in 1880.
It was just the latest reminder that local and regional weather conditions – such as last year's extreme, jet-stream-related cold snap – shouldn't be confused with long-term, global-scale climate trends.
In an almost universally held view, climate experts worldwide say the dominant trend is toward warmer average temperatures and a related assortment of hazardous climate disruptions, driven mainly by pollution from the use of coal, oil and natural gas.
Friday's reports by NASA and the National Oceanic and Atmospheric Administration said that when combining land and ocean temperature readings, 2014 supplanted 2010 and 2005 as the warmest year on record. Those two years had been tied as the record warmest.
NOAA's report said that 2014 "also marks the 38th consecutive year (since 1977) that the yearly global temperature was above average. Including 2014, nine of the 10 warmest years in the 135-year period of record have occurred in the 21st century. 1998 currently ranks as the fourth warmest year on record."
Rounding out the updated list of federal scientists' Warmest Top 10, 2013 and 2003 are now tied in fifth place, 2002 is No. 7, 2006 is No. 8, and 2009 and 2007 are tied in ninth place.
The New York Times quoted Gavin Schmidt, who heads NASA's Goddard Institute for Space Studies: "Why do we keep getting so many record-warm years? It's because the planet is warming. The basic issue is the long-term trend, and it is not going away."
Referring to El Niño, a global weather pattern associated with cyclically warmer water in the Pacific, NOAA's report noted that 2014 was "the first time since 1990 the high temperature record was broken in the absence of El Niño conditions at any time during the year in the central and eastern equatorial Pacific Ocean."
There was an unusually strong El Niño pattern in 1998, the 20th century's hottest year and now the fourth warmest since record-keeping began. Schmidt told the Times that the next El Niño will probably obliterate existing temperature records.
A U.S. map released by NOAA portrays annual temperature variations from the 20th century average in the 48 contiguous states in 2014. It illustrates a possible reason why residents of Texas and some other states might be surprised by news about 2014's hottest-year status.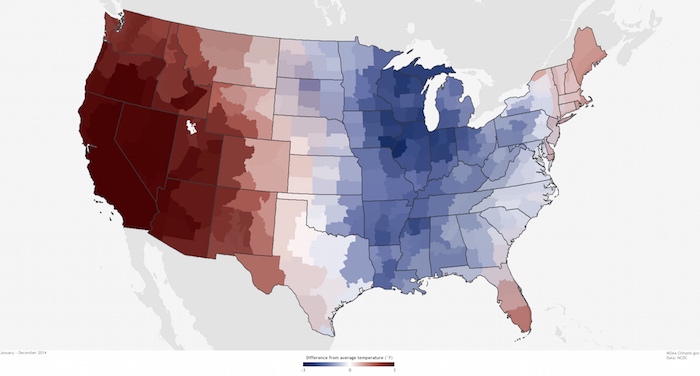 As the map shows, much of the western U.S. was hotter than the 1900s average for those locations last year (shades of red), while another sizable chunk of the country was below average (shades of blue). Texas had some of both – warmer-than-average areas in the west, cooler temperatures in the east, with the middle of the state in line with its 20th century average.
NOAA's world map, however, immediately conveys a vivid picture of the overall global conditions that combined to make 2014 the warmest year with recorded temperatures.
It shows how regional temperatures compared to their averages in a 1981-2010 base period. The only extensive land areas with cooler temperatures than they experienced over those years (shades of blue) were in part of North America and Asia.
Most of the rest of the world was warmer than the base period, both in terms of land and ocean temperatures.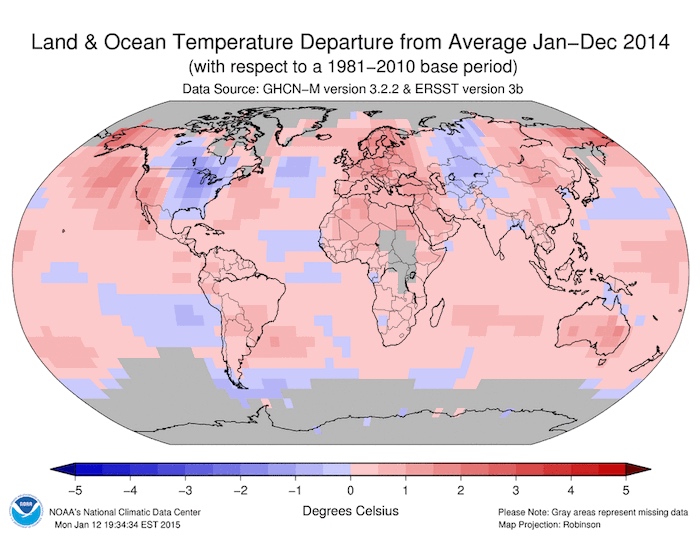 The global ocean temperature in 2014 was a new record high, breaking previous records in 1998 and 2003, NOAA said, while the average land surface temperature was the fourth highest on record.
Among other regional aspects of the 2014 report, NOAA noted that when analysis is complete, Europe is expected to have had its warmest year in at least the past 500 years; temperatures were "much warmer than average" across most of South America, and that Australia had its third-warmest year in 105 years of records, following its hottest year on record in 2013.
In contrast to near-average or below-average temperatures in much of the U.S., NOAA noted that some parts of the country were much warmer than average:
"Above-average temperatures during 2014 were observed across much of the West, Northeast, and Florida. In the West, eight states had one of their 10 warmest years on record. Arizona, California, and Nevada were each record warm, in addition to Alaska."
Earlier this month, the Japan Meteorological Agency released a report saying its data also revealed that 2014 was the world's warmest on record. The U.K. Met Office, the fourth government agency that makes such comparative annual reports along with the Japanese and U.S. agencies, has not yet released its 2014 analysis.
The Japanese agency released a chart showing a continuing upward trend in global average temperatures since the late 1800s: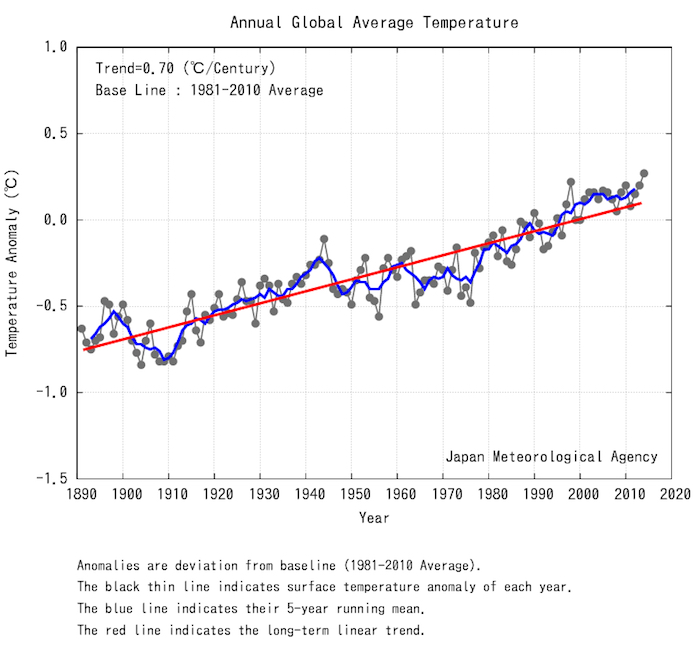 – Bill Dawson
Image credits:  Maps – NOAA; Chart – Japan Meteorological Agency