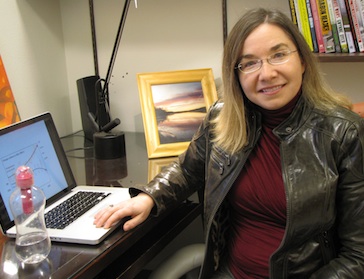 Katharine Hayhoe, a climate scientist at Texas Tech University in Lubbock, has made another prominent magazine's Top 100 list for her work, which includes efforts to persuade fellow evangelical Christians to acknowledge the reality of manmade climate change and help combat it.
The latest recognition came this week when Foreign Policy magazine named her as one of its 100 Leading Global Thinkers of 2014.
In April, she was designated by Time magazine as one of its Time 100 for 2014 – "the 100 most influential people in the world," according to that magazine.
Foreign Policy, explaining its reason for picking Hayhoe for its list, said she "has been aligning religion and conservation for years."
With her evangelical pastor husband, in 2009 she published A Climate for Change: Global Warming Facts for Faith-Based Decisions. Today, she continues to argue that protecting natural resources is in line with conservative Christian values and has emerged as the most prominent religious climate communicator in the United States.
Many evangelicals and other theologically conservative Christians have been skeptical about the almost universally held view among scientists that carbon pollution is harmfully disrupting the earth's climate system.
Honored by Foreign Policy along with Hayhoe "for keeping the faith in the fight against climate change" were researchers Partha Dasgupta of Britain's Cambridge University and Veerabhadran Ramanathan of the University of California, San Diego.
The magazine said they "made ripples in September when [the prestigious journal] Science published the duo's call for religious leaders to evangelize for the planet. Earlier this year, the scientists met with Pope Francis at a Vatican sustainability conference."
In a statement released by Texas Tech announcing the Foreign Policy recognition, Hayhoe said:
I am honored to be named to a list that has always included so many outstanding leaders in the fields of climate science and sustainability. We need global thinkers from every continent and field of study to help us prepare for a changing climate, and to develop the technological and policy innovations we need to leave behind the outdated and polluting sources of energy that are causing this problem.
The university announcement noted that Foreign Policy issues its list of "leading global thinkers" each autumn to honor people who "made a measurable difference in politics, business, technology, the arts, science and other areas."
Another honoree with Hayhoe in the magazine's "Naturals" category, for instance, was Japanese botanist Akira Miyawaki. He is renowned for tree-planting efforts in 15 nations and is now engaged in the Great Forest Wall Project in his native Japan, in which 90 million seedlings will grow into a massive tidal-wave shield and serve as a model for vulnerable coastlines in other countries.
Texas Tech described the work for which Hayhoe has now been recognized by both Time and Foreign Policy:
Hayhoe's research focuses on assessing the impacts of climate change at the regional-to-local scale and translating this science into input for relevant, informed policy. In addition to helping cities, states and federal agencies throughout the country prepare for a changing climate, she is also a principal investigator for the Department of Interior's South-Central Climate Science Center, whose goal is to provide resource managers with the tools and information they need to address the impacts of climate change.
Her outreach includes sharing the relevance of climate change with those affected by it here in the United States and around the world. Particularly, she is concerned with highlighting the plight of the poor and vulnerable, who will be disproportionately affected by a changing climate.
Hayhoe elaborated on that theme in an interview posted in September by Salvationist.ca, the website of the Salvation Army in her native Canada. The interviewer asked, "You were born in Toronto but you moved to Colombia when you were nine years old when your parents became missionaries. How did that experience affect you?"
Hayhoe's reply:
That was a life-altering experience in many ways, and one of the biggest ways was seeing how vulnerable we can be to the natural environment. While I lived in Colombia, there were several natural disasters—landslides, volcanic eruptions, flooding. The number of people who suffer the impact of those types of events in developing countries is always greater than in North America.
Climate change is increasing the risk of a lot of the extreme events that we are already experiencing today. It's making floods more frequent. It's making coastal storms and hurricanes stronger. So to actually know people and see with my own eyes the destructive power of these events really brought home why this matters.
Often, climate change is seen as a planet issue or a creation care issue, but I really think of it as a people issue because we're the ones who are suffering the most from it. Not "we," living our nice, insulated lives as middle-class citizens in North America. It's many of our brothers and sisters who are not so fortunate, who we, as Christians, are told to care for. They don't have the resources that we do, and these are the people who are being affected.
+++++
Editor's note: Katharine Hayhoe has agreed to be a member of a new Advisory Board for Texas Climate News, which is now being assembled. When this panel becomes active, the volunteer members will have no authority over TCN's editorial decisions, which will continue to be made solely by our independent editors and writers. We may occasionally report on TCN's advisors, their work and their publicly stated views. When we do, we will strive to do it impartially and in keeping with the standard we announced when Texas Climate News was launched in 2008: "We publish public-interest journalism, based on traditional principles of independent-mindedness, accuracy and fairness." We will disclose advisors' membership on the panel in articles that report on them.
– Bill Dawson
Image credit: Texas Tech University