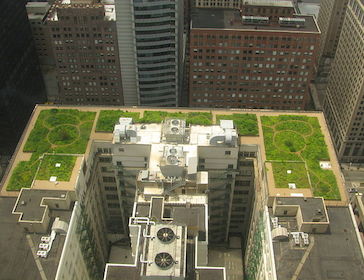 By Tim Radford
Climate News Network
Even without global warming, atmospheric temperatures are likely to rise later in the century: the expansion of the cities will see to that.
Climate scientists and meteorologists long ago recognized the "heat island" effect created by the cities, and made sure routine measurements were not distorted by urban sprawl. But Matei Georgescu of Arizona State University and colleagues think that as populations grow, and cities begin to spread, temperatures will rise anyway.
So, they report in the Proceedings of the National Academy of Sciences, they have tested a few strategies to mitigate the rise of city temperatures and perhaps at the same time turn down the rate of rise in greenhouse temperatures as well.
The argument goes like this: roofs, paved roads, pipes, wiring, traffic, central heating and air conditioning, industry and commerce and other such urban trappings could raise temperatures by 1.8 to 4.6 degrees Fahrenheit.
And cities are certain to expand: The population of the U.S. is expected to grow to somewhere between 422 million to 690 million by 2050, with up to 100,300 square square miles of land newly covered by roofs and roads.
Winter problems
Global urban area is expected to grow by 185 percent by 2030; much of that will be in China and India. In that same time Africa could see the greatest proportional increase: African cities are expected to expand sixfold.
"Urban expansion within these areas will almost certainly be highly concentrated, exposing highly vulnerable populations to land use-driven climate change," the authors say.
So the researchers started to think about some simple changes that could reduce urban temperatures. The first conclusion was that adaptations needed to be tailored to local climates and needs.
One simple answer is the "cool roof" – paint it white so it reflects the sunlight, and in California's Central Valley, at least, the temperature levels fall. In other simulated environments, the measure didn't work so well: reflective roofs lowered the temperature too well in winter, necessitating extra investment in heating fuels.
"Green" roofs, covered with turf or planted with transpiring foliage, were more effective in other urban climates: these highly transpiring structures did not compromise summertime energy savings by demanding additional energy in winter.
Horses for courses
With judicious planning and careful choice of design, it could be possible not only to counteract urban growth temperature increases but even offset the effect of greenhouse gas warming as well, not just over the cities, but beyond the cities as well.
But there was no simple, one-size-fits-all answer. Geography played an important role in any such calculations.
The study delivered unexpected results. In Florida, the team's simulations significantly reduced rainfall, a result that would have implications for water supply and local ecosystems.
"For Florida, cool roofs may not be the optimal way to battle the urban heat island because of these unintended consequences," Georgescu said.
"We simply wanted to get all these technologies on a level playing field and draw out the issues associated with each one, across place and across time."
+++++
The U.K.-based Climate News Network is run by four volunteers, all veteran journalists who have covered climate change for many years for leading British newspapers and broadcasters and are now freelancing.
Image credit: Wikimedia Commons