The super-cold spell that recently afflicted Texas and other areas offered another opportunity for skeptics and deniers to mock scientists' increasingly confident conclusion that manmade pollution is the main cause of the global warming trend driving multifaceted climate change.
"It's cold," Republican Sen. Ted Cruz of Texas wisecracked this week outside the Capitol in response to a reporter's comment about the frigid Washington weather. "Al Gore told me this wouldn't happen."
Climate scientists and their supporters like Gore have never actually said, of course, that global warming means an end to cold — or super-cold — winter weather.
But with conservative mockers of climate science such as Cruz, radio personality Rush Limbaugh and blogger Matt Drudge again citing this month's cold snap to make science-doubting points, scientists and journalists weighed in again with explanations that short-term weather isn't the same thing as a long-term climate trend.
Politico, a Washington-based political news outlet, was one example:
The crazy weather that plunged almost all of the U.S. into a deep freeze represents a millisecond in long-term planetary climate trends — a rounding error in the calculation of mean global temperature.
Climate Central, a website staffed by scientists and journalists whose articles appear in TCN's Featured Reports department, published the results of its analysis showing that "intense cold such as this event is now occurring far less frequently in the continental U.S. than it used to," with "winter warming trends due to manmade global warming and natural climate variability."
Climate Central posted charts illustrating this finding for cities across the country, including five metro areas in Texas where sub-freezing temperatures have become less frequent: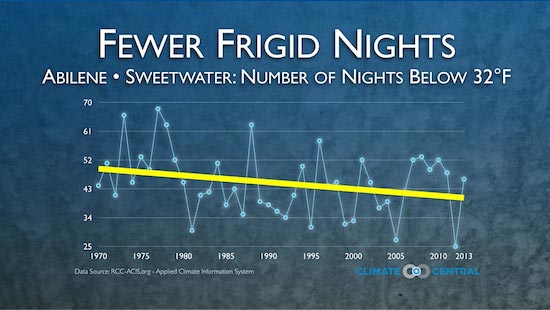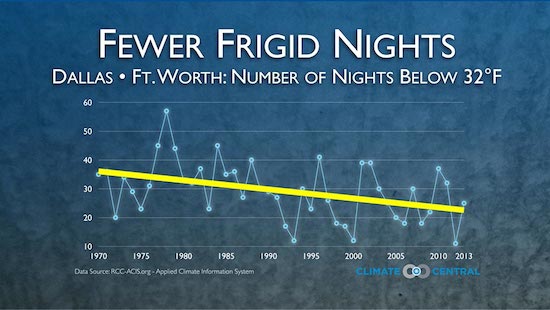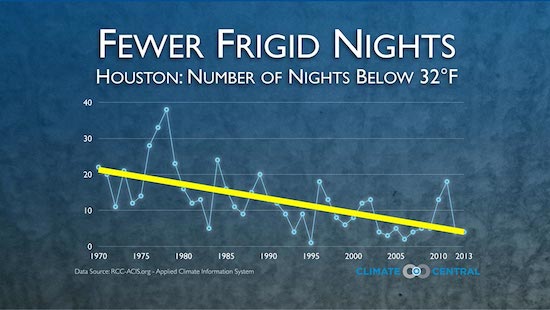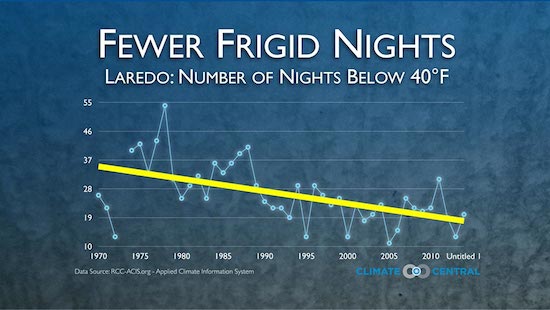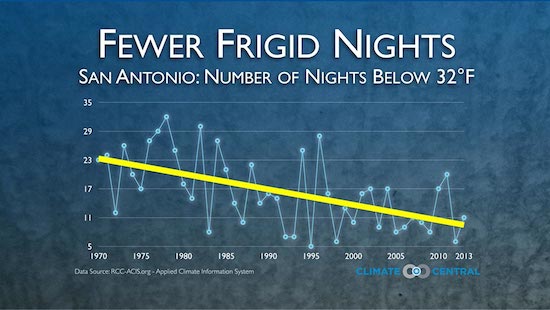 Decrying purveyors of "climate-change denial" who allege that very cold conditions mean "global warming must be bogus," the editorial board of the San Antonio Express-News declared:
There are spikes of extremes but what bears watching is what has been happening with global temperatures over the last 50 years or so. There are ups and downs, but the trajectory is clear. Generally up.
Weather is about what is happening now. Climate is about what occurs over a longer period. And there is a school of thought that things are extreme at various points aided by climate change.
Shortly before this month's extremely cold weather, Scientific American published an article in its December edition, outlining the scientific explanation of a possible global-warming link to very cold temperatures and heavy snowfalls in recent winters.
The magazine posted this article summary on its website:
Global warming has increased the loss of summer sea ice in the Arctic, which has altered atmospheric conditions that influence winter weather in the U.S. and Europe.
The changes lead to invasions of Arctic air into the middle latitudes, increasing the likelihood of severe winter outbreaks, which occurred in the eastern U.S. and northern Europe in 2010 and 2011 and in eastern Europe in January 2012.
The deck may be stacked for harsh outbreaks during the 2012–2013 winter in North America and Europe.
Climate Central this week posted a detailed look at science discussion surrounding the role of the jet stream in the Northern Hemisphere, the west-to-east current also called the polar vortex. One passage:
Jennifer Francis, a researcher at Rutgers University and the most prominent proponent of the hypothesis that Arctic warming is altering the jet stream around the Northern Hemisphere, told Climate Central that while the cold snap is brief in duration, it fits with patterns observed this year and in other recent years.
"The persistence of the pattern seems consistent with an amplified jet stream configuration that we expect to see occur more frequently as the Arctic continues to warm disproportionately," Francis said in an email.
However, much of the evidence put forward thus far has shown correlations between sea ice loss and particular weather patterns, but has not revealed the direct physical connections and causation between the two, leading many mainstream climate scientists to be skeptical of the work so far.
A news article posted this week on the website of the science journal Nature likewise cautioned, as a headline put it, that "links are tenuous between Arctic warming and the extreme cold weather caused by a weak 'polar vortex.'"
Ideas tying extreme winter weather like the U.S. recently experienced to a jet stream destabilized by a decline in melting sea ice (and, perhaps, increases in early Siberian snowfall) "are hotly contested" among scientists, the article noted.
The exact mechanisms at work are not clear. Some researchers say it is just as likely that warmer air currents from the south could be destabilizing the jet stream. If Arctic warming were to blame, the effect should be the strongest in the northern hemisphere's summer and fall, says Kevin Trenberth, a climate scientist at the National Center for Atmospheric Research in Boulder, Colorado. Moreover, Trenberth says, it is unclear how this seasonal warming effect would persist into the dead of winter.
– Bill Dawson
Image credit: Climate Central