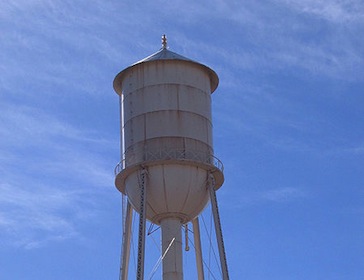 Recent events demonstrated Texas' heightened resolve to deal with its drought-aggravated water-supply issues, while other developments – including Friday's cancellation of an embattled coal-plant proposal near Abilene – have underscored those issues' complexity and the challenging impacts of continuing water shortages.
Capping a stop-and-start legislative effort that ultimately resulted in the passage of an array of water-related bills, Gov. Rick Perry on June 14 signed several measures to enhance and expand conservation efforts.
Earlier that same week, a coalition of corporate and other prominent members called H2O4Texas launched a campaign to persuade voters to pass a constitutional amendment this fall to enable the spending of $2 billion from the state's Rainy Day Fund on expansion of water-supply infrastructure and water-conservation efforts. Perry had previously signed legislation with lawmakers' authorization of those expenditures, which are contingent on voter approval of the amendment.
The actions variously stipulated and authorized in assorted bills will be phased in – some over decades – and so won't bring immediately sweeping relief to a state where persistent dry conditions following the record-setting 2011 drought continue to impact the state's water supply.
There were more reminders of that fact in the last few days. Perry, for instance, extended an emergency drought declaration that he first issued on July 5, 2011. And in a report [PDF] issued Thursday, the National Weather Service noted that reckoned on a statewide basis, Texas reservoir levels are at their lowest for this time of year since modern record-keeping started.
It's not a sure thing that the constitutional amendment to spend $2 billion to address that problem will pass, however. Backers of the amendment range from conservation-advocating environmental groups to the H204Texas coalition's well-heeled membership including major energy companies and trade organizations. But opposition is brewing, too.
The Fort Worth Star-Telegram reported that Tea Party and other conservative groups are planning what one member called a "good old-fashioned grassroots effort" to defeat the amendment because it allows the $2 billion to be spent without violating a state spending cap that should be respected.
The $2 billion in infrastructure and conservation spending was the centerpiece of the Legislature's effort to address water problems this year, but its defeat at the polls would not halt actions initiated in the other water-oriented bills that Perry signed.
Some of the measures are interrelated, drafted to operate in concert. One bill (HB 857), for instance, will require utilities with more than 3,300 water connections to conduct water-loss audits yearly. Another (HB 1461) mandates reports of the audit results to customers. And a third (HB 3605) says that utilities getting state financial assistance must mitigate water losses discovered in audits, if they exceed certain limits.
The Environment Texas organization applauded those bills' signing by Perry, noting the scope of the problem they address:
Broken water mains leak more than 2 percent of the water provided in municipal systems. In the summer of 2011, the city of Houston lost as much as 25 percent of its water to leaks. Repairing leaking municipal water mains would end the waste of at least 20 billion gallons of water annually.
Yet another bill that the governor signed, SB 198, represented a long-sought victory for water-conservation advocates. It will prohibit the banning by homeowners associations of water-saving, drought-tolerant landscaping, though the organizations can still require prior approval and set guidelines for such plants.
Clean Water Action and the Sierra Club jointly praised the legislation, noting in a statement that many homeowners associations in Texas "require a home's front and side yards be covered with turf grass that demands frequent watering."
A survey of 264 Austin-area homeowners associations in Austin, released last March by Clean Water Action, had found that just 20 of the groups explicitly permitted water-saving landscapes.
Among the other water bills signed by Perry:
HB 2615 increases penalties when water-rights holders fail to submit annual water-use reports to the state.
HB 2781 enacts changes in current law aimed at improving the operation of rainwater-harvesting systems.
HB 3604 requires water-supply entities to implement both their water-conservation and drought-contingency plans (not one or the other, as had been allowed) when the governor declares a drought disaster in their county or counties.
A more detailed summary of these and other key water bills passed by the Legislature this year has been posted [PDF] online by the Sierra Club.
Mosaic-like, other recent developments illustrate something of the scope of the state's continuing water woes and their effects.
– Bill Dawson
Image credit: Wikimedia Commons