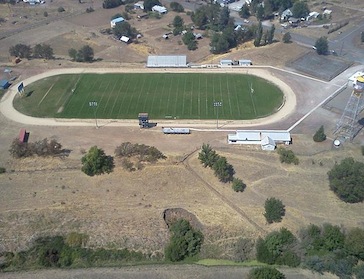 By Brett Israel
The Daily Climate
Spring football practice started this month for high schools across the country, and teams are drawing up game plans for the heat as well as this fall's opponents.
Football players are 11 times more likely to suffer heat related illnesses than all other high school sports combined, according to a recent University of North Carolina study. To block heat illnesses, several big-time high school football states have new policies for practicing in intense heat.
Georgia last year began a new heat policy for football practices that might help end the state's distinction as the leader in heat-related football player deaths. Other states, including Pennsylvania and Iowa, will roll out new practice rules this season. But many others, including some of those with rates of heat illness among the nation's highest, do not have a policy for preparing players for practicing in the brutal summer heat.
The new study "really reinforces how vulnerable football players are to heat-related illnesses," said University of Georgia climatologist Andrew Grundstein, who was not involved with the work. Grundstein's own study last year found that heat related football deaths have tripled nationwide since 1994.
Not yet acclimated
More than 9,000 high school athletes are treated for exertional heat illness annually, according to a 2010 study from the Centers for Disease Control and Prevention. Risk factors include beginning the fall season in August, when athletes are not yet acclimated to intense practices in the hot and humid weather.
Spring football training typically involves two weeks of practice in full pads, followed by a few months off before summer training begins. Spring drills run into mid-May, although the risk for heat illness is not as great as in the dog days of summer.
"It's important to keep in mind that coming out of winter we are probably less used to hot/humid weather and may be more vulnerable [to exertional heat illnesses]," Grundstein said.
Some coaches and fans grumble that kids aren't as active during the off-season as in the old days, so players are slow to acclimate to record-breaking temperatures. The new study found more than 60 percent of exertional heat illnesses in all sports – from heat cramps to heat strokes – occurred in August, as players return from summer vacation and ramp up full-contact drills.
Nearly 75 percent of the cases of heat illness occurred in football, according to the study, done by researchers at the Korey Stringer Institute and Ohio State University in addition to the University of North Carolina. The next-riskiest sports were girls' volleyball (4.8 percent), girls' soccer (3 percent) and boys' wrestling (3 percent). The study analyzed data collected from 2005 to 2011 by the National High School Sports-Related Injury Surveillance System.
Biggest players
More than one third of football players with exertional heat illness were offensive linemen, typically the biggest players on the field. Obese athletes from all sports made up 37 percent of the exertional heat illness cases, researchers report.
Football's highest exertional heat illness rates were in Florida, Alabama, Arizona and Kentucky, according to the analysis.
Last year, Florida and Arizona adopted all seven of the heat guidelines recommended by the Korey Stringer Institute and the National Athletic Trainers' Association, which have been adopted also by the National Football League and the National Collegiate Athletic Association. Just nine states meet all the guidelines. Kentucky meets only one. Alabama does not meet any.
Pennsylvania this season will require a mandatory three-day acclimatization program. Iowa is dropping two-a-day practices. If a proposal in Texas is adopted, football teams would be limited to 90 minutes of full-contact, game-speed practices per player per week during the regular season and playoffs.
Some coaches pushed back against the Georgia High School Athletic Association's new heat policy, but overall the policy was a success, said Jeff Hopp, president of the Georgia Athletic Trainers' Association and Marietta High's athletic trainer.
"From seeing the preliminary results from this past year after the policy went into place, the number of heat problems was drastically reduced," Hopp said.
Death rate rising
There is some more good news: The overall rate of heat illnesses across all high school sports is on the decline, researchers reported. In football, however, heat related deaths have risen in recent years. The spike in deaths has coincided with the ten warmest consecutive 12-month periods in recorded history for the United States, which have all have occurred since 2000.
The summer of 2011 was particularly tragic, when six high school football players died due to high temperatures and lack of rehydration, triple the average. August 2011 was the second-warmest August on record in the US.
Records for overnight lows have also been on the rise, and many players are suffering heat illnesses during morning practices, which aren't as cool as they once were, according to Grundstein's study.
+++++
The Daily Climate is an independent, foundation-funded news service that covers climate change.
Image credit: Wikimedia Commons