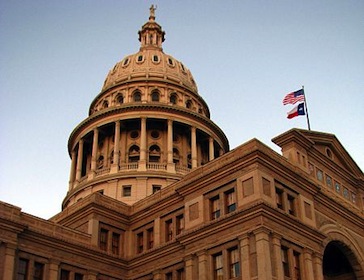 Here's a little current events quiz, based on some climate-related news out of Austin in recent days.
Are Texas officials:
(1) Preparing for the state to start issuing industrial permits for climate-altering greenhouse gases, which Texas, alone among the 50 states, has refused to do, citing the allegedly flawed science behind researchers' conclusion that human pollution is heating up the atmosphere?
Or are they:
(2) Continuing to blast away in court at those regulations and the science that underlies them, despite a bruising rejection by federal appellate judges last year?
OK, that was a trick question. The answer, counterintuitive or ironic as it might seem at a glance, is that they're doing both.
Last week, the Legislature moved toward enactment of a bill to issue permits for emission of carbon dioxide and other designated "greenhouse gases," even though the main sponsor said language in a 1991 Texas statute authorizing officials to regulate pollution to "protect against" climate change should be dropped because climate change "has not been clearly defined." ("Greenhouse gases," as that name indicates, are heat-trapping pollutants blamed for warming and changing the earth's climate.)
A few days after the state House preliminarily passed that bill and sent it to the Senate, Texas Attorney General Gregg Abbott announced Monday that Texas and 11 other states have asked the U.S. Supreme Court to review the "Obama Administration's unprecedented and overreaching greenhouse gas environmental regulatory scheme." In a withering rebuke to Texas and other litigants last June, Republican and Democratic appeals judges unanimously ruled that the U.S. Environmental Protection Agency was "unambiguously correct" in concluding that the 43-year-old Clean Air Act authorizes the regulations.
The legislative and judicial maneuvering by Republican Abbott and likeminded Republicans who control the House may seem inconsistent. Why would the House pass a bill to implement federal regulations of greenhouse gases (an action that Texas' top elected and appointed officials have deplored and resisted) and Abbott continue his courthouse battle against those very regulations at the same time?
"There's a method in the seeming madness," Larry Soward, a former commissioner at the Texas Commission on Environmental Quality, the agency that's led by commissioners who (like Soward) were appointed by Gov. Rick Perry and has refused to implement the federal greenhouse rules.
If greenhouse-gas emissions from major industries are going to be regulated through permits in Texas – a program that has gotten underway, administered by the EPA after Texas refused – industry leaders prefer that it be done by the TCEQ, which they regard as more industry-friendly, Soward told Texas Climate News.
Indeed, the bill ordering the TCEQ to begin issuing greenhouse permits (just as it issues federally-mandated permits for other air pollutants under the Clean Air Act, with authority delegated by the EPA) was introduced by Republican Rep. Wayne Smith, a strong industry backer from heavily industrialized Baytown, and has the backing of industry groups such as the Texas Oil and Gas Association.
[Previously in TCN Journal: Is Texas preparing to drop its refusal to issue greenhouse-gas permits?] 
As introduced by Smith, House Bill 788 included an order that the TCEQ "develop measures to streamline the authorization process for permits," such as the use of certain less-specific permits that are simpler to apply for and obtain.
That language was removed when the bill secured committee passage, but language was added then to ban "contested case hearings," in which citizens can challenge a TCEQ permit – or at least slow it down, which is something a permit-seeking company never likes.
Rep. Lon Burnam, a Fort Worth Democrat, said that provision alone had transformed Smith's measure into "the single worst bill I have seen this session," the Houston Chronicle reported. "The contested case hearing is the only way citizens are heard." Burnam added.
Even without the language on "streamlining" permits, the added provision banning hearings for citizens to contest greenhouse gas permits, if it becomes law, means it is an open question whether the EPA would approve such a Texas program, said Soward, who has been working as a consultant to environmentalists since his retirement from state government.
Perry, Abbott and other state leaders have charged that regulating industrial greenhouse emissions will be devastating for Texas' energy-rich economy. The committee-altered version of Smith's bill stated it was "in the interest of the continued vitality and economic prosperity of this state" to have the TCEQ – meaning, not the EPA – issue the permits under those EPA regulations.
The same committee-substituted version struck "climatic changes, including global warming" from a 1991 law's list of reasons enabling Texas officials to initiate regulation of air pollutants – an erasure that Democrats in the full House waged an "intense" but unsuccessful effort to reverse, the Dallas Morning News reported .
It also added language to Smith's original text that would require the TCEQ to repeal its rules for issuing greenhouse gas permits if the federal government should stop regulating industrial greenhouse emissions under the Clean Air Act.
That's where the bill, as passed by the House, dovetails with Abbott's (and other states') continuing effort to kill those federal regulations in the courts, Soward said.
If Abbott and his litigation allies persuade the Supreme Court to invalidate the EPA regulations, the language in the House bill would mean no more greenhouse gas permits in Texas, he said.
Abbott, announcing his appeal to the Supreme Court this week, reiterated the central argument he has been making against the federal permit requirements that the House bill would have the TCEQ implement: "The EPA's greenhouse gas regulations were unlawfully created out of whole cloth and are a massive burden on states and businesses."
For the time being, with Obama in just the first months of his second term and his fellow Democrats controlling the U.S. Senate, the legal attack that Texas is waging on those grounds appears to be the only chance the state has to end the federal requirement for certain large industrial facilities to have emission-lowering permits for climate-altering pollutants.
– Bill Dawson
Image credit: Wikimedia Commons