If you thought recent heavy rains across parts of Texas mean the state's drought is over, think again.
The map released Thursday by the U.S. Drought Monitor, a government-university partnership, showed about two-thirds of the state remained in one of four drought categories – "moderate," "severe," "extreme" or "exceptional." And about half of the non-drought area qualified as "abnormally dry."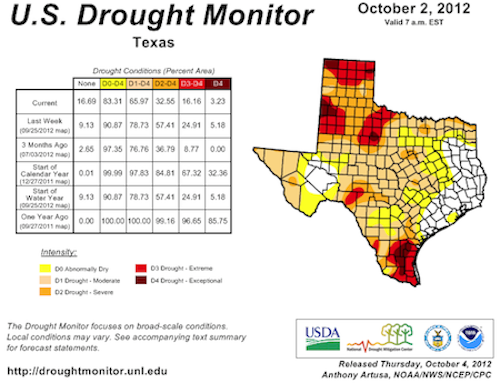 The Drought Monitor map for the entire nation bore a vivid reminder that the still more harmful drought conditions of the sort that plagued Texas last year persist in a vast area north of the state, stretching from Oklahoma to South Dakota.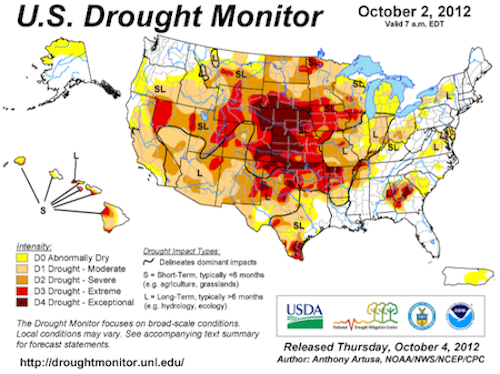 News reports continued to highlight the impact on agriculture in areas suffering from the worst drought conditions this year, much as they conveyed the damage to Texas agriculture last year.
One example, from an Associated Press story that gave an update on "the nation's worst drought in decades":
About 51 percent of the U.S. corn crop is classified as being in poor or very poor shape, essentially unchanged from a week earlier, the [U.S. Department of Agriculture  said. A year ago, 20 percent of corn in the fields was listed that way.
+++++
In a "winter outlook" on his blog, the Texas state climatologist, John Nielsen-Gammon, outlined the "reasons to be pessimistic" that mean he still believes the Texas drought could drag on for years to come – as he warned last year that it might:
Along about March of this year, someone emailed me complaining about how ridiculous my prediction of the possibility of an extended drought was turning out to be.  Now here we are in September, and drought conditions are affecting almost 80% of the state.  Indeed, at least 50% of the state has been in drought since December 2010.  What was the worst one-year drought on record for Texas has lasted for two years so far.
The conditions that led me to say that the drought could conceivably last for five to ten years have not changed.  We still know that droughts have lasted that long or longer in the past.  The Pacific Decadal Oscillation (PDO) is still strongly negative, meaning that temperatures are tending to run cool in the tropics and warmer at higher latitudes.  The Atlantic Multidecadal Oscillation (AMO) is still strongly positive, meaning that temperatures are tending to run warm in the North Atlantic.  The last time large-scale conditions were like this was during the 1950s.
Nielsen-Gammon did not spell it out, but the 1950s were a period of harsh and lingering drought in Texas.
+++++
The water-related challenges and uncertainties confronting the state's cities because of the current drought were nowhere more urgent and controversial in recent weeks than in the West Texas municipality of San Angelo.
That city veered within a few days from the introduction of the most restrictive of three "drought levels" (meaning it had less than a 12-month water supply) to its least-restrictive level (less than a 24-month supply).
That shift occurred after a reported 6 to 7 inches of late-September rain, but not without appeals to conflicting values and a split vote on the city council, as coverage in the San Angelo Standard-Times chronicled.
From a Standard-Times story on Sept. 30:
Months of worry about dwindling water supplies have brought the city of San Angelo someplace it never has been — entering its most severe level of drought, with less than a year's worth of water left. Then came the rain last week, a seemingly miraculous answer to fervent prayers. The moisture may soon bring San Angelo back down to drought level 2, but for now the strictest watering restrictions the city has ever seen are in place — and could soon be again if this rain was a temporary reprieve.
From an article published Oct. 1:
About a month ago, the city of San Angelo was ready to rush into drought level 3, severely restricting outside watering.
Now, the City Council is setting up an early meeting, this time to get out of drought level 3 and possibly backing up to drought level 1.
And from the newspaper's report on Oct. 5:
The City Council narrowly passed a mandatory decision to go back to Drought Level 1 from Drought Level 3 effective Oct. 8.
[…]
The city has about 22 months of water available through the reservoirs. This puts the city in the category of Drought Level 1, since the city has less than 24 months of water left.
[…]
"Just because we have the water doesn't mean we should use the water," Councilman Fredd Adams said. The rain "could be a license to abuse" the city's water resources.
[…]
Councilwoman Charlotte Farmer said she has received numerous phone calls "begging" the city to stay where it is in the drought level.
"We need to be very cautious about this gift," Farmer said.
She also didn't want to confuse the city in going back and forth.
[…]
"I live and breathe water as a servant for the city," [Councilman Paul] Alexander boasted.
"We don't need to lose jobs" by staying in Drought Level 3 he said, referring to jobs such as landscaping businesses not being allowed to water new landscaping in Drought Level 3.
Councilman Johnny Silvas said more and more people have told him that water and conservation are the topics of conversation.
"If we can keep some stringent restrictions," he would be glad. He said he liked watering every two weeks, as specified in Drought Level 2.
+++++
Other cities have been grappling with issues that combine tangled questions of how to balance plans for new water supplies with conservation appeals in the context of warnings such as Nielsen-Gammon's that a multi-year drought may be in store and climate scientists' projections of generally drier conditions in decades to come.
The San Antonio Express-News reported Oct. 2:
The board of the San Antonio Water System [SAWS] voted … to postpone its vote on new drought restrictions after hearing requests to do so from irrigation and environmental groups.
The board also asked staff for more information about the water projects it's considering with the new water plan.
[…]
In the past week, the public has seen a proposed 6.9 percent increase in combined water and sewer rates for 2013 as well as proposals for a new water plan and changes to the city's drought restrictions. The sudden information left many more questions than answers.
[…]
In the past week, the public has seen a proposed 6.9 percent increase in combined water and sewer rates for 2013 as well as proposals for a new water plan and changes to the city's drought restrictions. The sudden information left many more questions than answers.
[…]
The Lone Star Chapter of the Sierra Club was concerned SAWS was creating the appearance that conservation was no longer a priority in favor of new water projects.
Tyson Broad, a water expert for the Sierra Club, pointed out the water plan does not show a cost figure for conservation, which is by far the cheapest method for meeting demand.
Broad said SAWS is running the risk of turning rural areas against the city if it starts moving water from other regions while not doing everything possible to wisely use the water it has.
In Lubbock, meanwhile, the Avalanche-Journal reported in late September that a committee assembling that drought-hammered West Texas city's 2012 Water Supply Plan was considering the expensive idea of reusing wastewater as one possible element:
The still-in-progress draft of the strategic water supply plan estimates it could cost about $54.2 million to install 12 miles of pipeline, and a pump station, upgrade current water treatment plants and cover the legal, engineering and planning costs to harvest treated wastewater from the north fork of the Brazos River.
And the Fort Worth Star-Telegram had a Sept. 26 progress report on a massive and long-delayed dredging project that got started a month earlier at Lake Worth on the Trinity River. The lake serves as a water supply and recreational amenity:
"[The dredging] basically gives us a drought-proof lake," Paul Bounds, the city's project manager, said.
[…]
The plan for the $12.5 million first phase, funded by gas lease revenue from beneath the lake, is to remove 1.8 million cubic yards [of silt], with completion envisioned for May.
– Bill Dawson
Image credits: Photo – Texas A&M AgriLife; Maps – U.S. Drought Monitor