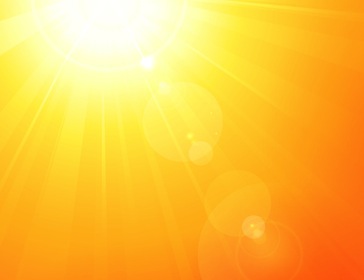 It would be hard to find many Texans who aren't grateful for the state's not-as-hot summer this year, compared to the double whammy of record-setting heat and drought in 2011.
Even with lower temperatures this summer (June through August), however, 2012 could conceivably end up as the state's hottest year on record, or at least run a close second to the infamous 2011.
According to a recent report by the National Climatic Data Center of the National Oceanic and Atmospheric Administration, the eight months through Aug. 31 were tied with those same months in 2000 as Texas' second-warmest January-August period since 1895 – 2.9 F above average for that 118-year span.
That was just a tenth of a degree below the warmest January-August in state history in 2011, when the temperature was 3.0 F above average.
In the 48 contiguous states, this past January-August period was the warmest ever measured, the center reported:
"Although only Colorado and Wyoming had their warmest summer on record, the contiguous U.S. as a whole had its third-warmest summer, and is having its warmest year on record to date, when compared to the other January-through-August periods of the 118 years on record."
During its blast-furnace summer of 2011, Texas' average temperature was 5.3 F above its post-1895 average – the greatest such "temperature anomaly" for one three-month season on record. This past spring was tied for the state's fourth-largest seasonal anomaly, 4.5 F above average, while the summer anomaly this year was 1.7 F above average across the state.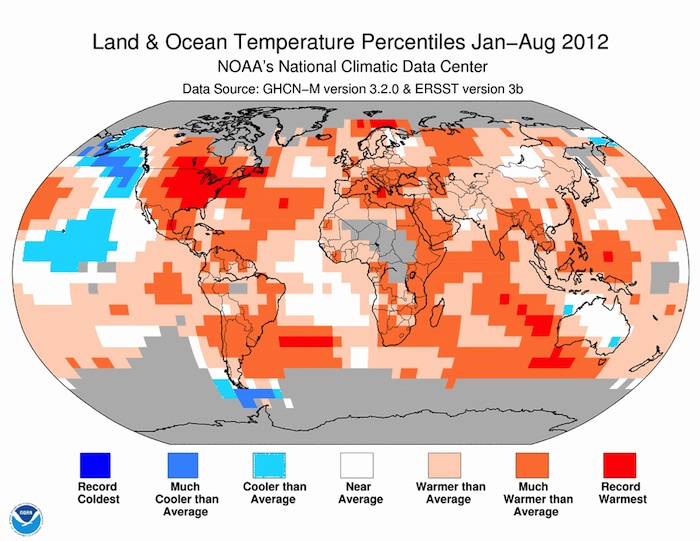 Likewise, across the 48 contiguous states, spring had a bigger anomaly this year (5.2 F above average) than summer (2.3 F above). The three 2011-12 winter months in Texas were 3.9 F above average – the fourth-greatest seasonal anomaly on record.
It all added up to the record high temperature for January-August in the contiguous U.S. – 4 F above the post-1895 average for that period.
The near-record warmth that Texas as a whole has been experiencing this year was reflected in data that the center reported for 11 cities in different parts of the state.
Four Texas cities had their warmest January-August periods on record this year, exceeding their individual averages by various amounts – Amarillo (4.5 F above average), Brownsville (2.7 F), Corpus Christi (3.5 F) and Houston (3.0 F).
Three cities had their second-warmest eight-month periods – Abilene (3.9 F above average), Dallas (3.2 F) and Midland (3.6 F)
Lubbock had its third-warmest such period, 3.3 F above its average.
San Antonio (2.6 F above average) and Wichita Falls (3.9 F) had their fourth-warmest January-August periods.
Austin's January-August temperature, meanwhile, was its fifth highest for the period, 2.6 F above average.
The center reported that when global temperatures were averaged, this past January-August ranked as the ninth-warmest such period on record. Last month was the second-warmest August on record for land readings globally and the fifth-warmest for sea measurements.
The report put those August figures into the context of a long-running global hot spell that most scientists and climate-action advocates warn signals an unfolding pattern of manmade climate change:
"August 2012 marks the 36th consecutive August and 330th consecutive month with a global temperature above the 20th century average. The last below-average August temperature was August 1976 and the last below-average temperature for any month was February 1985. At the hemispheric scale, the Northern and Southern Hemisphere each also ranked as fourth warmest on record."
– Bill Dawson
Image credits: photo – © wenani – Fotolia.com; map – National Oceanic and Atmospheric Administration