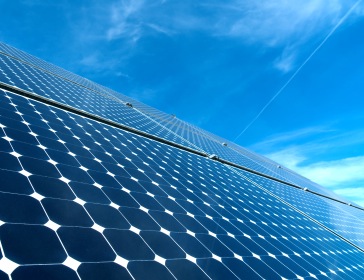 After the Texas Legislature failed in 2009 and then again in 2011 to pass bills to boost the state's solar power industry, as earlier legislation had helped make Texas wind power the national leader, the report issued this month by a solar trade organization was hardly surprising.
At a glance, the executive summary of the Solar Energy Industries Association's quarterly U.S. Solar Market Insight – the only part of the report that was made public for free – suggested that solar power in Texas continues to languish, lagging far behind other states in terms of power-producing capacity installed in the first quarter of this year.
Of the 506 added megawatts of photovoltaics (which turn sunlight directly into electricity) nationwide, New Jersey was No. 1 with 173.8 megawatts and California was in second place with 148.4 megawatts. Sunny Texas was in the No. 15 slot, sandwiched between Florida and Nevada.
While Texas' total capacity installed in the first three months of 2012 was not revealed in the executive summary, a bar chart showed Texas' bar as a tiny sliver compared to the many-times-longer bars for New Jersey and California.
With solar's notoriously high up-front costs falling, a more detailed, nuanced and optimistic portrayal of solar power's future in Texas was presented in a recent in-depth article by Forrest Wilder in The Texas Observer, which focuses largely on municipal efforts by San Antonio and its public electric utility. That utility, CPS Energy, has a Vision 2020 plan with a commitment to have 1500 MW of solar and other renewable energy by 2020 – 20 percent of its generating capacity.
Wilder quoted Michael Webber, mechanical engineering professor at the University of Texas and co-director of the Clean Energy Incubator at the Austin Technology Incubator:
"I'm not just bullish on solar," Webber says. "I'm bullish on solar in Texas. We're about to do for solar what we did for wind in the last decade." Webber believes as much as 2 gigawatts could be built in Texas in the next decade—more than 30 times what's up and running today. He's more optimistic than most.
But not more optimistic than San Antonio's leaders, Wilder made clear:
San Antonio has emerged as a city willing to turn talk into action and its abundant sunlight into energy to spark what Mayor Julián Castro – the one who the New York Times Magazine suggested could be America's first Latino president – calls the "New Energy Economy." In the era of Solyndra [a bankrupt solar panel manufacturer in California targeted by Republican critics of federal support for alternative energy], San Antonio is making a bold, maybe risky bid at deploying solar energy on a scale that could edge the city away from fossil fuels, create jobs and reduce greenhouse gasses, water consumption and air pollution. Castro and the city's massive utility, CPS Energy, are betting that climate change, depleting fossil fuels and increased drought stress will make early investments in renewable energy and clean technologies a huge payoff in the future.
In evidence of San Antonio's commitment, Wilder described the city's decision last year to bump up CPS' solicitation for a 50-megawatt solar plant to 400 megawatts or enough to supply about 80,000 homes.
The response to the 50-megawatt proposal was so positive and the offers so low that CPS simply couldn't pass up the opportunity to do something really big. "The price was just rock-bottom on the delivered power," said [local solar advocate] Lanny Sinkin.
By the time the bidding closed in July, the utility had received over 30 proposals. But after the deadline, with solar costs dropping practically overnight, new intriguing offers kept rolling in. Tantalized, the CPS board voted unanimously in October to reopen the bidding, this time with stricter requirements. Bidders had to provide a plan not just for building 400 megawatts of photovoltaic solar but also for bringing a manufacturing facility to San Antonio, along with at least 800 jobs and a capital investment of $100 million.
In January, Castro and [CPS head Doyle] Beneby could finally celebrate: They had a winner – OCI Solar Power, an Atlanta-based firm whose parent company, OCI Company, is a large Korean chemical conglomerate trying to muscle into the North American solar market. The details aren't public, but OCI has committed to moving its corporate headquarters and U.S. manufacturing facilities to San Antonio. The panel factory, the thinking goes, would ramp up by producing the panels needed to build the 400-megawatt solar farms in phases. It could also feed the burgeoning local market for rooftop solar. The key is keeping the jobs, energy, and investment local.
Wilder noted that "some in the industry are skeptical that CPS Energy will be able to seal the deal," but other solar projects are moving ahead in San Antonio. The city's Express-News newspaper reported the dedication of a 19.8-megawatt complex in South Bexar County last week:
The solar installation, located on about 200 acres west of the intersection of Interstate 37 and Loop 1604, features more than 83,000 photovoltaic solar panels, enough to power about 2,550 averaged-sized houses a year.
Mayor Julián Castro called the solar project an "exciting moment" in the city's push to diversify its electricity generation.
CPS has a 25-year agreement to buy power from the solar complex owned by California-based SunEdison. The company is one of five "new energy economy" partners with the utility as it seeks to attract investment, jobs and contributions to education.
CPS CEO Doyle Beneby said the utility will pay about 10 cents per kilowatt hour for power from the solar complex, a cost lower than the 15 cents per kilowatt hour that was anticipated about a year ago.
Beneby called opening of the solar complex a "landmark event."
Robert Reichenberger, SunEdison's vice president of commercial solar, said the complex represents a $70 million investment.
Later this year, SunEdison will open a third solar farm in Somerset that will generate 10 megawatts of electricity, taking the company's total solar generation to almost 30 megawatts. A megawatt can power about 200 homes on a hot afternoon when air conditioners are running.
Also, as part of its agreement with CPS, SunEdison has opened a satellite office in San Antonio and awarded $160,000 in scholarships to UTSA and $140,000 to Alamo Colleges.
The article quoted Tom "Smitty" Smith, director of the Austin office of Public Citizen, a consumer advocacy group, as observing that the newest solar installation in San Antonio means that city leads Austin, whose municipal utility has solar plants of its own, by 4 megawatts in generation capacity.
Austin's KXAN reported last week on a smaller installation completed in that city:
There is a new 105-kilowatt solar system on the roof of the George Washington Carver Museum and Library in East Austin. State Energy Conservation officials granted $363,000 for this project, with a $100,000 match from Austin Energy.
"It's a really neat array," said Paul Martinez, Austin Energy municipal solar project manager.
With the solar system pumping out 14 percent of the museum's energy consumption for the year, Martinez said it will save the museum almost $14,000 in electricity costs.
It's also the largest library installation in Austin and one of the largest of the city of Austin's municipal installations.
The Solar Energy Industries Association, meanwhile, issued a report that it had commissioned by The Brattle Group, an energy consultancy, which used Texas electricity data from last summer to analyze how new photovoltaic systems would have affected prices if they had been added to the power grid.
The firm concluded that more solar capacity "could have saved customers an average of $155 to $281 per megawatt hour (MWh) and that avoiding fuel, operations and maintenance costs associated with fossil fuels plans could have saved customers an additional $52/MWh. Taken together, the total customer benefits of adding solar [photovoltaics] to the Texas grid was valued at more than $520 million."
– Bill Dawson
Image credit: Gyuszko – Istockphoto.com