Considered separately, recent reports about this year's record heat and drought are eye-opening enough. Considered together, they form a collage of sorts that affords a clearer and even more arresting picture of the disastrous scope and toll.
In a report issued Wednesday, for instance, the National Climatic Data Center of the National Oceanic and Atmospheric Administration said the wildfires in Texas, New Mexico and Arizona – regarded as a single weather-related "event" – now exceed $1 billion in damage. Three-fourths of that has occurred in Texas. The agency said:
Continued drought conditions and periods of extreme heat provided conditions favorable for a series of historic wildfires across Texas, New Mexico and Arizona. The Bastrop Fire in Texas was the most destructive fire in Texas history, destroying over 1,500 homes. The Wallow Fire consumed over 500,000 acres in Arizona, making it the largest on record in Arizona. The Las Conchas Fire in New Mexico was also the state's largest wildfire on record, scorching over 150,000 acres while threatening the Los Alamos National Laboratory. Over 3 million acres have burned across Texas this wildfire season. Total damage in Texas alone due to loss of property, timber and agriculture exceeds $750 million. Losses for wildfire activity across all three states exceed $1.0 billion; at least 5 U.S. deaths.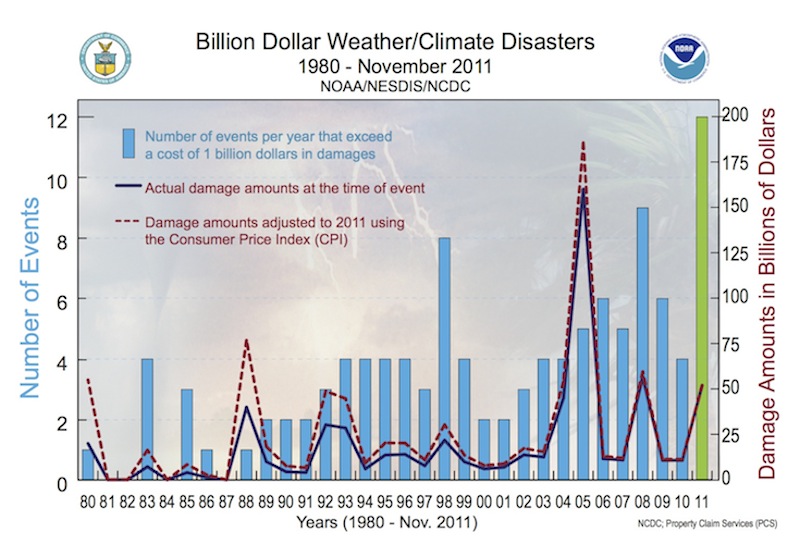 The Associated Press reported there have been 12 billion-dollar disasters this year, though damage from Tropical Storm Lee and the Northeast snowstorm in October could ultimately total that much damage, too. The AP added:
Scientists blame an unlucky combination of global warming and freak chance [for the large number of major disasters]. They say even with the long-predicted increase in weather extremes triggered by manmade climate change, 2011 in the U.S. was wilder than they had predicted. For example, the six large outbreaks of tornadoes cannot be attributed to global warming, scientists say.
"The degree of devastation is extreme in and of itself, and it would be tempting to say it's a sign of things to come, though we would be hard-pressed to see such a convergence of circumstances occurring in one single year again for a while," said Jerry Meehl, a climate scientist at the National Center for Atmospheric Research in Boulder, Colorado.
Another factor in the rising number of billion-dollar calamities: "More people and more stuff in harm's way," such as in coastal areas, said NOAA Administrator Jane Lubchenco.
"What we're seeing this year is not just an anomalous year, but a harbinger of things to come," with heat waves, droughts and other extreme weather, Lubchenco said Wednesday at an American Geophysical Union science conference in San Francisco.
+++++
In September, preliminary calculations by federal climate-data specialists indicated Texas had slightly edged Oklahoma this year to record the hottest-ever summer of any state in U.S. history.
On Wednesday, however, the NOAA data center issued a chart reflecting its final, formal calculations, which showed that it was actually Oklahoma that barely set a new record.
But just barely. As the chart illustrates, Oklahoma's average June-July-August temperature of 86.9 F exceeded Texas' average by only two-tenths of a degree.
The chart also makes clear that both handily exceeded the previous state record of 85.2 F, set by Oklahoma in 1934, and that nearby Louisiana came close to matching that mark this year.
Texas state climatologist John Nielsen-Gammon has estimated in preliminary calculations that about a tenth of the extra heat in Texas this summer was attributable to human-caused global warming.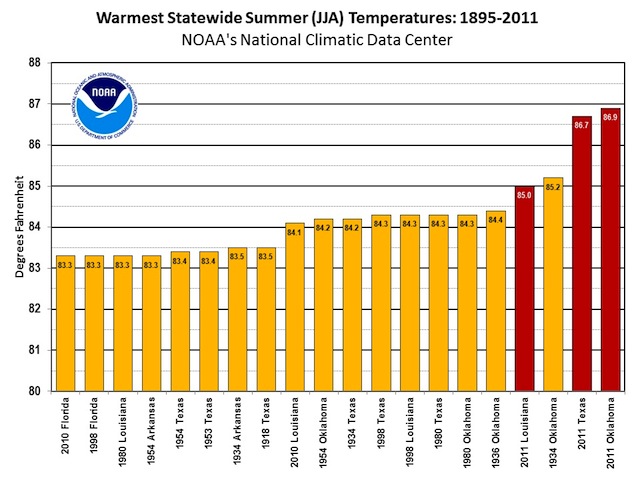 +++++
The Bastrop Fire cited in NOAA's report on billion-dollar disasters brought extensive damage to Bastrop State Park. But dramatic and tragic as it was, the scorching of that park was just one of many ways that Texas' record drought and heat harmed the state park system.
Facing a budget shortfall approaching $5 million as a result, the Texas Parks and Wildlife Department this week took the unusual action of staging 11 news conferences around the state where officials appealed to the public for help because of a drastic decline in revenue from park visitors:
"A 'triple whammy' of record heat and drought, devastating wildfires and a corresponding decline in visitation and revenue has created a critical need for Texas State Parks," said Carter Smith, TPWD executive director. "So, we are reaching out for help."
[…]
Visitor fees fund about half the $69 million operating budget for the state park system, subject to legislative appropriations. For many years, there's been a steady upward trend, with more people visiting parks generating more revenue to operate them – until this year.
Through the summer and into early fall, traditionally a busy time for parks, many Texans stayed home because of the dry heat. Shriveling lakes and rivers disrupted swimming, fishing and boating, and burn bans prevented campfires. Also, three popular state parks – Bastrop, Davis Mountains and Possum Kingdom–suffered major wildfire damage and produced no revenue for weeks, though all are now back open to varying degrees.
As a result, in August state park system revenue declined 25 percent compared to the same month last year. So far this fall revenue is down 11 percent–improving, but still not close to what park leaders say is needed.
"The bottom line is we have a $4.6 million gap in our 2012 park system operating budget," Smith said. "This is the amount we need to raise to help keep state parks open. We want to alert people now while there is still time to help."
The agency is asking for donations through its website and vehicle registrations and urging Texans to visit their state parks to help with their entrance fees.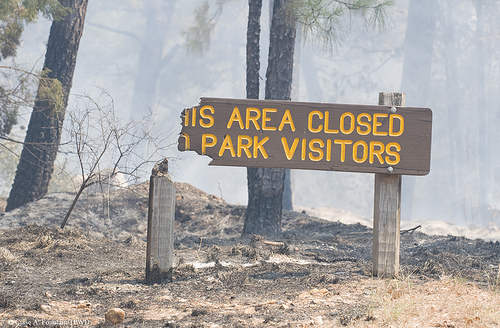 +++++
NASA announced last week that satellite data from its GRACE mission have yielded maps portraying an unseen impact of the drought – groundwater levels in much of Texas have fallen "to the lowest levels in more than 60 years.
The large areas shown in maroon on the map show what the space agency called "severely depressed groundwater levels" over the eastern part of the state in particular.
The announcement quotes Matt Rodell, a hydrologist at NASA's Goddard Space Flight Center in Maryland:
"Texas groundwater will take months or longer to recharge. Even if we have a major rainfall event, most of the water runs off. It takes a longer period of sustained greater-than-average precipitation to recharge aquifers significantly."
The two GRACE satellites monitor small changes in the earth's gravity field that are mainly caused by the redistribution of water, both on the land surface and in sub-surface groundwater.
+++++
The drought's growing toll on Texas agriculture continues to be reflected in news reports in rural areas across the state, such as an article in the Brenham Banner-Press on Saturday.
It noted that that Washington County city between Houston and Austin was running nearly 28 inches below its average annual precipitation of of 44.15 inches:
Recent rains have "greened up" the county somewhat — enough for county officials to lift a burn ban that had been in effect for almost a year.
The rains were also enough to raise the level in Lake Somerville, Brenham's water source, ever so slightly after months of decline.
Some areas of the county received more than Brenham, and some less. But any rainfall at all is welcome, especially for pastureland parched for months by high temperatures and no moisture, said county Extension agent Larry Pierce Jr.
"It's been in such bad shape, that every little bit helps," Pierce said. "I've seen some improvement in winter pastures that have been planted. There's been some water caught in the ponds. It's been small amounts, but at least it's something."
For some Washington County ranchers, however, it's too late.
"We've seen a lot of people sell out completely," said Pierce. Others have reduced the sizes of their herds because of little grazing or hay production.
+++++
With exceptionally dry conditions being experienced across Texas and in adjoining states, it was no surprise when the AP reported last week that neighboring areas of Mexico are also drought-stricken:
The sun-baked northern states of Mexico are suffering under the worst drought since the government began recording rainfall 70 years ago. Crops of corn, beans and oats are withering in the fields. About 1.7 million cattle have died of starvation and thirst.
Hardest hit are five states in Mexico's north, a region that is being parched by the same drought that has dried out the southwest United States. The government is trucking water to 1,500 villages scattered across the nation's northern expanse, and sending food to poor farmers who have lost all their crops.
Life probably won't improve soon. The next rainy season isn't due until June, and there's no guarantee normal rains will come then.
+++++
Nielsen-Gammon repeated his recent warnings about a lingering drought in a Capitol Hill briefing in Washington last week, saying he expects it to last at least another six to 12 months.
Meanwhile, the Electric Reliability Council of Texas (ERCOT), which operates the grid in most of the state, warned last week about the possible ramifications of more extreme heat, should it accompany an extension of the drought next summer.
The council issued a report cautioning that that reserves of electric power needed to avoid rotating outages in the state "will likely fall below the minimum target beginning next summer."
[The December update] indicates a decrease in available resources by more than 2,600 MW for the summer of 2012 – relative to the amount expected in June 2011 for 2012 – primarily due to additional announcements to mothball some generation units and several delays in planned generation, as well as a higher load forecast.
Reserve margins are currently projected to be at 12 percent at summer peak season in 2012 and 2013 – below the 13.75 percent target used in the ERCOT region to ensure reliable operation of the grid during higher-than-normal temperatures and generator outages.
"We are very concerned about the significant drop in the reserve margin," said CEO Trip Doggett. "If we stay in the current cycle of hot and dry summers, we will be very tight on capacity next summer and have a repeat of this year's emergency procedures and conservation appeals."
– Bill Dawson
Image credits: Disaster, temperature charts – NOAA; Park sign – TPWD; GRACE map – NASA.