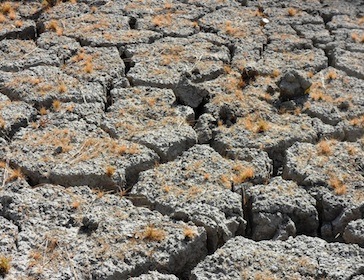 JUNCTION — More anthills than blades of grass are visible in some of the cracked earth around Junction. The year-long drought has plagued the town — as it has the rest of the state — and for a painful, six-week stretch, Junction banned all outdoor watering.
Some 4.5 inches of rain earlier this month increased the flow of the Llano River, two forks of which meet at the town. But the water is still pretty low — and four panelists at the Texas Water Symposium last week brought some unwelcome news to the townspeople: It's not going to get any better anytime soon.
"As the state climatologist, people ask me, 'When's it going to rain?'" said John Nielsen-Gammon, one of the panelists, who is a professor of meteorology at Texas A&M University and the state climatologist.
The answer, according to Nielsen-Gammon, is "eventually," but chances are the drought will last another year, possibly even another decade.
The weather, or lack thereof, can be attributed to La Niña, a cyclical weather pattern resulting in cooler waters in the eastern Pacific Ocean. Meteorologists say that although La Niña had faded by the summer, it has now returned and is strengthening.
In the past 12 months, Texas has seen 11.1 inches of rainfall on average, according to Nielsen-Gammon, and it broke a heat record for the country that was previously set during the Dust Bowl of the 1930s. Texas AgriLife Extension Service estimates the cost of the drought to be about $5.2 billion, and that estimate — already out of date because it was compiled two months ago — doesn't include the impact to several kinds of crops and the forestry industry.
Junction, known as the land of living waters, has seen some of its streams dry up. In August, town officials say, the Texas Commission on Environmental Quality told Junction to cease outdoor water use of any kind when the town of Llano downstream reported it was close to running out of water.
The restrictions have since eased. Joe Robbins, the water and wastewater superintendent at the Junction water plant, said that the TCEQ recently clarified that a blanket ban on outdoor watering was not in fact required, and that Junction residents could go back to watering one day per week and using hand watering as necessary.
However, "we went about six weeks without any type of outdoor water, not even hoses," said Kimble County Judge Andrew Murr. "People were taking water from their baths and using it to water their lawns."
When the football field dried up, Murr said, parents and locals concerned children would get hurt on the harder ground put out a call for help and began hauling water from donors who had wells outside of town.
In Texas, water rights are issued by the TCEQ in order of seniority — a sort of first-to-settle, first-in-line system. Entities whose claims were put in relatively recently can be required to reduce their water use when more "senior" users (like the town of Llano) run low.
Bill Neiman, owner of Native American Seed, which grows and sells seeds for plants native to Texas and its surrounding states, said he stopped using outdoor water on his farm July 13, several weeks before TCEQ showed up at his door to impose restrictions.
"Here we are thinking, 'Sure was a dry winter last year, but at least we have water,' but spring comes around and we're like, this is super serious," Neiman said. "As the drought became more and more obvious, we realized the impact of the bigger picture and began to voluntarily reduce our consumption."
Neiman showed TCEQ officials around his property, kicking up dust from the dry ground. While manicured lawns in big cities were dying, his native plants were still alive, he said, adding that native plants can survive droughts, although they do not produce fruit. The plants provide an alternative to grasses such as St. Augustine that consume a lot of water. Neiman said that a majority of water consumption in cities goes toward watering lawns.
"The strangest thing about this whole deal was here we are trying to provide alternatives, but we get our water cut," Neiman said.
Although the drought cost ranchers and landowners heavily in livestock and lost income, there are some opportunities to come of it, said John Baccus, a wildlife ecologist and professor with Texas State University.
"We can change the way we manage land," Baccus said. "Since droughts are somewhat common, we need to manage for drought instead of managing for a maximum number of animals."
Learning to reduce to what is necessary to survive is important if droughts become the "new normal" in Texas, as Nielsen-Gammon expects may happen.
In Junction, handheld watering resumed on a schedule, but the issue of water rights still leaves a bitter taste in the mouths of some — and worries about the continuation of the drought run even deeper.
"If we continue to take away from the agriculture producer, when are we going to get to that point where we're importing more food supplies than we're producing ourselves?" said Roland Trees, a rancher in Real County who raises livestock and game.
Trees, who is on the water board of his county, says he lost some exotic game in the drought.
"It's kind of worrisome, especially in our business, where we rely on the land," he said. "Without any [water], we're not able to grow anything."
As the drought continues, Junction officials say they are looking for other water options. "We draw our water from the South Llano [River], so we know that we're not really in the same situation as people are downstream from us, but we do have plans," said Vivian Saiz, Junction's secretary. "We're testing a couple of wells, so that's kind of our backup plan. We're researching groundwater."
– Claire Cardona, The Texas Tribune
+++++
This article originally appeared in The Texas Tribune at http://trib.it/nc0x0f.
Image credit: Texas Parks and Wildlife Department