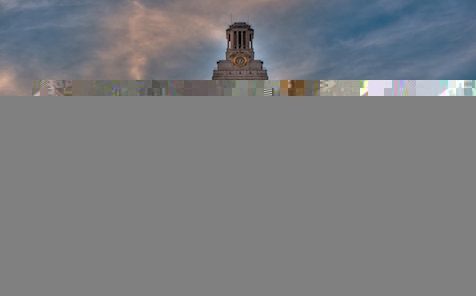 Texas Climate News pays attention to campus sustainability initiatives, and a day-long gathering at the University of Texas last week provided a chance to check in on recent developments at the state's largest university.
The occasion was the 2nd Annual UT Campus Sustainability Symposium, hosted by the President's Sustainability Steering Committee. Made up of faculty, administrators, students and others, the group was established in 2007 as "a forum for ongoing discussion about sustainability priorities" at the school.
The sustainability committee presented its annual report [PDF] at the symposium. A highlight of the document is the panel's only 2011 recommendation to UT President William Powers Jr. – the establishment of a Natural Resource Conservation Plan for the Austin campus.
The conservation plan's outlined aims involve cutting energy and resource consumption, meeting continuing resource requirements, reducing operating costs, and expanding the use of "sustainable energy" by 2020. The committee report offered this elaboration:
Several factors require a more integrated and strategic plan for the use of natural resources:
Production-side efficiency improvements have peaked.
Campus growth continues.
Demand-side resource use needs to be reduced.
New, consistent funding sources to support resource conservation efforts need to be created.
The proposed plan establishes specific resource use goals to be achieved by August 31, 2020.
Maintain existing utility system performance at 8,000 BTU per KWH.
Reduce demand side energy requirements by 20 percent.
Acquire five percent of current energy requirements from renewable sources.
Reduce gasoline and diesel fuel use for the campus fleet by 20 percent, increase car pool and mass transit users by 30 percent, utilize 100 percent natural gas fuel for the shuttle bus system.
Reduce overall water use by 20 percent, replace 40 percent current water use with reuse sources.
Increase recycling to 50 percent of waste stream and reduce total waste stream by 20 percent.
Meeting these goals will produce estimated cost savings/avoidance of $6,000,000 annually and reduce the UT Austin carbon footprint by approximately 46,000 metric tons CO2 equivalent. Implementation also allows the utility operation to avoid additional costs associated with reduced efficiency ($300,000 for each one percent reduction). The plan establishes specific strategies for accomplishing these goals; three in the utilities area and 12 strategies associated with the campus use of natural resources. The cost of implementing these approaches to resources conservation can be funded from the savings associated with past energy conservation efforts as well as those associated with future projects.
Previewing the symposium, the university's Know news service reported that one of the presentations would deal with an example of the ways in which energy saving is being explored at UT now. The Smart Building Initiative (SBI) – an undertaking by faculty and students of the School of Architecture, Design Department of the College of Fine Arts and Center for Sustainable Development – is "an effort to engage individuals on campus to decrease energy consumption."
The SBI pilot program installed an energy monitoring system in Sutton Hall to provide room-level energy data, is building on student-developed software that would enable self-tracking of energy usage through smart phones, and will run tests to see how individual users might be influenced by the visualization of their personal energy consumption data. The goal of the SBI is to raise awareness and make smart energy usage a part of the university community's everyday routine, while at the same time reducing energy costs for the university.
The sustainability committee's annual report detailed actions by various university entities. The list included these items:
Launching an online directory of academic offerings related to sustainability.
Adopting a "working definition of sustainability research."
Planning toward development of strategies for continuing monitoring of the university's emissions of greenhouse bases and "feasible reduction strategies."
The recent tripling in size of the first edible food garden on the UT campus.
Installation of LED bulbs at the football stadium, reducing energy demand to light the field.
Introduction of a single web portal for campus sustainability initiatives.
Student approval of a new fee, introduced during the current fall semester, that will generate about $500,000 annually for "environmental service" projects through a student-majority committee.
Partnering with Zipcar, a car-sharing program, to make vehicles available on campus.
Introduction of a Green Laboratory Initiative to identify "more sustainable lab practices and strategies."
Expansion of solar installations on campus, cumulatively projected to be generating a half-megawatt of electricity by next spring.
Videos of all the presentations at the sustainability symposium can be viewed here.
– Bill Dawson
Image credit: The University of Texas at Austin