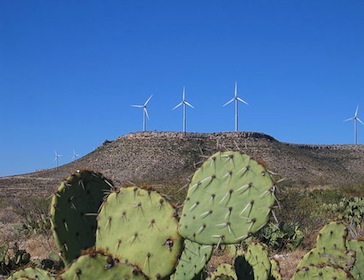 During February, the chief executive of the agency that operates Texas' electric power grid gave "a special word of thanks" to the state's wind industry for producing electricity that helped the state avoid even worse blackouts than did occur as dozens of coal and gas generating units failed in the frigid weather.
Once again this month, ERCOT, the grid agency, is praising the wind industry – this time for helping avoid blackouts as 100-plus temperatures covered the state and power demand bumped against the maximum production capacity.
Wind power's critics have belittled its potential to help meet peak hot-weather demand in Texas, because summertime winds in West Texas – where proliferating wind turbines have made Texas the No. 1 wind-energy state – typically increase late at night, when power demand slacks off.
But this month, wind generation produced more power than anticipated, especially from the state's growing collection of turbines near the Gulf Coast, where afternoon winds were strong.
Wind advocates understandably hastened to tout wind energy's assistance in staving off power outages. Meanwhile, various reports this month indicated the state's wind industry continues to expand, although at a slower pace [PDF] consistent with a national slowdown in the face of competition from low natural gas prices and an uncertain future for federal wind subsidies. Following is a roundup of some recent developments.
The Houston Chronicle on Aug. 10 detailed wind power's role in avoiding blackouts and ERCOT's resulting gratitude:
Texas' wind turbines – particularly those along the Gulf coast — have come through for the state's electric grid more than expected during the hot afternoon hours when demand has been its highest.
Wind only accounts for about 11 percent of the state's total power capacity, and last year only 8 percent of the power produced in Texas came from wind turbines.
But during last week's daily power crisis, officials with the Electric Reliability Council of Texas, which manages the state's main high voltage power grid, repeatedly touted wind power's contributions during peak demand.
Typically ERCOT only expects about 800 megawatts of power to come from the 9,500 megawatts of wind turbines installed around the state.
But wind's contribution ranged from 1,300 megawatts to 2,400 megawatts during peak demand — including 2,000 MW last Wednesday, when the state set a new power demand record at 68,294 MW.
It's a big improvement from last summer, when only 650 MW of wind power was humming during the peak hours of Aug. 23, when Texas hit its 2010 record of 65,776 MW.
[…]
Most of Texas' wind farms, located in West Texas, reach their peak output in the evening, when the winds blow hardest. They do little for the state's needs during the hottest afternoon hours and are so far removed from the areas of heaviest demand that they often have little to no impact.
But the growing number of wind projects along Texas' coast has helped boost wind's contribution during peak summer hours since coastal winds tend to pick up in the afternoons.
The Sierra Club's Austin office issued a statement Aug. 12 noting that wind energy in the first half of 2011 had supplied 9.9 percent of Texas' electricity, an increase from 7.8 percent the year before, according to ERCOT. The group added:
"Coastal wind played a critical role in meeting peak daytime demand during these past few weeks," said Cyrus Reed, Conservation Director for the Lone Star Chapter of the Sierra Club. "The data from coastal wind projects indicate that capacity is even greater than previously thought. With exciting new wind projects being considered by Austin Energy for the City of Austin and elsewhere in the state, we think the time is right to build more carefully-sited coastal wind projects."
(KUT, Austin's NPR affiliate, reported last month that Austin Energy, the city-owned utility was planning to balance its wind power from West Texas with a 20-25-year agreement to buy 291 MW of electricity from a pair of companies building wind farms on the Texas coast.)
The San Antonio Express-News reported on Aug. 9 that the city-owned CPS Energy would be buying 200 MW of electricity under a 25-year agreement with a new wind installation near the Gulf Coast in South Texas' Willacy County:
The purchase will help move CPS toward its goal of 1,500 megawatts of renewable energy by 2020.
Duke Energy Renewables, a unit of Duke Energy based in Charlotte, N.C, plans to build and manage the wind farm about 20 miles from the Gulf of Mexico in Willacy County.
[…]
Once the Duke wind project comes on line in December 2012, CPS will have 1,059 megawatts of wind energy capacity. CPS spokeswoman Lisa Lewis said that project plus a pending 400-megawatt solar farm could guarantee the utility meets its 2020 goal in the next couple of years.
The Express-News, in the same article, reported that ERCOT CEO Trip Doggett said "he hopes to see more wind farms developed along the coast, especially after seeing their recent performance."
The Wall Street Journal, analyzing the Texas grid's close brush with blackouts this month, on Aug. 12 linked the situation to a failure to anticipate the very hot conditions:
For the second year in a row, the organization responsible for the stability of Texas' electrical grid … has grossly underestimated summer demand in its forecasts. Last week, demand was so high across Texas that some large energy users had power disruptions, and ERCOT narrowly avoided instituting rolling blackouts.
ERCOT's forecasts are based on an average of the past 10 summers, but the past two years have been unusually hot, pushing up energy use for air conditioning. Electricity demand in July was 12 percent higher than for any prior July.
Climate experts expect summers in Texas to continue getting hotter as manmade global warming exerts a stronger influence in coming decades.
Two West Texas newspapers reported on wind industry developments in that region.
The Odessa American on Aug. 5 had a detailed account of the industry's rapid growth there, current projects and projections for the next 10 years:
The wind industry has spurred the revitalization of many small communities, bringing in much-needed jobs and tax revenue when some small towns were all but drying up and blowing away.
[…]
Now, wind turbines tower over the landscape from Albany to Odessa and Fort Stockton and from Winters to San Angelo. And as the Public Utility Commission builds out the transmission lines, more towers are planned.
The Abilene Reporter-News' article on Aug. 5 included a similar optimistic prediction linked to progress on power lines to carry electricity from West Texas to the state's more populous areas:
[W]ith the ongoing installation of transmission lines, industry advocates said that number should grow after the lines' expected 2013 completion date.
"If you go anywhere between Post (southeast of Lubbock) and Winters, you can see hundreds of people working on transmission lines right now," said Greg Wortham, executive director of the Texas Wind Energy Clearinghouse and mayor of Sweetwater.
In other West Texas news were reports that Texas Tech University would have a major new wind power facility next spring and a related degree program.
The student newspaper, the Daily Toreador, reported Aug. 1 on the new research facility:
Texas Tech has announced it will partner with Sandia National Laboratories and Group NIRE to build and operate a new wind energy testing facility that will be located at Reese Technology Center.
Taylor Eighmy, vice president for research, said the announcement represents the intention of the U.S. Department of Energy and Sandia National Labs to move a facility on Tech's campus that will become a part of a very large testing program for new turbines and how turbines interact when they are in an array.
The Lubbock Avalanche-Journal described the new degree in an Aug. 5 story:
Students wanting to make a career in the world's quickly growing wind energy field have a new option in a one-of-a-kind degree program at Texas Tech.
This fall, the university will launch its bachelor of science in wind energy degree program after Tech's Board of Regents … approved the multidisciplinary program, said Valerie Paton, vice provost for planning and assessment.
She said the program will be the first of its kind in the country, aiming to educate individuals in a multidisciplinary format instead of focusing primarily on educating engineers and technicians.
Paton said the program will accompany Tech's doctoral program in wind energy, which was created in 2007, and places the university in the forefront of the wind energy research in the country and globally.
The Fort Worth Star-Telegram had an article Aug. 6 on the University of North Texas' new Mean Green Stadium, which will contribute to the campus power supply with wind turbines:
UNT athletic director Rick Villarreal said the stadium, which is off Interstate 35W and South Bonnie Brae Street, stands out because it blends sustainability with the comfort and big-event experience Eagle fans seek. The stadium used nontoxic paints, and materials came from within 500 miles.
Villarreal said much of the stadium's buzz centers on three 150-foot turbines that will be installed this fall. The turbines are expected to inject about half a million kilowatt-hours a year into one of UNT's power grids.
An article in the Brownsville Herald on Aug. 12 about the Willacy County project contained a reminder that wind energy, while supported by many environmentalists, also has detractors among environmental advocates:
Willacy County Precinct 1 Commissioner Eliberto "Beto" Guerra called the wind farm a "win-win" for the county.
He said taxes from wind farms will benefit local school districts while creating jobs for residents.
Walter Kittelberger, co-founder of the Lower Laguna Madre Foundation, said the environmental group does not directly oppose the 30,000-acre wind farm because it would not directly affect the Laguna Madre area. However, he said it would be a hazard to birds.
"A person would have to be completely ignorant to deny that (wind) turbines pose a threat to the environment and to migratory birds," he said.
Such complaints extend far beyond South Texas, as the ClimateWire news service noted in an Aug. 8 article about a report by an organization supporting renewable energy:
Wind provides 198 gigawatts of electricity worldwide, with 39 GW of new capacity added just last year, according to the Renewables 2011 Global Status Report (GSR) by REN21, an international renewable energy proponent. "Commercial wind power now operates in at least 83 countries, up from just a handful of countries in the 1990s," said Janet Sawin, research director and lead author of the GSR, in an email.
The report notes that for the first time, wind power is growing more in developing countries than industrialized nations, led by emerging markets like China, which accounted for half of the global capacity increase last year. In addition, the European Wind Energy Association projects that wind energy employment will double by 2020 in the European Union.
However, the rapid growth and expansion of wind farms has had an increasingly significant effect on birds and bats, especially since, according to the GSR, the average wind turbine size has increased. The American Bird Conservancy (ABC), an avian conservation group, observes that upward of 14 birds per megawatt of wind energy are killed each year, numbering more than 440,000. The organization projects the number will rise substantially as wind energy production increases.
The Los Angeles Times, meanwhile, on Aug. 3 described an investigation into deaths of golden eagles, a federally protected species, at wind farm in California and the potentially broader implications. (The Texas coast, for example, provides habitat for famously numerous and diverse populations of resident and migratory birds.)
Regarding the California inquiry, the Times reported:
A prosecution in the Pine Tree case could cause some rethinking and redesigning of this booming alternative energy source. Facilities elsewhere also have been under scrutiny, according to a federal official familiar with the investigations.
"Wind farms have been killing birds for decades and law enforcement has done nothing about it, so this investigation is long overdue," said Shawn Smallwood, an expert on raptor ecology and wind farms. "It's going to ruffle wind industry feathers across the country."
– Bill Dawson
Image credit: Pismo, Wikimedia Commons