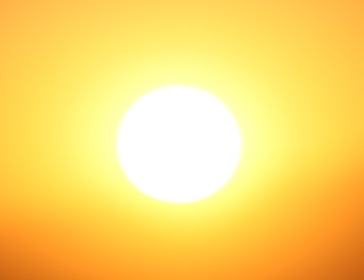 And the heat goes on. The drought too.
If anyone in Texas had any doubt about those uncomfortable facts, Thursday's news was full of evidence to erase their skepticism:
Texas state climatologist John Nielsen-Gammon reported that data from the previous 12 months indicate the state is now in its worst one-year drought on record. He also reported that preliminary data indicate July was the warmest month ever recorded in Texas, based on records dating to 1895. Various low-rainfall records were set last month, too. "Never before has so little rain been recorded prior to and during the primary growing season for crops, plants and warm-season grasses," said Nielsen-Gammon, a Texas A&M University professor.
With air conditioners running full-throttle to counter the searing heat wave gripping Texas, ERCOT, the agency that operates the power grid in most of the state, reported three consecutive electricity-use records were set Monday through Wednesday. On Thursday, ERCOT first cut back power to some industrial users. Then it appealed for broader conservation actions, saying electricity demand had created a "high probability" of rolling blackouts across the state. Finally, it lowered the emergency level without ordering planned outages. An agency official said this summer's power demand has been "far beyond" expectations.
Temperature readings above 100 F – some well above that level – continued to be recorded at many locations across Texas, including Dallas-Fort Worth, Houston, Austin and San Antonio. In the DFW area, Thursday marked the 34th consecutive day with readings above the 100 mark. For example, at 10 stations in that area included in National Weather Service reports, temperatures all ranged from 105 to 108 at 6 p.m. Dallas County officials had urged residents to stay inside after recording the year's 13th heat-related death. Forecasts called for DFW temperatures in the 108-109 range for at least several more days.
Fifteen Texas locations tied or broke high-temperature records on Monday, Aug. 1, for that date; 21 locations tied or broke records for Aug. 2 on that date, and 18 locations did the same on Aug. 3, according to an ongoing data-collection effort by PBS News Hour on record high temperatures. (The new Aug. 3 records in Texas included a Dallas location's 111 reading, which shattered the previous record of  106 for that site, set in 1910.) The PBS project, using readings assembled by the National Climatic Data Center from official temperature stations, reported in its last tally before this article's posting that 3,979 high-temperature records had been set across the country so far this year. "[M]ore records (5,420) were broken in 2007 than in any other year of the past decade. But 2011 is closing in, and may soon hold the record-setting record."
Last month, in a report issued by Texas A&M, Nielsen-Gammon was quoted saying that while a La Nina weather pattern is the main cause for this year's drought in Texas, "temperatures are a degree or two warmer with climate change so the drought is worse than it would otherwise be."
In response to a request from Texas Climate News, he offered these observations regarding future links between manmade global warming and Texas droughts:
"Our analysis indicates that changes in annual precipitation in Texas will probably be dominated by natural processes. The projected precipitation changes in Texas due to global warming are just not that large. Things like La Nina and the Pacific Decadal Oscillation will play a larger role.
"It's possible that droughts in Texas will become more frequent, but we just don't know for sure. Mainly that's because we don't yet know how global warming will affect the frequency or intensity of La Nina.
"It's clear, though, that when Texas is in a drought, global warming will make it worse. Higher temperatures lead to more evaporation during a drought, more rapid drying of the soil, and perhaps a stronger feedback loop whereby the dry weather prevents thunderstorms and perpetuates the drought during the summer. At the same time, more evaporation and more population means greater water demand and larger reductions in streamflow and inflow to reservoirs. So global warming has already amplified the impacts of the current drought."
On Thursday, under a large front-page headline proclaiming "Falling lake levels – rising concerns," the Houston Chronicle reported:
Lake Houston and Lake Conroe may soon enter uncharted territory as the incessant drought and searing temperatures continue to deplete these two reservoirs' precious water supplies.
And things could grow drastically worse if no significant rain falls in the next week and a half, authorities warn. Each lake was built on the San Jacinto River as a source of drinking water for Houston.
The city of Houston this week has alerted the San Jacinto River Authority that it may have to take an emergency step that has not been done for two decades – order Lake Conroe to release up to 150 million gallons of water a day from its dam. The water would then flow downstream to Lake Houston, so that reservoir would remain deep enough to assure the city's water purification plant there can continue operating.
However, if Lake Conroe is drained of this amount for two months, the lake's water level will quickly plummet to a new all-time record low.
In A&M's announcement that this drought is now Texas' worst 12-month dry spell ever recorded, Nielsen-Gammon said the state will have to get more than 4.5 inches of rain over the next two months or it will break a 1956 record for the driest 12 consecutive months.
The university's release added:
Recent rains have brought some relief from drought conditions in extreme west Texas, extreme south Texas and extreme southeast Texas. However, in the interior of the state, conditions remain dire, Nielsen-Gammon says.
"The climate division that covers west-central Texas has received only 3.32 inches of rainfall since Nov.1," says Nielsen-Gammon. "That's less than 21 percent of the historical average and less than half of the previous record, set in 1956. Add in the record heat, and it's just devastating."
Nielsen-Gammon notes that the most severe Texas drought overall is still the 1950-1957 drought. During the most intense year of that drought – 1956– Texas set its all-time record for lowest 12-month precipitation, 13.69 inches ending in September.
"But in 1956, much of the rain fell in the spring when crops were being established," he says. "The current 12-month total (from 2010 to 2011) is dominated by rain that fell early last fall, and the ground had already dried out in many parts of the state by planting time."
The Associated Press reported Thursday that the U.S. Climate Prediction Center had reported "that the La Nina weather phenomenon blamed for the crippling lack of rain might be back soon, just two months after the last La Nina ended. If that happens, the drought would almost certainly extend into 2012."
However, in A&M's drought release Thursday, Nielsen-Gammon said most computer models don't predict a return to La Nina conditions, which would suggest continuing dry weather in Texas, but rather "neutral conditions in the tropical Pacific and the possible return of normal weather patterns."
– Bill Dawson
Image credit: Bierchen