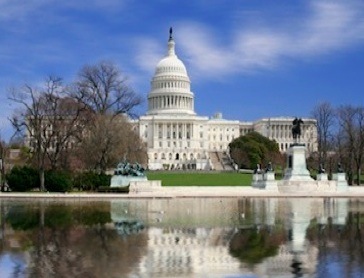 If there was any doubt that Texas Republicans' hostility to climate-change regulations and mainstream climate science now also prevails in the GOP at large, it was resoundingly laid to rest over the weekend.
Voting essentially along party lines, the Republican-controlled U.S. House by 235-189 passed a spending-slashing budget resolution that took aim at the Obama administration's new regulations for greenhouse gases and at key programs to advance climate science. The measure would fund the federal government through September until the end of fiscal 2011.
Texas Republican House members led the climate charge on key fronts, while rhetorical flourishes on related issues echoed the critique of climate regulation and climate science that has become commonplace among top Texas GOP officials in Washington and Austin.
Though the House budget resolution faces strong opposition in the Democrat-controlled Senate and an expected veto from the White House, its climate-related amendments still underscore the Republican Party's growing skepticism about climate science and its hardening line against regulatory action to mitigate manmade climate change over the past few years.
An amendment to the budget measure by three Texas House members, which passed by 249-177, would halt all spending to continue implementing the Environmental Protection Agency's new regulations to set limits on greenhouse-gas emissions by major industrial facilities, including oil refineries and electric power plants.
Texas, which leads the nation in emissions of greenhouse gases, is also the only state refusing to help the EPA implement the rules, which started going into effect on Jan. 1. Texas officials are also seeking to block the regulations through litigation.
The three sponsors of the regulation-blocking amendment were Republican Reps. Ted Poe of Humble, Joe Barton of Arlington and John Carter of Round Rock.
Poe, whose district includes numerous petrochemical plants in the Houston and Beaumont-Port Arthur areas, issued a statement calling the EPA's greenhouse-gas rules "unnecessary" and saying they would eliminate "countless jobs in our energy sector." He said the regulations represent "back-door attempts by the administration to bypass Congress and circumvent the will of the American people."
(The Supreme Court ruled in 2007 that the EPA has authority under the federal Clean Air Act to regulate carbon dioxide and other greenhouse gases. The Wall Street Journal reported this month that a newly revealed 2008 letter by the George W. Bush administration's EPA chief  said the Bush administration "was obliged to declare that emissions of heat-trapping greenhouse gases linked to climate change endanger public health and welfare." Such a subsequent "endangerment finding" was the legal basis for the Obama administration's decision to regulate those gases.)
Politico reported that the Poe-Barton-Carter amendment had only "minimally clarified the language already in the underlying bill," and that by falling short of a veto-proof margin, it prompted Democratic Rep. Henry Waxman of California, a champion of climate regulation, to quip, "I don't know what they gained by it but they made me feel pretty good."
Also added to the 2011 budget resolution was an amendment to block an administration initiative on climate science, sponsored by Republican Rep. Ralph Hall of Rockwall. Hall represents a district in Northeast Texas and chairs the House Committee on Science, Space and Technology. His amendment, adopted 233-187, would prohibit spending to continue the administration's establishment of a new National Climate Service by restructuring some operations of the National Oceanic and Atmospheric Administration.
NOAA explains the planned Climate Service this way:
The principal goal of this reorganization is to more efficiently and effectively respond to the rapidly increasing demand for easily accessible and timely scientific data and information about climate that helps people make informed decisions in their lives, businesses, and communities. NOAA provides this to citizens as climate services.
The Climate Service will allow NOAA to provide a reliable and authoritative source for climate data, information, and decision support services and to more effectively coordinate with other agencies and partners.
Jane Lubchenco, a famous marine ecologist and environmental scientist who was appointed by Obama to head NOAA, has long worked to convey the views held by the great majority of scientists about climate changes expected from a human-warmed atmosphere. A typical comment last year: "Climate change is already affecting oceans. It's making them warmer. It's making sea levels rise. And it's making them more acidic. All of those change both the beauty and the bounty of oceans."
Hall, by contrast, has voiced skepticism about the science behind climate-change projections. Last December, for instance, he seemed to take issue with the central scientific finding of an average planetary warming when he outlined the issues facing the Science, Space and Technology Committee: "We have some real challenges; we have the global warming or global freezing and then we have the space, the NASA program."
A statement by Hall after the House passed the budget resolution early Saturday morning explained his amendment on the Climate Service:
This new line office would take vital resources from the Oceanic and Atmospheric Research Office, essentially gutting fundamental research at NOAA and shifting the main focus of the agency to climate. This shift threatens to harm important NOAA activities, such as helping with the restoration of the Gulf of Mexico to pre-spill conditions, ensuring consistent National Weather Service operations, and preventing a data gap in weather and climate data from polar-orbiting satellites.
Other successful amendments to the budget resolution regarding climate science and regulation were sponsored by House members from other states, though those lawmakers advocated the proposals with language closely akin to the claims of Texas Republican officials in recent months.
Rep. Mike Pompeo, a Kansas Republican, won 239-185 approval for his amendment to reduce funding from $16 million to $3.2 million for a federal registry that collects data about companies' greenhouse-gas emissions. Pompeo argued that these data are "the very foundation of the EPA's effort to pursue its radical anti-jobs agenda."
The House, meanwhile, also voted 244-179 to stop U.S funding (now $12.5 million per year) for the Intergovernmental Panel on Climate Change (IPCC), the U.N.-sponsored organization involving hundreds of scientists in dozens of nations around the world, which does not conduct or sponsor research but compiles and assesses researchers' peer-reviewed findings.
The IPCC won the Nobel Peace Prize in 2007 for its work over the years. Its conclusions have been endorsed by various leading scientific organizations ranging from the U.S. National Academy of Sciences to Texas A&M University's Department of Atmospheric Sciences faculty.
Still, Rep. Blaine Luetkemeyer, a Missouri Republican, echoed other climate-science skeptics in his harsh criticism of the IPCC when he argued for passage of his proposal to cease U.S. funding for the organization. He said the IPCC was "nefarious," issued "corrupt findings," and comprises "politically motivated scientists who should know better [who] have whipped up a global frenzy about a phenomenon which is statistically questionable at best."
(Similarly, Texas Attorney General Greg Abbott, a Republican, charged last year that the organization is "scandal-plagued" and includes "a cadre of activist scientists colluding and scheming to advance what they want the science to be." Such allegations, based on leaked emails to and from a British research center, have been dismissed by investigations, including inquiries of the British Parliament and the Associated Press.)
Republican politicians' currently fierce opposition to climate-change regulations and skepticism about climate science was not so uniformly held by party leaders just a few years ago.
Arizona Sen. John McCain, the GOP presidential nominee in 2008, endorsed a federal cap-and-trade plan for reducing greenhouse-gas emissions that was similar to, though less stringent than, a campaign proposal by Democratic candidate Barack Obama.
Promoting his plan early in 2008, McCain declared, regarding climate-change projections, "We stand warned by serious and credible scientists across the world that time is short and the dangers are great. The most relevant question now is whether our own government is equal to the challenge."
Although Texan George W. Bush steadfastly opposed mandatory controls on greenhouse gases during his eight years in the White House, top officials of his administration praised the IPCC and claimed credit for its achievements in 2007.
The occasion was the international body's publication of the first installment in a voluminous, updated report assessing the status of climate science. A press release jointly issued at the time by three federal agencies was headlined "Bush administration plays leading role in studying and addressing global climate change."
A representative passage:
The Administration welcomes the Intergovernmental Panel on Climate Change report, which was developed through thousands of hours of research by leading U.S. and international scientists and informed by significant U.S. investments in advancing climate science research," U.S. Secretary of Energy Samuel Bodman said. "Climate change is a global challenge that requires global solutions. Through President Bush's leadership, the U.S. government is taking action to curb the growth of greenhouse gas emissions and encouraging the development and deployment of clean energy technologies here in the United States and across the globe."
– Bill Dawson
Image credit: © Notebook  – Fotolia.com