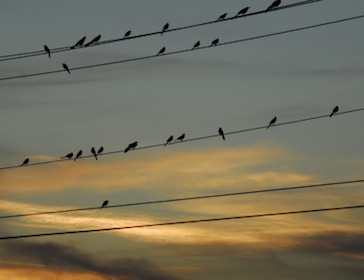 On Wednesday, the National Weather Service was predicting another onslaught of very cold temperatures across Texas, with this morning's forecast lows ranging from 3 degrees at Amarillo and 6 at Lubbock, to 12 in Dallas and 19 in Austin, to 23 in Houston and 32 in Brownsville.
In light of that prediction, with a forecast of more frigid conditions today and tonight, the main utility-related question on most Texans' minds was undoubtedly whether the state would experience a repeat of the rolling blackouts during last week's big freeze.
A related question is whether the state's wind-power industry will perform as well in this week's cold conditions as it seemed to do last week. The problems behind the blackouts then have been tentatively linked (pending scheduled investigations) to the traditional electricity sources of coal and natural gas.
Fossil-fuel interests and their supporters have long argued that wind power's potential is limited because its inherently intermittent nature translates makes it undependable. Wind's proponents quickly seized on the situation in Texas last week, however, to score some strategic points on behalf of wind's dependability during the blackouts.
They got support for that assertion from the top official at the organization that manages the electric grid in most of the state. Trip Doggett, president and CEO of the Electric Reliability Council of Texas (ERCOT), told the Texas Tribune that wind power did well while 50 coal and gas generating units were not operating during the blackouts on Feb. 2:
I'm not aware of any nuclear plant problems, and I'm not aware of any specific issues with wind turbines having to shut down due to icing. I would highlight that we put out a special word of thanks to the wind community because they did contribute significantly through this time frame. Wind was blowing, and we had often 3,500 megawatts (MW) of wind generation during that morning peak, which certainly helped us in this situation.
W. Mack Grady, a professor of electrical and computer engineering at the University of Texas, posted relevant information about the rolling blackouts on his website.
Grady noted [PDF] that the state's peak electricity demand of 53,334 MW on Feb. 2 – the day of the blackouts – was just 500 megawatts greater than the peak last winter, but 5,000 MW of generation "was out of service [on that day] due to the effect of extreme cold."
While ERCOT has not yet posted on its public Web site its own statistics on wind generation during the blackouts, Grady wrote that his analysis of available data led him to conclude that wind generation "was low but on the rise at 5 a.m. [on Feb. 2] when grid problems began," and that it "rose to moderate levels (approximately 10 percent of total generation) during the troubled 5 a.m. – 10 a.m. generation shortage period."
ERCOT reported last month that wind-generated power had increased to 7.8 percent of the electricity used in Texas during 2010, compared to its 6.2 percent share in 2009. Coal produced the most electricity last year with 39.5 percent, followed by natural gas, the 2009 leader, which was down to 38.2 percent.
Dallas Morning News reporters concluded that difficulties involving coal and natural gas were evidently central to the power shortages last week:
The operators of Texas' electricity grid blamed myriad problems at power plants across Texas for last week's rolling blackouts. But interviews and a review of documents by The Dallas Morning News reveal that the breakdown of a cluster of coal-fired plants in Central Texas was at the heart of the problem.
To compound the problem, many of the natural gas-fueled plants that would normally fire up to restore power didn't have enough gas.
So early Wednesday morning, officials with the Electric Reliability Council of Texas began shutting off power to customers after a quick, deep freeze sliced through the state.
The grid lost 7,000 megawatts of capacity, enough to power 1.4 million homes, and 50 power plants stopped working. Texans endured eight hours of rolling blackouts.
"It appears the people in the control room were faced with something out of a bad science-fiction movie," said Public Utility Commissioner Ken Anderson.
Regulators questioned whether power plant operators had adequately prepared for the cold weather by shielding equipment from the elements, and whether protocols developed in the 1970s slowed coordination between electricity and natural gas leaders. Natural gas regulators prioritize households instead of power plants.
The experience also raised the question of whether Texas' unique free-market electricity system ensures adequate power in an emergency.
The Abilene Reporter-News reported that snow and cold had not affected wind turbines in its region:
Thanks to the proximity of wind farms, many West Texans avoided most of the rolling blackouts other parts of the state experienced Wednesday as power companies relieved the strain on generating plants.
Greg Wortham of Sweetwater, executive director for Texas Wind Energy Clearinghouse, said the snow and cold did not affect the turbines. By contrast, plants using water or fossil fuel encountered frozen water lines or other problems with the cold.
There were some wind-power problems in the Amarillo area, however, the Globe-News reported:
Summer nights with barely a breeze aren't the only times the wind farms take a break. The extreme bluster of the weather this week caused turbine trouble across the area.
"The wind producers had let us know in advance we could expect some curtailments, or what they call 'cutouts,'" said Xcel Energy spokesman Wes Reeves. "We know wind energy is intermittent, but we build in anticipated wind based on forecasts. We were very appreciative they got in touch with us."
The problem was howling winds of up to 48 mph on Tuesday and Wednesday, according to data from the National Weather Service's Amarillo office.
Turbines capture the wind about 300 feet in the air, where there is less drag from the surface of Earth, so the speeds are even higher. Strong winds can cause the turbines, which normally thrive on the gusty Panhandle breezes, to shut down. Some are programmed to shut down automatically when winds reach a certain speed.
Nonetheless, the American Wind Energy Association issued a statement on Feb. 4, saying wind generation deserved credit for keeping the Texas blackouts from being worse than they were:
Wind energy played a critical role in limiting the severity of the blackouts, providing enough electricity to keep the power on for about three million typical households. ERCOT, the Texas grid operator, has confirmed that wind energy was providing between 3,500 and 4,000 MW of electricity (about seven percent of ERCOT demand at that time), roughly what it was forecast and scheduled to provide, during the critical 5–7 a.m. window on [Feb. 2] when the grid needed power the most.
Under the headline "Wind power keeping the lights on in Texas," the Sierra Club's Texas blog cited those figures in a crowing post: "Guess who's keeping the lights on in Texas? Wind power. … How's that for grid reliability?"
Depending on how things go this week, environmentalists and the wind industry may be deploying that message at the national level in weeks ahead as Congress considers whether to enact a national mandate known as a Clean Energy Standard.
Such a policy would require utilities to produce a minimum amount of their electricity from designated "clean" power sources including renewables such as wind and solar, plus nuclear and natural gas. Natural gas ranks lowest among the fossil fuels in emissions of climate-changing and health-threatening pollutants.
A number of states have mandates of their own for utilities to use lower-pollution sources of electricity. Texas' own such standard, approved by the Legislature in 1999 and confined to renewable sources, is widely credited with jump-starting the state's wind industry, which has rapidly grown to rank as the nation's largest.
– Bill Dawson
Image credit: nitesky – iStockphoto.com