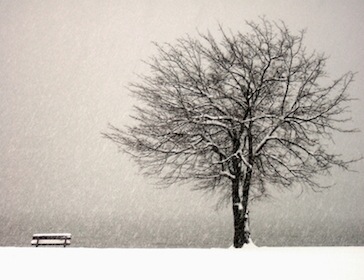 "It seems counterintuitive …."
That was the way an Abilene Reporter-News editorial described the news earlier this month that federal atmospheric scientists had announced that 2010 was tied with 2005 as the hottest year on record – just as "the Northeast and Europe [were] being hammered by snow and the South by ice."
Despite the apparent incongruity, the editorial concluded:
[The National Oceanic and Atmospheric Administration] cast a wide net in gathering the data. It came from weather stations, ships and ocean buoys. In all, more than 200 countries contributed to the findings.
There may be disagreement about how fast and what is causing it, but there seems little disagreement that the Earth is getting warmer.
The notion that the current weather doesn't conform to the concept of global warming – the rising of the average planetary temperature, which the great majority of scientists attribute to human production of greenhouse gases – has probably crossed many minds, especially in light of forecasts on Monday.
The predictions included "bitter cold" and snow in Texas and a "potentially historic and destructive winter storm" that could blanket a third of the U.S. population elsewhere with heavy snow and/or ice.
Following the "snowpacalypse" that hit the Northeast early last year, a string of extreme weather events affecting many parts of the world, and then heavy snowfalls this winter in sections of the U.S. before this week's storm, journalists have been seeking out explanations from scientists about how these phenomena may jibe with an average warming of the earth's atmosphere.
Unsurprisingly for anyone who has followed the unfolding science of humans' impact on the climate, a recurring theme has involved the – yes, sometimes counterintuitive – side effects comprising a broader pattern of global climate change.
The New York Times reported on seemingly "topsy-turvy weather" last week:
For two winters running, an Arctic chill has descended on Europe, burying that continent in snow and ice. Last year in the United States, historic blizzards afflicted the mid-Atlantic region. This winter the Deep South has endured unusual snowstorms and severe cold, and a frigid Northeast is bracing for what could shape into another major snowstorm this week.
Yet while people in Atlanta learn to shovel snow, the weather 2,000 miles to the north has been freakishly warm the past two winters. Throughout northeastern Canada and Greenland, temperatures in December ran as much as 15 to 20 degrees Fahrenheit above normal. Bays and lakes have been slow to freeze; ice fishing, hunting and trade routes have been disrupted.
Iqaluit, the capital of the remote Canadian territory of Nunavut, had to cancel its New Year's snowmobile parade. David Ell, the deputy mayor, said that people in the region had been looking with envy at snowbound American and European cities. "People are saying, 'That's where all our snow is going!' " he said.
The immediate cause of the topsy-turvy weather is clear enough. A pattern of atmospheric circulation that tends to keep frigid air penned in the Arctic has weakened during the last two winters, allowing big tongues of cold air to descend far to the south, while masses of warmer air have moved north.
The deeper issue is whether this pattern is linked to the rapid changes that global warming is causing in the Arctic, particularly the drastic loss of sea ice. At least two prominent climate scientists have offered theories suggesting that it is. But others are doubtful, saying the recent events are unexceptional, or that more evidence over a longer period would be needed to establish a link.
The same day, CBS News posted an article on its Web site with an even broader perspective:
In the past year, every continent except Antarctica has seen record-breaking floods. Rains submerged one-fifth of Pakistan, a thousand-year deluge swamped Nashville and storms just north of Rio caused the deadliest landslides Brazil has ever seen.
Southern France and northern Australia had floods, too. Sri Lanka, South Africa, the list goes on.
And while no single weather event can be linked definitively to global climate change, a growing number of scientists say these extreme events represent the face of a warming world.
"Any one of these events is remarkable," said Jay Gulledge, senior scientist for the Pew Center on Global Climate Change. "But all of this taken together could not happen without the extra heat that's in the ocean. It defies common sense to overlook that link."
That link works more or less like this. Concentrations of greenhouse gases are the highest the earth has seen in 15 million years. These gases trap heat, warming both the air and the oceans. Warmer oceans give off more moisture, and a warmer atmosphere can hold more of it in suspension. The more moisture in the air, the more powerful storms tend to grow. When these supercharged weather systems hit land, they don't just turn into rain or snow, they become cyclones, blizzards and floods.
"There is a lot of tropical moisture in the atmosphere that is getting transported over very long distances and is dropping out in various places around the world in dramatic fashion," Gulledge said.
"Scientists see climate change link to Australia floods" was the headline on a Reuters dispatch earlier in January:
Climate change has likely intensified the monsoon rains that have triggered record floods in Australia's Queensland state, scientists said on Wednesday, with several months of heavy rain and storms still to come.
But while scientists say a warmer world is predicted to lead to more intense droughts and floods, it wasn't yet possible to say if climate change would trigger stronger La Nina and El Nino weather patterns that can cause weather chaos across the globe.
"I think people will end up concluding that at least some of the intensity of the monsoon in Queensland can be attributed to climate change," said Matthew England of the Climate Change Research Center at the University of New South Wales in Sydney.
"The waters off Australia are the warmest ever measured and those waters provide moisture to the atmosphere for the Queensland and northern Australia monsoon," he told Reuters.
That article was published on Jan. 12. Three days later, a story in The Independent, a leading British newspaper, reported that other scientists were stressing that recent, destructive deluges in Australia, Brazil and Sri Lanka could not "be linked directly to global warming." The article largely focused on the urban-policy implications of such events in light of climate-change projections that they are becoming more likely:
Rapid urban development, a growth in the population and the dubious practice of building on flood plains have all raised the flooding risk in areas once considered flood-free. The building of houses, roads, drains and other infrastructure has changed the way water flows through river catchments, said Professor Chris Eves of [Australia's] Queensland University of Technology.
Bad urban planning even in a nation such as Australia can increase the risk of flooding by taking away natural defences that let rainwater seep away safely. "It's created the potential to flood areas that were safe in 1974, and we're seeing that now," Professor Eves said.
John Magrath of [the disaster relief organization] Oxfam said that it should be no surprise that more people in the coming years will be affected by floods and other natural disasters, and not just because in a globally warmer world we are likely to experience more extreme weather.
"We're seeing more people affected because there are just more people and they tend to be more crowded together in unstable places," Mr. Magrath said.
"We're seeing more extreme weather and it doesn't take much for that trend to become truly extreme and to cause disasters rather then just disruption," he said.
Earlier in the month, a report about 2010 disasters by Munich Re, the world's largest reinsurance company, also prompted coverage that examined the intersection of climate disasters, manmade climate change and other factors such as urban patterns.
The Germany-headquartered company said "the overall picture last year was dominated by an accumulation of severe earthquakes to an extent seldom experienced in recent decades," adding that "the high number of weather-related natural catastrophes and record temperatures both globally and in different regions of the world provide further indications of advancing climate change."
The ClimateWire news service focused on the U.S. angle in its article on the report:
The United States was struck by more natural disasters last year than ever before, with 247 blizzards, thunderstorms and floods accounting for a record level of frequency partly attributable to climate change, according to a major reinsurance company.
About 150 of the events were rainstorms and snowstorms, showcasing the rising number of meteorological disasters that are pelting the United States. In 1980, for example, when total disasters barely reached 60, the number of damaging storms was just over 50.
Nearly 190 Americans died in thunderstorms, blizzards and floods last year, all of which cost the country tens of billions of dollars in damages. The price to insurance companies for thunderstorm damage alone amounted to more than $9 billion, underscoring a 500 percent rise in the average yearly loss from that peril since 1980.
Those sky-climbing costs are mostly caused by people, not climate change, cautions Munich Reinsurance, which says urban sprawl and expanding development increase the number of targets for Mother Nature to damage.
A larger human footprint can also increase the frequency of events. Disasters can't be observed if no one is there to see them.
But it's likely that the number of strong storms involving rain, snow and hail is also rising because of warming temperatures, says Ernst Rauch, who heads the company's Corporate Climate Center.
"We believe we see indications that weather patterns — so the frequency and intensity of convective storms – in some parts of the United States has already changed," he said yesterday. "So we believe we have indications that climate change is already, at least to some extent, visible."
– Bill Dawson
Other reports
Reuters
2010 hit by weather extremes: Pakistan to Russia
McClatchy Newspapers
Winter storms don't undermine global warming science, climate experts say
New York Times op-ed column
Bundle up, it's global warming
ClimateWire
Greenland's ice feels the heat in record-setting 2010
ABC News
Extreme flooding around the world caused by climate change, scientists say

Image credit: © Douglas Craig – Fotolia.com