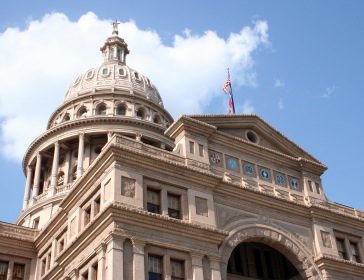 [Update: Republican Rep. Joe Straus of San Antonio easily was reelected as speaker of the Texas House of Representatives today by a 132-15 vote. The original headline of this article, which referred to Straus' "expected reelection," was modified accordingly.]
By Bill Dawson
If incumbent Joe Straus wins reelection today as speaker of the Texas House, as he is expected to do, proponents of legislation boosting cleaner, renewable energy will have a potential friend in that powerful position.
Whether the San Antonio lawmaker's record of championing energy efficiency and praising alternative energy helps lead to the passage of such bills in the just-starting legislative session is another matter altogether, of course. Lawmakers' attention is expected to be largely devoted to tough issues involving a multibillion-dollar budget shortfall and other pressing matters including congressional redistricting and the Sunset reviews of 28 state agencies.
Straus has faced challenges from two fellow Republican House members and opposition by Tea Party adherents who said he isn't conservative enough. Some Republican critics said he isn't a conservative at all.
Even so, Straus overwhelmingly won the endorsement of the Texas House Republican Caucus on Monday with 70 votes from the 100 members present, which essentially assured his victory today when the full House chooses a presiding officer for the 2011 session.
Republicans secured an enormous 101-49 House majority last November, with many of the newly elected legislators running as staunch conservatives with Tea Party support.
Outspoken skepticism about climate science and opposition to regulatory action against manmade climate change are hallmarks at the moment for many strongly conservative Republicans, including Gov. Rick Perry. For some of those conservatives – though not Perry, a wind-power advocate – that stance is coupled with a general hostility to government policies to advance renewable energy.
Straus, who represents a San Antonio district, has pursued a different political track. He led the successful effort in the 2007 Legislature to pass an omnibus energy efficiency bill. In 2008, he voiced strong support for renewable energy in an interview with Texas Monthly:
"I think we are getting to the point where renewable energy represents such a promising market that the large energy companies no longer view it as a small research investment, but a serious source of energy that will help power the energy economy. I see the day fast arriving when alternative energy is a mainstream source to power Texans' lives."
While the effort to depose Straus as House speaker has been waged from the right, issues related to renewable energy and the environment did not surface in that race, Austin-based renewable-energy advocates told Texas Climate News.
In fact, both of the two other Republicans vying for the speaker's position while criticizing Straus' conservative credentials have backgrounds suggesting potential openness to pro-renewables arguments.
Rep. Ken Paxton of McKinney, one of the speaker candidates, in 2009 joined the advisory board of a Green Star Builders, a "leader in environmentally-conscious construction" based in nearby Allen, another Dallas-area city.
A press release announcing the appointment quoted Brett Relander, Green Star president and CEO:
"Ken Paxton is a big supporter of technological innovation and renewable energy for achieving energy independence as well as private incentives for green building."
Paxton was also quoted:
"Green Star is taking a leadership role in developing important commercial and residential projects in District 70 [which he represents] and beyond. … My role on the advisory board will be to help them continue their ambitious green building initiatives that benefit North Texans, both in terms of reducing energy costs and environmental stewardship."
The other speaker candidate is Rep. Warren Chisum of Pampa in the Panhandle, a longtime advocate of conservative positions in the House. He headed that chamber's carbon caucus in the run-up to the 2009 legislative session, saying it was focused on how Texas should respond to global warming, instead of continuing the debate about whether human emissions of carbon dioxide and other greenhouse gases are causing it.
Although advocates of renewable-energy and energy-efficiency measures had high hopes for the 2009 legislative session, many bills that they were supporting fell just short of passage after appearing to be headed for enactment.
One measure that did make it was Chisum's HB 1796, which mandated state record-keeping about greenhouse emissions and companies' voluntary reductions of greenhouse gases and ordered a study of using state-owned submerged lands for depositing heat-trapping gases.
Renewables advocates are hopeful that some of the bills they supported that almost won passage two years ago will be introduced again this year, including proposals to boost solar energy in the state.
Recent developments in the U.S. House of Representatives suggest, however, that supporters of such measures should not necessarily count on state lawmakers' past positions remaining constant in the current political climate.
For instance, U.S. Rep. Fred Upton, a Michigan Republican who will chair the Energy and Commerce Committee in the now-Republican-controlled House, had been a proponent of "reduc[ing] carbon emissions" that are blamed by scientists for a warming and changing planetary climate.
But as Mother Jones reported last week, that declaration has disappeared from Upton's Web site.
On Dec. 28, Upton coauthored an op-ed column on climate regulation in the Wall Street Journal with Tim Phillips, president of the Tea Party-supporting Americans for Prosperity. They argued that merely postponing Environmental Protection Agency regulation of greenhouse emissions (as some in Congress want), instead of overturning it outright, "presumes that carbon is a problem in need of regulation. We are not convinced."
Photo credit: Texas State Capitol © Brandon Seidel – iStockphoto.com