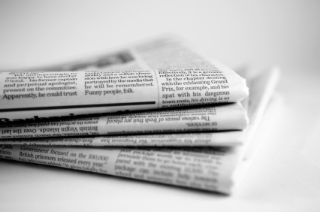 The Cancun climate summit's lackluster prospects, the benefits of a carbon tax, the advantages of natural gas over coal, and Texas officials' "stubborn" refusal to regard greenhouse gases as pollutants are some of the themes in this installment of Texas Comment, our occasional round-up of recently published opinions on climate, energy and sustainability issues.
An editorial in the Houston Chronicle didn't see much hope that the current diplomatic meeting in Cancun, Mexico, might yield any substantive progress toward reducing climate-altering pollution:
It's not like global warming as an issue has faded away. Rising temperatures continue to break records year after year, with this year contending for the hottest on record and the recently concluded decade the warmest ever measured. Arctic sea ice coverage continues to dwindle, with the long-sought Northwest and Northeast passages open for shipping in late summer. The vast majority of reputable climate scientists continue to predict more of the same unless we reduce man-made greenhouse gas emissions.
[…]
Given the track record of global warming negotiations thus far, it's hard not to be pessimistic about anything meaningful coming out of Cancun. It appears nature will have to send some stronger, more unequivocal displays before the world community gets the message.
Meanwhile, op-ed pieces in the Chronicle and San Antonio Express-News supported a carbon tax as a good tool for cutting greenhouse emissions. They came from a couple of perhaps unlikely-seeming sources.
In the Express-News, Don McMurry, executive vice president of the San Antonio chapter of Associated General Contractors, said such a tax would be a reasonable way to fight climate change and bring other benefits, such as better local air quality in his city:
As a fifth-generation Texan, I appreciate what the oil and gas industry has done for me and the state's economy. Royalties from mineral interests paid for my college education, and local companies such as Valero and Tesoro are respectable corporate citizens, providing good jobs to many in the Lone Star State.
However, as representatives from 194 countries meet in Cancun this week to discuss carbon emissions and global climate change we have to think beyond business as usual. It's time to get serious about a post-fossil-fuel future.
Carbon dioxide is the most significant contributor to greenhouse gases. By burning fossil fuels we are emitting tons of carbon into the atmosphere, creating dangerous gases and contributing to severe weather events such as floods, droughts and heat waves. Long term, the economic and environmental consequences will be catastrophic.
A carbon tax is simply a surcharge on fossil-fuel-based energy consumption and provides a promising solution to the problem. Such a price signal on fossil fuels would provide momentum to the development of clean, renewable energy.
Writing in the Chronicle, more support for a carbon tax came from two faculty members of Texas A&M University's Bush School of Government and Public Service – James M. Griffin, director of its Mosbacher Institute for Trade, Economics and Public Policy, and Kishore Gawande, a professor in international economics:
Any justification for a carbon tax must rest on the science of climate change and the economics of its impacts on GDP and quality of life. There is a huge literature on these topics. Our reading of the science of climate change is that the phenomenon is real, and will loom ever larger as China and India join the club of advanced nations. When most economists assess the costs and benefits of policies to cut carbon emissions, they conclude that draconian actions to quash carbon emissions are not called for. We do not need to scrap the existing infrastructure of energy use tied to fossil fuels. But, as we replace the infrastructure over time, we must do so with renewables and fuels that leave lighter carbon footprints.
[…]
In 30 or 40 years, we could fully replace the electricity generating infrastructure with low or zero carbon emissions, a move that makes good business sense and good environmental sense. If we start the carbon tax today, we begin to reconfigure the energy infrastructure of the U.S. economy. The reason most economists prefer a carbon tax over a cap-and-trade system is that it avoids the extreme volatility of carbon prices. In a cap-and-trade system, if regulators issue too few allowances, carbon allowance prices can skyrocket as they did in Europe. We don't need the uncertainty that cap-and-trade would create; hopefully, that policy is off the table for good. But Washington does desperately need both the tax revenues that a carbon tax can bring, and a sensible climate change policy.
A Dallas Morning News editorial deplored Texas officials' "stubborn" refusal – alone among all the states – to comply with federal greenhouse gas regulations for large industrial plants:
While everyone from the U.S. Supreme Court to [Environmental Protection Agency] scientists has agreed that greenhouse gases are a pollutant, Texas stands firm – and, in this scenario, alone – in disputing that fact. While the EPA warns that these emissions can pose a danger to human health, Texas is content to be the King of Carbon, spewing more of the stuff than any other state.
Our leaders aren't worried about protecting our health, though; they're worried about protecting industry. Their recurring refrain goes a little something like this: Any attempt to regulate pollution will cripple Texas' business climate.
A different view came from Bernard Weinstein, associate director of the Maguire Energy Institute (which received its initial funding from Cary M. Maguire, president of Maguire Oil Company) at Southern Methodist University. In an op-ed in the Fort Worth Star-Telegram, he argued for a two-year delay in the EPA rules, which are scheduled to start taking effect in January:
Ironically, it was never the intention of Congress to regulate carbon dioxide or other greenhouse gases under the Clean Air Act. What's more, the EPA's decision to move ahead with regulations on greenhouse gases is unsupported by either clinical studies or toxicological data normally relied upon by the agency to determine actual threats to human health.
But leaving the scientific debate aside, does it make sense to push ahead with greenhouse gas regulations when the economic patient is still in the recovery room?
[…]
[A two-year delay] would give Congress and the administration an opportunity to address climate change issues legislatively while at the same time giving researchers and industries an opportunity to come up with new technologies and efficiencies for reducing greenhouse gas emissions. And it would also give our besieged economy more time to get back on its feet.
In an op-ed column in the Chronicle, David Weinberg, executive director of the Texas League of Conservation Voters, a non-partisan advocacy group, charged that Gov. Rick Perry is "erasing" the state's progress in reducing greenhouse gases and other air pollutants through his "stubborn" – there's that word again – support for more power plants burning coal and the similar petroleum coke, a refinery byproduct. Weinberg argued for the climate, health and economic superiority of natural gas over coal:
Natural gas as a fossil fuel is much cleaner than coal and petroleum coke. Natural gas in power generation produces roughly half the carbon emission of coal and vastly less mercury, nitrogen dioxide, sulfur dioxide and particulate matter. Domestically produced natural gas has the added benefit of providing severance taxes for Texas – a critically important source of revenue for a state with a budget shortfall estimated as high as $21 billion. Coal brought in on trains from Rocky Mountain and Upper Midwest states provides no such benefit for Texas taxpayers.
It was no surprise that Greg Ebel, president of Houston-based Spectra Energy Corp., agreed that natural gas would boost the lagging economy and help in the fight against climate change. Spectra is a major provider of natural gas infrastructure. In a Chronicle op-ed, Ebel argued:
The timing [of the recent boom in shale-gas production] couldn't be better, especially as we move to lower the carbon-intensity of our economy. Last year, we witnessed the largest absolute and percentage decline in energy-related carbon dioxide emissions since 1949. Emissions declined 7 percent, or 405 million metric tons, according to the U.S. Energy Information Administration. A key contributor: fuel-switching in the electric sector from coal to natural gas. That's a trend we should encourage and facilitate, through inclusion and equitable treatment of natural gas in our national energy solutions.
In a Chronicle op-ed, Weinstein of SMU's Maguire Energy Institute said more use of nuclear power is "a sensible choice" to provide part of Texans' growing demand for electricity:
Public sentiment toward nuclear energy is improving, and even some environmental groups have changed their tune regarding nuclear power because of its minimal carbon footprint. Nuclear power is an efficient and environmentally friendly alternative to fossil fuels that doesn't emit greenhouse gases or particulates. In addition, production costs don't fluctuate as they do with fossil fuel plants.
An editorial in the El Paso Times cast an envious eye toward neighboring New Mexico and its "progressive steps in the field of renewable energy":
El Paso is doing little in that field, yet we have the same natural resource – the sun.
Just recently, officials in Las Cruces [N.M.] announced Sapphire Energy is conducting research that turns algae into cellulosic biofuel. And Las Cruces is working with solar giant SunEdison, which looks to be setting up a large solar-energy plant.
Renewable-energy companies provide new jobs. They also attract industry that services them. That means even more jobs.
And areas producing renewable energy are attractive to companies that manufacture the materials these companies need … solar paneling and, in the case of wind, turbines.
In El Paso, we seem eager to follow this technological path, but we aren't doing much to make it happen.
By contrast, the Express-News praised San Antonio's municipal electric utility, CPS Energy in a pair of editorials on its energy-conservation plans and its purchase of solar power.
From the conservation editorial:
Utilities have traditionally looked at electricity as a commodity — the more of it, the better. By treating energy as a resource to be conserved, CPS can take the burden off ratepayers by reducing the need to invest in costly new power plants.
From the solar editorial:
CPS Energy, already a leader in wind-powered generation, is now in the solar energy business. CPS has a contract to buy all the power generated by the new Blue Wing facility in Southeast Bexar County for 30 years.
[…]
Renewable energy can't be considered without regard to cost. CPS must be candid with ratepayers about what trade-offs are involved in its renewable investments. But there's good reason to believe that a modest investment in solar power fits in with the utility's long-standing efforts to diversify its generation portfolio for the benefit of customers.
The Morning News had an editorial unhappily noting Texas' decline in a national ranking of states according to several measures of their progress toward more energy efficiency:
Texas has made significant gains in some areas, especially in tapping wind energy, where the state is a national leader. That's fine, as far as it goes, but its leaders must redouble conservation and efficiency efforts as part of a larger overall energy strategy.
In another editorial, the Dallas newspaper criticized the Obama administration's recent reversal of its earlier decision to permit offshore drilling in the eastern Gulf of Mexico and off the Atlantic coast:
Without a doubt, the catastrophic BP Deepwater Horizon spill was avoidable, and the Obama administration was right to impose a moratorium on deepwater drilling and slow approval of shallow-water drilling permits. But the moratorium has been lifted, the Interior Department hasn't issued new deepwater drilling permits and now offshore drilling policy has become needlessly unpredictable.
– Bill Dawson
Image credit: peepo – iStockphoto.com