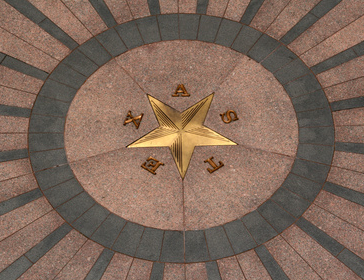 By Bill Dawson
It may seem that way, but Republican Gov. Rick Perry and his Democratic challenger, former Mayor Bill White of Houston, don't disagree on everything related to the closely linked subjects of climate change and energy policy.
Both gubernatorial candidates, for instance, like wind power and they both helped boost the Texas wind industry during their terms in office. Texas is now the top state in producing wind-generated electricity. And Houston now ranks as the top government entity of any kind in the amount of lower-pollution "green" electricity it buys, due to the city's purchases of wind power.
In general, however, Perry and White present voters with a choice between contrasting positions on how Texas – the state whose combined energy production and use yields the most heat-trapping carbon dioxide and other greenhouse gases in the nation – should proceed on climate and energy matters.
Those differences are nowhere more dramatic than on the question of manmade climate change itself, which the great majority of scientists believe is happening because of human use of fossil fuels and the resulting release of CO2.
White was a deputy secretary of energy, practicing attorney, founder of an oil and gas exploration company, and energy industry investor before he was elected mayor in 2003. He has long proclaimed his acceptance of the mainstream scientific conclusions that human production of greenhouse gases is changing the earth's climate and his support for action to stem that change.
Perry was a cotton farmer, state legislator, agriculture commissioner and lieutenant governor before becoming governor in 2001. He has been outspokenly, sometimes mockingly, skeptical about those conclusions for years. He strongly supports the state's court challenge of pending federal regulations to reduce industry greenhouse emissions. That challenge is based on a harsh critique of mainstream climate science.
In 2007, White expressed his views on climate change at two talks that were part of Houston's Progressive Forum speaker series.
Introducing remarks by James Hansen of NASA, probably the world's most famous climate scientist and a staunch advocate of action to reduce greenhouse emissions, White called Hansen "an American hero."
Before a separate talk by Tim Flannery, an Australian scientist, author and advocate for action against climate change, White said:
One by one, all the large mainstream energy companies have publicly acknowledged – some sooner rather than later– that there is an effect that the human species has had on the chemistry of the atmosphere and that would have the natural tendency to change the climate of our planet. In fact the only people that I know of that deny global warming exists are some statewide elected officials in Texas.
During his campaign for the governor's office, White has told reporters that he accepts mainstream climate science, as when he said this to the ClimateWire news service for an article published in the New York Times:
"I do tend to defer to the scientific consensus of the National Academy of Sciences [whose approximately 2,500 members include about 200 Nobel Prize winners]. My interpretation is what those scientists have said is, 'There is significant risk that it is man-made, and the consequences are significant.'"
In contrast, Perry underscored his climate-change skepticism in a 2007 speech when he said he had "heard Al Gore talk about man-made global warming so much that I'm starting to think that his mouth is the leading source of all that supposedly deadly carbon dioxide."
An aide to the governor (now a high-ranking official at the state's chief environmental agency, the Texas Commission on Environmental Quality, or TCEQ) told the Austin American-Statesman that same year, regarding human-caused climate change, that Perry was "not convinced that it's an issue."
In 2009, Perry spoke to reporters about his opposition to both the House-passed (but now dead) climate/energy bill that would have created a cap-and-trade system for reducing greenhouse gases and to the Environmental Protection Agency's still-alive plan to regulate emissions of those gases from large industrial facilities such as power plants and oil refineries:
The CO2 issue – we felt like that the EPA made an error when it decided to make CO2 a toxic substance. I mean the idea that CO2 is a toxic substance is a bit hard for this, you know, agricultural scientist to get his arms around when Nobel Peace Prize or Nobel laureates have talked about CO2 in a very positive sense, when you talk about the Green Revolution [an increase in crop production in developing nations].
This year, asked by the Texas Tribune about his opinion on whether humans are changing the climate, Perry said, "I think the jury is out on that assumption because of the manipulated and flawed data" – an allusion to allegations in the lawsuit against EPA regulation of greenhouse gases by Texas Attorney General Greg Abbott.
Neither Perry nor White has always consistently acted in accord with what some might expect, given their respective views on climate science.
Perry, for instance, signed a bill passed by the Legislature in 2009 that explicitly related to human-caused climate change by ordering that state officials assemble a list of possible "no regrets" actions, such as energy-efficiency measures, that would reduce greenhouse emissions at no net cost.
Even as White launched various municipal programs that would reduce those emissions, he declined to enlist the city in the Mayors Climate Protection Agreement, whose 1044 member cities at this time include 31 in Texas. Among the signatories are Austin, Dallas, Fort Worth and San Antonio. Members commit to "strive to meet or beat" the Kyoto Protocol's target for reducing greenhouse gases by seven percent below 1990 levels by 2012. Instead of that pledge, White "chose to do things that would have a real effect, rather than things that were symbolic or rhetorical," a former aide told Texas Climate News.
A major disagreement about the future role of coal
Still, the two gubernatorial candidates' starkly differing views on climate science are paired, unsurprisingly, with differing policy positions.
A principal disagreement between the two men – White told ClimateWire it was the biggest, in his view – is over the future use of coal to produce electricity in Texas. Perry is pro-coal. White wants to reduce its role in Texas' power-generation mix.
Coal use is relatively cheap, but is also highly controversial, in large part because it produces the most air pollution of all fossil fuels used to generate electricity – both greenhouse gases and conventional pollutants like soot and smog-forming chemicals.
"Texas – probably more than any other state — is aggressively building new coal plants," the Tribune reported last month.
In a prelude to their current gubernatorial contest, Perry and White were adversaries in one of the biggest environmental battles in Texas history – a struggle over 11 new coal-fired power plants proposed by the Dallas-based utility then called TXU.
The company had plans to build one coal plant that already had a state permit when it submitted permit applications for two more in 2005. A few months later, Perry signed an order for the TCEQ to expedite proposals for coal plants. A few months after that, TXU announced plans for eight more coal plants at a press conference attended by Perry.
White, along with then-Dallas Mayor Laura Miller, was a co-founder of a coalition of Texas cities, which opposed the new coal plants because of smog and greenhouse-gas concerns and enlisted the legal assistance of White's old law firm, Susman Godfrey. A district court ended up rejecting Perry's order that the TCEQ "fast-track" permits, and new owners that bought TXU canceled the eight proposed coal plants opposed by the cities coalition.
Echoes of that fight are still being heard in the opposition by the coalition and others to proposed coal plants, including one in Matagorda County whose air permit the TCEQ recently approved. Prompting new criticism about "fast-tracking," TCEQ Chairman Bryan W. Shaw, a Perry appointee, also recently indicated he wants to be able to approve the permit for a plant in Corpus Christi before the EPA's climate regulations take effect on Jan. 2. That facility would burn coal-like petroleum coke.
White told ClimateWire that he wants no "fast-tracking" of coal permits, but rather a collection of policies centering around natural gas, renewable energy and energy efficiency that would collectively reduce the amount of Texas electricity generated from coal over the next 12 years or so.
Despite his doubts about the harmfulness of adding carbon dioxide to the atmosphere, Perry has indicated on various occasions, such as a July speech at Rice University in Houston, that he supports building new "clean coal" plants that would reduce CO2 emissions by capturing it for storage or for use in Texas oil production.
Many environmentalists argue that the very term "clean coal" is a PR ploy – that there's no such thing. In any case, what constitutes "clean" lies in the eye of the beholder. For example, the White Stallion plant in Matagorda County, which would burn both coal and petroleum coke, has been promoted as a "clean coal" project. But as currently planned and tentatively authorized by the TCEQ, it would have neither of the main technologies for reducing carbon emissions at coal plants – carbon capture (the technique touted by Perry) and coal gasification.
A "diverse portfolio of energy sources" or "high-paying clean energy jobs"?
In the multifaceted debate over energy policy, Perry and White have often reflected the general tenor of their campaigns – Perry criticizing President Obama and the Democratic Congress, White putting some distance between himself and his party's leaders in Washington while still offering an alternative to Perry.
Perry's critique of the national administration (and of White's energy proposals) has often focused on charges that they would be too expensive for Texas and hurt the state's economy. He told the Emerging Energy Technologies Conference at Rice, for instance, that the "biggest challenge" to the energy sources is no longer foreign competition but "a federal government that ends up doing more harm than good when it tries to help."
For his part, White has waged a campaign that advocates, much as the Obama administration does, a transition to cleaner energy sources and more energy efficiency and conservation. But he has also said he approves of neither the cap-and-trade bill that passed the House on a largely party-line vote nor the administration's move to regulate greenhouse emissions under the existing Clean Air Act. The Austin Chronicle noted in January that he was then attempting the delicate maneuver of advocating cuts in those very emissions while "not mentioning greenhouse gases."
[Related: White and Perry on the House cap-and-trade bill]
Perry's position on energy policy resembles the approach advocated by his party's presidential nominee in 2008, Arizona Sen. John McCain, which McCain dubbed "all of the above." The governor's campaign Web site, for instance, has a page on energy and environmental issues that prominently mentions his desire to "create a diverse portfolio of energy sources, including renewable, natural gas, coal and nuclear power to meet the needs of our growing population in an eco-sensitive manner."
Perry's remarks at the Rice energy conference typified his wide-ranging endorsement of a various energy sources, couched in terms of environmental concern. Besides citing his criticism of the Gulf oil embargo that was then in place and his backing for a "safe and responsible domestic oil and gas industry," a summary released by his office added this:
Rather than making traditional energy sources more expensive, Gov. Perry continues to support making alternative energy technologies less expensive, thereby encouraging widespread commercial use and removing barriers to innovation and competition. Modernizing the national energy grid to support wind and solar energy transmission, facilitating investments in the development of carbon capture and sequestration technologies, and removing barriers to investment in nuclear generation would reduce carbon emissions while encouraging competitiveness, innovation and growth in alternative energy sources.
White's gubernatorial message on energy and climate issues has closely echoed key elements of his record as Houston mayor, as well as his municipal emphasis on the economic benefits of programs fostering cleaner energy and energy efficiency. In the mayor's office, such initiatives included efforts to promote solar power [see Editor's Note below] and energy-saving features in municipal and private buildings. He also affiliated Houston with the Clinton Climate Initiative, which helps major cities around the world reduce greenhouse emissions.
When White presented his energy plan for the state at Lubbock's American Wind and Power Center in September, he stressed the "high-paying clean energy jobs" it would promote. The plan includes retrofitting government buildings and updating building codes to save energy, along with promotion of renewables – solar power, in particular. Previously, he outlined this vision for reducing greenhouse emissions to Texas Climate News:
One, we need to dramatically and significantly reduce the fuel consumed per mile that vehicles travel. … Second, we need to significantly reduce the amount of energy consumed per square foot occupied for businesses and residences. And number three, we need to, over time, beginning immediately, reduce the percentage of our power generation from coal and increase the percentage that is generated by renewables and natural gas. And, over a longer period of time, depending on the economics, possibly nuclear. … So that, as you have somewhat higher-cost sources of power, then you are decreasing the demand and reducing the impact on consumer prices.
A complex fiscal context – whoever wins
No matter which of the two major-party candidates is elected, he will have to pursue his energy policies and others in the context of a huge state budget deficit – projections have ranged up to $25 billion – and a 2011 legislative session expected to be dominated by discussion of spending cuts.
That fiscal situation was reflected, for example, in campaign comments by Perry and White on whether to boost solar energy and other non-wind renewables under a state law that created a mandate called the Renewable Portfolio Standard. It set targets for the percentage of electricity that utilities produce from renewable sources. The 2005 version of the law – signed by Perry – is credited with helping to drive the rapid growth of the state's wind industry.
Environmentalists and other solar supporters would like to see other renewables, especially solar-powered electricity, get a similar boost. But solar power's higher costs have been an obstacle.
White told the environmentalist Web magazine Grist that he would support adding a solar-specific mandate to the state law, "but I would make sure that it is a target that does not cause excessive costs."
Asked about a mandate for solar and other renewables other than wind, Perry told the Tribune, "I have always been and I remain concerned about any potential cost to consumers from government-imposed mandates."
A bill to set non-wind targets in the Renewable Portfolio Standard failed to secure passage in the 2009 Legislature after a business group circulated what environmentalists charged were exaggerated cost estimates. Backers of that bill said Perry signaled that he did not support it.
[Editor's Note: The nonprofit, nonpartisan Houston Advanced Research Center, which publishes the independently edited Texas Climate News, also facilitates the Solar Houston Initiative for the City of Houston. HARC staff members were not involved in the writing or editing of this article.]
Image credit: Texas Capitol star © Brandon Seidel – Fotolia.com