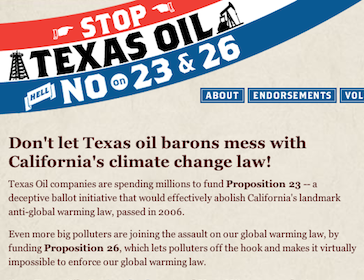 A multimillion-dollar effort by pair of San Antonio-based oil companies to pass a ballot initiative that would suspend California's sweeping climate-protection law appears to be backfiring as public opinion swings in favor of the law.
Opponents of Proposition 23, the measure to suspend the law, are focusing many of their communication efforts on satirical videos and related messages that portray the measure as a power grab by greedy Texas polluters:
One video shows a thug, identified as "Texas Oil," asking a tied-up man (the actor David Arquette, labeled "California") if he will vote for the proposition. Arquette says no, breaks free from his bonds, and gives Texas Oil and his henchmen a whipping. Arquette strikes a martial-arts pose as a message flashes on the screen: "Don't mess with California."
Another video features sneering, cowboy-hatted figures, representing oil companies, throwing a bucket of crude oil toward a female gardener representing California.
"Stop the Texas Oil Companies' Scheme to Repeal Clean Energy & Air Pollution Standards" is the top headline on the website home page of the main coalition fighting the proposition. "Stop Texas Oil" proclaims the logo of another group defending the climate law.
"What do these Texas chumps take us for?" a rapper demands in an ominous-sounding song available on the site of yet another group.
The two Texas companies – Valero and Tesoro, both of which operate California refineries – launched and are the main funders of the the effort to suspend the 2006 Global Warming Protection Act, which will require deep cuts in greenhouse-gas emissions in California. Valero has contributed about $5 million and Tesoro about $2 million, or about 66 percent, of the $10.6 million given to help pass Proposition 23.
That effort, based largely on an appeal to protect jobs, seemed to be finding favor with voters at first. But aided by a recent surge of millions of dollars in contributions from donors including clean-energy investors and the founders of Microsoft and Google, the Texas-bashing strategy to defend the law appears to be working.
The Los Angeles Times reported this week that a new poll showed support for Proposition 23, which would suspend the state's 2006 Global Warming Solutions Act, has plummeted since last month.
The poll, conducted from Oct. 10-17 by the Public Policy Institute of California, found 48 percent in favor of keeping the climate law in place and 37 percent for suspending it. A survey from Sept. 19-26 by the same organization found voters evenly split – 43 percent for suspension and 42 percent against.
Defenders of the climate law believe messages focusing on Texas and the two oil companies are being persuasive, Steven Maviglio, spokesman for the broad coalition called No on 23 told Texas Climate News.
Maviglio said figures compiled by the California secretary of state's office early this week showed that about 90 percent of contributions for the proposition to suspend the climate law had come from out of state, with 97 percent from oil interests.
Criticism of the Texas oil companies is appealing to California voters "for a good reason," Maviglio said. "I don't think Texas voters would appreciate 90 percent of the money to change Texas policies coming from out of state."
Another factor in the success of the Texas-focused messages, he said, is that "Californians have long memories – Enron was just a couple of years ago."
That comment referred to the key role of the now-defunct Houston company's manipulation of California's electricity market in the state's electricity crisis of 2000-01, which included electricity shortages, blackouts and major damage to the state's economy.
Californians might well be expected to remember Enron's part in those events. Among other evidence, audio tapes of Enron energy traders were released in 2004, in which they were heard "gloating and praising each other as they helped bring on, and cash-in on, the Western power crisis," CBS News reported at the time.
In one taped exchange, laced with profanity, a trader exulted about the money that Enron "stole from those poor grandmothers in California." Enron agreed to a $1.5 billion settlement with California agencies and private utilities in 2005, but ended up paying only a fraction of that amount.
Supporters of Proposition 23, meanwhile, have cited the late Enron CEO Ken Lay's support for a regulatory cap-and-trade policy to limit greenhouse emissions – something that Enron hoped to reap large profits from – as a reason to suspend the climate law.
Such a policy for capping emissions and trading emission permits was at the heart of the climate-energy bill that passed the U.S. House last year. It is also envisioned as one of the main mechanisms for implementing California's climate law.
The law mandates a reduction of the state's greenhouse-gas emissions to 1990 levels between 2012 and 2020. Limiting climate change caused by heat-trapping gases such as carbon dioxide is just one argument being used by supporters of the California law.
These opponents of the initiative have branded it as the "dirty energy proposition." They say the climate law will be an important catalyst to encourage wind, solar and other cleaner energy alternatives to fossil fuels such as oil and coal. At the same time, they stress that the law, besides reducing greenhouse emissions, will help cut air pollutants that threaten people's health. Connecting that appeal to the Texas theme, they cite pollution and workplace-safety violations by the two Texas companies.
Valero and the Yes on 23 campaign have asserted in response that Proposition 23 is not related to conventional air pollutants, just greenhouse gases.
The Yes on 23 group is promoting the proposition as the "California jobs initiative" and emphasizing current economic hardships:
We all want to do our part for global warming, but implementing our current plan is not the way to go. Families and businesses simply cannot afford to pay fifty percent or more in higher electricity and utility costs, and even more at the gas pump. A Yes vote on Proposition 23 temporarily postpones a new, costly program until our economy stabilizes and people are back to work, making it easier for families to make ends meet.
Opponents of the proposition say the suspension would not be "temporary," noting that the criterion for reactivating the law is a hard-to-achieve state unemployment level of 5.5 percent for an entire year.
Prominent Democrats oppose the proposition, including President Barack Obama and the party's candidates for governor and U.S. senator, California Attorney General Jerry Brown and the incumbent Sen. Barbara Boxer. Some prominent Republicans are also defending the climate law, including Gov. Arnold Schwarzenegger, who signed it, and George Schultz, who served as U.S. secretary of state when Californian Ronald Reagan was president and is now a fellow of Stanford University's conservative Hoover Institution.
Earlier this month, the Associated Press noted that not all oil companies favor suspending the law – Shell is against the initiative and California-based Chevron is neutral. In this examination of the proposition's broader implications, the AP reported:
The National Petroleum Refiners Association showed how far beyond California the oil companies backing the initiative are looking. In a September email, association president Charles Drevna urged members to protect their self- interests and donate to the initiative.
He wrote that a defeat for the initiative "could energize environmental fanatics around the country and in Washington to match California's destructive policies with their own versions of [the California law]."
[Schultz,] a co-chairman of the No on Prop. 23 campaign, said the out-of-state oil companies are worried that new climate regulations in California could spread internationally.
"They would be able to point to that vote and say these efforts don't have support even in California, which is known as a state that is environmentally conscious," he said.
Shultz said he is not worried about California acting alone. He is more concerned that the proposition, if successful, would slow momentum to develop alternative energy and undercut the state's edge in that industry.
Schwarzenegger has registered his own frustration with the oil companies as they have poured millions of dollars into the initiative. In a September speech to the Commonwealth Club in Santa Clara, he said the companies were acting on "self-serving greed."
– Bill Dawson