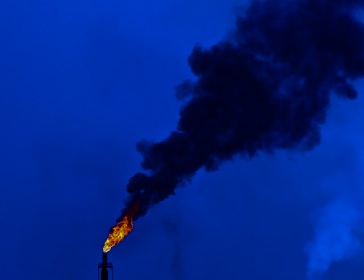 In a new letter to federal officials this week, Texas continued on a collision course with the Obama administration over its scheduled introduction of federal regulations to limit emissions of climate-changing greenhouse gases from some major industrial sources.
With the Senate's recent failure to pass a climate-energy bill to curb greenhouse pollution, as the House did last year, the regulatory action by the Environmental Protection Agency under the Clean Air Act is the administration's sole near-term vehicle for making major cuts in those emissions from facilities such as power plants and oil refineries.
Texas officials have objected strongly to the new regulations, declaring bluntly in August that Texas has "neither the authority nor the intention" to include federally-required limits on greenhouse emissions in the air permits that it issues to new and significantly modified industrial plants. EPA regulations will begin requiring such permit limits on Jan. 2.
After Texas sent a letter with its refusal to comply on Aug. 2, the EPA said the official clean air plans in Texas and 12 other states (including parts of some states) apparently do not include authority that covers greenhouse gases. The federal agency proposed taking two actions in response:
Requiring officials in these 13 states to revise their plans so that permit programs would impose emission limits on greenhouse gases.
Offering to introduce a federal plan in states that cannot submit state plan revisions by Jan. 2, so that federal permits can be granted, allowing regulated industrial construction to proceed until revised state plans are in place.
EPA Regional Administrator Al Armendariz, based in Dallas, wrote to Chairman Bryan Shaw of the Texas Commission on Environmental Quality and Texas Attorney General Greg Abbott in connection with these EPA proposals on Aug. 27, asking that the TCEQ "submit a letter to EPA that explains the status of any GHG [greenhouse gas] permitting authority and documents why the TCEQ program cannot regulate GHG emissions."
The TCEQ's reply this week – submitted with a cover letter from agency Executive Director Mark Vickery – reiterated a number of the state's already-stated arguments against the legality of EPA's planned regulation of greenhouse gases.
The TCEQ document alleged, for instance, that the EPA was taking steps toward regulating greenhouse gases "at an unprecedented pace," that this regulatory effort is "a scheme," and that the EPA's proposed requirement of state plan revisions and offer to implement a federal plan in states that cannot comply on time is "unlawful."
To regulate industrial emissions of greenhouse gases in a proper fashion under the Clean Air Act, the EPA should first set a national standard for the maximum amount of such gases in the air (as it does with other pollutants regulated under the law) and carry out the same process of determining which regions of the country violate that standard, the TCEQ said.
Besides legal objections, the Texas agency also expressed technical concerns about whether industrial emissions can be limited at the source or captured and stored once they are emitted, a process known as sequestration:
Outside of eliminating the production of CO2 [carbon dioxide, the principal human-produced greenhouse gas, which results from fossil-fuel use and other combustion], there is not a clear control technology that would actually eliminate CO2. CO2 sequestration as a control technology option requires its own significant power demand, as much as 20 percent to 30 percent increase at a coal-fired power plant. If a plant must be oversized to accommodate this energy demand increase, other pollutants are increased as well.
(The reference to "other pollutants" in discussing CO2 may be seen as a concession of sorts by Texas. Previously, the state has opposed – and key state officials have spoken against – the EPA's classification of CO2 and other greenhouse gases as dangerous pollutants, which was a prerequisite to federal regulation under the Clean Air Act.)
Although the EPA has described its proposal to issue federal greenhouse-gas permits in some states as a stop-gap plan that would allow industrial construction to go on, the TCEQ said that even under such a federal plan "it is unlikely any construction of any major GHG sources or major modifications will commence in the foreseeable future."
Texas' stance against the greenhouse-gas regulations – saying it will not implement them – may be the toughest such opposition among the states.
Arizona, for instance, has also strongly complained that regulation of greenhouse gases should not take place through the EPA's "convoluted rulemaking process" and that the EPA has given the states too little time to gear up to implement the new regulations.
Where Texas officials said they lacked both "authority" and "intention" to apply the rules, however, a letter [PDF] from a top Arizona official to the EPA said, somewhat more ambiguously, that that state "is not in a position to expend significant resources chasing rules contrary to the state's policies on renewable energy and that may not survive legal challenge."
The National Association of Clean Air Agencies (NACAA), which represents state and local agencies across the country, surveyed the actions and positions of 48 states and territories and nine local agencies on the issue. The association concluded last month that "the vast majority of states are moving full speed ahead to begin permitting emissions of greenhouse gases under the Clean Air Act" on Jan. 2 or within "a few months" after that date.
The NACAA survey found that "nearly 80 percent of states have indicated that they will be ready to permit the largest sources of GHGs by the time permitting requirements take place."
Most of the minority of states that will not have rules in place by Jan. 2 or soon afterward are working toward incorporating the new EPA rules, "but will be delayed due to state legislative and/or regulatory requirements," NACAA's report on its survey said.
The TCEQ told the EPA in the documents it sent to the federal agency this week that Texas and other states without authority in their current plans to implement the climate regulations "must be given up to three years" to revise those plans.
Here are excerpts from NACAA's report about the 12 states, other than Texas, where the EPA said state or local officials lacked current authority to include greenhouse-gas limits in air permits:
Alaska – "The state has already initiated the rulemaking process, and anticipates that the regulations will be adopted and in effect by Jan. 2, 2011."
Arizona – "Completing the rulemaking and SIP approval process by January 2011 would be nearly impossible."
California (Sacramento Metropolitan Air Quality Management District) – "The district plans to prepare rule changes and present them for adoption on Jan. 27, 2011. The district will also submit [clean air plan] revisions to EPA."
Connecticut – "The state will try to expedite the process, but expects regulatory revisions by late summer/early fall 2011."
Florida – "The state needs to amend its regulations to incorporate GHGs into its permitting programs, but cannot at this time estimate how long this will take."
Idaho – "The state expects to complete [a necessary regulatory/legislative] process by late March/early April 2011."
Kansas – "The state estimates that regulatory changes will be completed by April 1, 2011."
Kentucky – "The state anticipates finalizing regulatory changes and submitting SIP revisions to EPA by the beginning of December 2010."
Nebraska – Not included in the survey results.
Nevada (Clark County – Las Vegas) – "The county will work with EPA to determine the best approach for making sure that federally enforceable … permits are available beginning Jan. 2, 2011."
Oregon – "The state expects to complete its regulatory process on Feb. 17, 2011 and submit [clean air plan] revisions to EPA."
– Bill Dawson
Photo credit: Ekton, iStockphoto.com