By Bill Dawson

The nation's first "Energy Citizens" rally – staged by the American Petroleum Institute (API) and coalition allies in Houston this week to criticize the House-passed climate bill – was, to all appearances and by various accounts, a disciplined exercise in tightly focused strategic messaging.
The essential message had already been conveyed by API in advance statements about the planned series of about 20 rallies across the country – the claim that the cap-and-trade bill, which would limit greenhouse emissions through a system of tradeable permits, would unacceptably cost jobs and raise energy costs.
That critique was echoed repeatedly in different ways at the lunchtime Houston rally, which got under way at 12:30 Tuesday at the downtown Verizon Wireless Theater.
[Note: Texas Climate News was denied entry to the rally itself. This article is based largely on interviews and observations outside the venue – before, during and after the event.]
When they came streaming out of the theater at the rally's end at 1:15 p.m. to re-board buses to return to work, many of the hundreds of attendees had donned bright yellow Energy Citizens T-shirts with slogans including "I'll pass on $4 gas" and "Create American jobs, don't export them."
Rally speakers (who did not include any energy company officials or employees) stayed firmly on the same message, declaring that the climate bill would "raise prices and kill jobs," an attorney for a major Houston law firm who attended, but asked not to be identified, told TCN.
This lawyer, whose firm's portfolio of services includes work for energy companies, was impressed by the effort that evidently went into planning and managing the event:
"There were three TV cameras, videotaping everything," he observed. "It was a very effective piece of show biz."
Similar opinions were expressed by others who attended.
"It was like a pep rally," with signs and cheering and much talk by speakers about jobs and energy prices related to the climate bill, said Alex Cuclis, a research scientist for the Houston Advanced Research Center. [HARC, a non-partisan, not-for-profit organization in The Woodlands, Texas, publishes Texas Climate News.]
"It was highly orchestrated – a very well-orchestrated propaganda campaign," said Matthew Tejada, executive director of the prominent Houston environmental group GHASP, who managed to slip into the rally without showing identification to demonstrate energy company employment or related work.
Another environmentalist who got in but was later escorted from the premises was Sarah McDonald, a staff member of Austin-based Public Citizen Texas. On that group's TexasVox blog, she said the rally reminded her of a "company picnic" and confessed that her favorite part was a " high school marching band and star spangled dance team."
Beforehand, news organizations and environmentalists had pegged the rallies as an exercise in "astroturfing," which describes well-planned political or public relations efforts to which organizers try to give an appearance of grassroots spontaneity.
A key reason for that characterization was an email [pdf] from API President Jack Gerard to CEOs and other executives of member companies, urging participation in the rallies. The email, which became public after someone leaked it to the environmental group Greenpeace, said API had contracted with "a highly experienced events management company that has produced successful rallies for presidential campaigns, corporations and interest groups."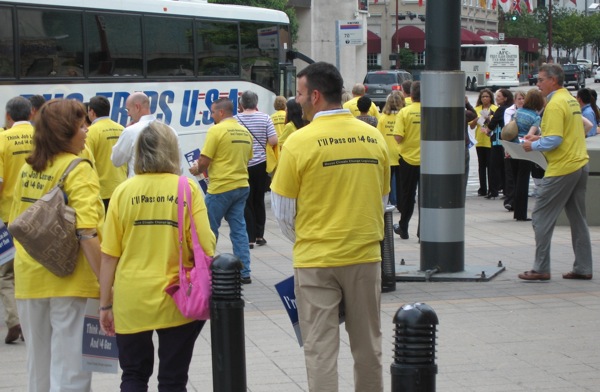 Foreshadowing the uniformity of the message that was on display at the Houston rally, Gerard also asserted in the memo that "the measure of success for these events will be the diversity of the participants expressing the same message, as well as turnouts of several hundred attendees."
The latter criterion was undoubtedly met in Houston. An employee at Verizon Wireless Theater said the set-up for the rally would accommodate 2,200 people. Cuclis said from his vantage, the crowd was near capacity – about 90 percent – with a few open chairs in the balcony.
Whether the "diversity of participants" standard was achieved with regard to the event's speakers could be open to debate.
The roster included two Hispanics (a man and a woman), one African American man and two Anglo men.
They were Bill Bailey, a Harris County constable and longtime announcer for the Houston Livestock Show and Rodeo; Robert Garcia of Houston-headquartered TruckNation, a seller of used trucks; Harry Alford, president and CEO of the National Black Chamber of Commerce; Laura Murillo, president and CEO of the Houston Hispanic Chamber of Commerce, and Drayton McLane, owner of the Houston Astros and  experienced in transportation issues in the wholesale grocery supply business.
(The Houston Hispanic Chamber of Commerce is listed on the Energy Citizens Web site as a formal member of that coalition. However, Cuclis said Murillo seemed to surprise some attendees when she said her organization had not taken a formal position on the cap-and-trade bill and also offered no criticism of it in her remarks. The Houston Hispanic Chamber of Commerce had not responded to a request by Texas Climate News for elaboration on its stance at the time of this article's posting.)
The audience itself – crowded "shoulder to shoulder," many wearing Energy Citizens t-shirts – was "overwhelmingly, about 90 percent, Anglo," about 60 percent male and had an apparent median age in the 40s, the attorney who attended told TCN.
One of the other Energy Citizens coalition members was the conservative organization FreedomWorks, involved in the "tea party" movement against government bailouts and embroiled in controversy over its role in raucous town-hall meetings on health-care reform.
FreedomWorks is also against the climate bill and promoted the Houston rally as a public event in emails and on its Web site, which said, in part: "Please help spread the word about the Cap and Tax plot by attending the Energy Citizens' Rally in Houston, on August 18 at the Verizon Wireless Center. Doors open at 11:30 am and there will be hamburgers and hot dogs for all."
At least some of the people who heeded that call were turned away by security personnel at the rally, however.
Texas Climate News interviewed two such women outside the theater, who declined to give their names but said they learned of the event in FreedomWorks emails and had travelled downtown from outlying parts of the Houston area to participate because they oppose the cap-and-trade legislation.
They said they were given different reasons for not being admitted, including, one of them added, the fact that they did not work for an energy company or an energy-related business.
"I wanted to learn more about the energy companies' perspective," she said, explaining that she understands that the bill will hurt Houston.
Exiting the rally, people who did gain admission similarly voiced concern about the climate bill's economic impact.
One was Karen Kennedy, a ConocoPhillips employee, who said she hopes the rallies help to raise public awareness of that potential.
The legislation, she asserted, "has no avenue for natural gas (which emits less carbon dioxide, the main greenhouse gas, than oil) to be utilized effectively."
"Greenhouse gases do need to be addressed, but I don't think Congress is the right vehicle to do it," added her ConocoPhillips colleague, George Rissky.
Instead of legislation, he said he favored handling the issue through the marketplace, leading to more use of natural gas.
Natural gas was also touted by John Hofmeister, former president of Shell Oil Co. and now CEO of a group he founded, Citizens for Affordable Energy, in an interview with Texas Climate News on his way out of the rally.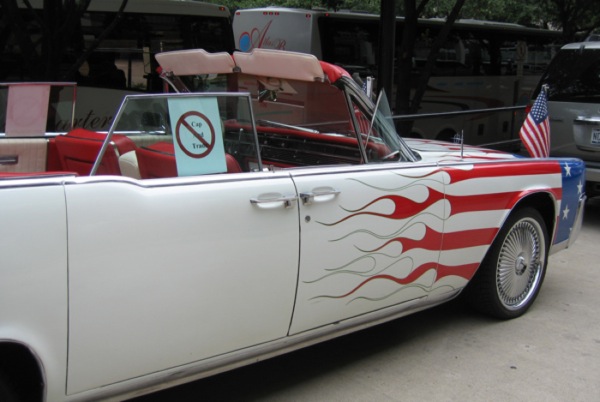 Shell had adopted a position in favor of some kind of cap-and-trade regulatory approach to global warming under Hofmeister's leadership, but he said he is not pleased with the House-passed cap-and-trade bill's allocation of free emission permits to the disadvantage of the oil industry. The measure's credit-allocation scheme has been a major point of complaint for the industry, which contends it did not receive enough of them.
Hofmeister also said he believes the House bill is flawed for failing to promote "major carbon-reducing, energy-producing opportunities, most notably natural gas and nuclear power."
Still, he added that the House bill has "many parts I can support," and voiced hope that its consideration in the Senate offers "a good chance to bring together a centrist point of view."
API spokesman Robert Dodge told TCN recently that the organization wants "the Senate to get it right and produce a far-improved climate bill."
Earlier, the organization said that as a general principle it "supports legislation to reduce emissions of greenhouse gases in lieu of ill-suited federal and state regulatory programs" – an apparent criticism of proposals like one by the U.S. Environmental Protection Agency to regulate greenhouse emissions under the existing Clean Air Act.
Hofmeister said the Energy Citizens rally represented "a very reasonable articulation of a different point of view than what is expressed in the (House-passed) legislation" by people "understandably and rightfully concerned about its impact."
GHASP's Tejada, however, said he heard no constructive suggestions for dealing with climate change.
"The central problem with what happened today [Tuesday] was that they weren't offering any alternative vision of the future – a different plan," he said "They were just saying 'we don't want to change.' "
The rally, he added, amounted to "pandering, getting people whipped up over elemental fears, with no middle ground or counterpoint. It was a textbook propaganda rally."
With Texas' two senators already strongly opposed to the climate bill, rally participants were urged to communicate broadly with members of the Senate.
"My guess is API smells blood because of the health care fight, and thinks this is an opportunity to kill the climate bill," Frank O'Donnell, who heads the Washington-based environmental group Clean Air Watch, told TCN.
"Obviously, the oil companies are trying to pirate some of the tactics of opponents of health care change" with the rallies, he said. "In the process, they are dramatically hyping expected oil-related costs," he added, noting that figures cited by API far exceed an estimate by the federal Energy Information Administration (EIA).
Earlier this year, API highlighted a study by the Heritage Foundation, a conservative think tank, which it said showed the climate bill "could cause gasoline prices to jump 74 percent by 2035. At today's prices that means gasoline would be well over $4 a gallon."
By contrast, the EIA this month said [pdf] its analysis of the legislation pointed to a much smaller price bump:
"The effect on gasoline prices would be modest, with a cost increase of 20 cents in 2020.  This estimate does not account for the effects of new investments in clean vehicle technology, which could lower gasoline costs."
Other reports:
Photo credit: All photos – Bill Dawson