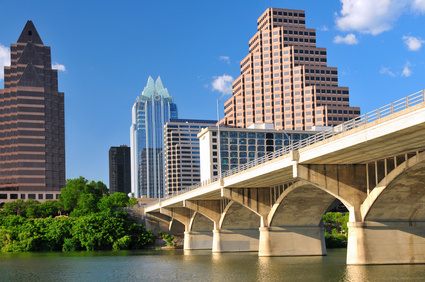 Austinites – a good number of them, anyway – imagine their city becoming a (maybe even the) "green energy capital" of the United States.
A variety of actions have put Austin on that path, to be sure. But to paraphrase a famous amphibian Muppet's often-quoted complaint, city officials are finding that it's not easy selling green power.
At least it's not easy these days, according to Marty Toohey's interestingly detailed article in the Austin American-Statesman on Sunday. Beyond its local focus, the story carries potential implications for other Texas efforts to promote cleaner alternative forms of electricity generation.
GreenChoice is the program of city-owned Austin Energy that markets electricity to residents and businesses generated by wind and other renewable sources. The power is bought in "batches" and then sold to customers on a voluntary basis for fixed-cost, multi-year terms.
Toohey reported that the effort had been "humming along," but has run into problems that could spell the end of its voluntary-only nature:
Now the nationally renowned program is struggling to find buyers — the latest allotment is 99 percent unsold after seven months on the market — and Austin Energy is looking for ways to bring down the rising costs.
[…]
Austin Energy officials say that times have changed and that the nation's most successful (by volume of sales) green-energy program, which offers the renewable energy only to those who select it, might no longer be the best way to carry out the city's goals. It now costs almost three times more than the standard electricity rate.
"I think it's time to sit back and look at the philosophy behind GreenChoice," said Roger Duncan, the head of Austin Energy and the chief architect of GreenChoice.
"It was our intent to use it to stimulate the market for renewables, which it did, and then eventually phase it out," Duncan said. "It was never intended to go on forever."
Duncan said part of the solution might just be adding new wind, solar and other renewable-energy projects into the bills of all Austin Energy customers, which could increase rates for everyone. He said there are also numerous other policies being considered but declined to discuss them, saying only that they will be proposed publicly in the near future.
An arresting graphic that accompanied Toohey's article illustrated the problem that Austin Energy officials are grappling with.
It showed that the first "batch" of electricity sold under the clean energy program in 2000 for 1.70 cents per kilowatt-hour, compared to the then-standard rate of 1.37 cents. This past January, the latest "batch" was offered for 9.50 cents, versus the standard rate of 3.65 cents.
The woes of the GreenChoice program could further complicate the always complex politics of municipal utility policies in Austin.
Texas Climate News reported in March, in an article on solar energy's prospects across the state, about the Austin city council's decision to build the nation's largest solar array amid a spirited debate about costs that spilled from the council into the city's mayoral race.
Advocates of nuclear power lately have been promoting that method of generating electricity in part as another carbon-free option, like wind and solar. (For details on how that effort is playing out in Texas, see this TCN Journal post.)
Austin owns a 16 percent share in the two-reactor South Texas Project nuclear power station in Matagorda County, about 90 miles southwest of Houston. But in February, Austin decided not to take part in the proposed addition of two more reactors to that plant, whose other owners are the San Antonio-owned CPS Energy and New Jersey-based NRG Energy.
After the city council made that decision, Austin Energy released a statement noting that it and a consultant had recommended against the city's participation in the plant expansion:
"A detailed risk assessment and financial analysis indicates that the potential return to the City would not be sufficient given the potential risk. Austin, as a minority shareholder in the STP, would have no control over construction costs, schedule delays, and future fuel and energy prices."
The utility also took pains to say that the consulting firm supported both the "resurgence of nuclear energy in the United States" and the South Texas Project expansion in particular.
Nonetheless, the weekly Austin Chronicle reported that buying into the expansion was one of "several politically risky choices" facing council members at that day's meeting. Members present included two leading mayoral candidates, Brewster McCracken and Lee Leffingwell. The latter was later elected mayor.
Nuclear power has been a contentious issue in Austin for decades. Voters narrowly approved participating in the plant's construction in 1973 and then, after a series of referendum votes through that decade, authorized the council to sell Austin's share in the plant in 1981. The city never found a buyer.
– Bill Dawson
Photo Credit: © rb stevens – Fotolia.com