By Bill Dawson
When the Austin City Council decided earlier this month to approve building the nation's biggest solar power array, it was a significant action in itself. More importantly, perhaps, the council's unanimous vote on the $250 million facility also joined a growing list of recent developments that add up to what pro-solar advocates are now calling "momentum."
Momentum is a word that anyone at all familiar with the vagaries of sports or electoral politics knows may not precede the desired outcome. Still, it's hard not to think that sunny Texas may, at last, be headed toward realizing its long-touted potential for harnessing the sun's energy to produce electricity.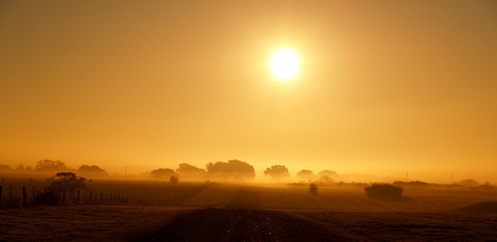 After the Legislature ordered utilities in 1999 to generate more of the electricity they produce from renewable sources, development of the wind power industry rapidly accelerated in the state. In 2006, Texas surpassed California as the state producing the most wind energy.
Wind power is relatively cheap, however. Solar-generated electricity, involving more expensive technology, has lagged behind in Texas, despite numerous studies identifying the state's ability to become a major solar power producer.
One indicator of the reasons for solar power's slower progress in the state: When Home Power magazine chose the 10 "best states for solar" last year, basing its selection on state policies encouraging solar generation, Texas was not on the list. Minnesota, Connecticut and Pennsylvania were there, along with less surprising picks like California and New Mexico.
Proponents of solar power in Texas are hopeful that the Legislature will dramatically boost the state's formal encouragement of solar development during its current term. Some have been asking whether this could be the "solar session." Some are so optimistic they're asserting outright that it will be. Whether that turns out to be prescient, or simply wishful thinking, remains to be seen.
Legislative, municipal interest
In any event, solar power is clearly inspiring more enthusiasm among legislators this year. By the recent deadline for filing bills, 69 measures promoting solar and other renewable forms of energy had been introduced, according to a tally by the Austin-based advocacy group Environment Texas. The Lone Star Chapter of the Sierra Club, likewise headquartered in Austin, counted "almost 100" bills on solar and other renewables, which it figured was about double the number in the last legislative session in 2007.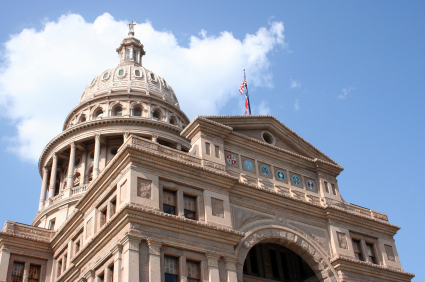 One proposal (HB 278 by Democratic Rep. Rafael Anchia of Dallas and SB 427 by Republican Sen. Florence Shapiro of Plano) would require electric utilities to offer incentives to customers for renewable "distributed generation" of electricity – with solar panels on the rooftops of homes and businesses, for instance. It also would set state goals for such distributed production of 1,000 megawatts by 2015 and 2,000 megawatts by 2020. (By comparison, the two nuclear reactors of the South Texas Project near Bay City produce 2,700 megawatts.)
Another proposal (SB 1419 by Sen. Eddie Lucio, Jr., a Brownsville Democrat, and HB 3478 by Rep. Pete Gallego, a Democrat from Alpine) would boost electric utilities' goal for generating solar and other renewables (aside from "high capacity" wind power) to 4,000 megawatts by 2020.
Yet another proposal – SB 545 by Republican Sen. Troy Fraser of Horseshoe Bay – also addresses the issue of solar generation by power users. This bill "would create a five-year program for distributed solar generation incentives offered through the state's transmission and distribution utilities," to be "funded by a nominal monthly fee on residential, commercial and industrial customers," he announced in January.
Fraser participated in a pro-solar news conference with environmentalists and others in early February. His advocacy of solar legislation could prove particularly influential. He chairs the Senate Business and Commerce Committee, and his Web site proudly proclaims that he "has been consistently ranked by leading organizations, including the Texas Association of Business and the Young Conservatives of Texas, as one of the most conservative members of the Texas Senate for his voting record on fiscal and social issues."
Other legislative measures that have been introduced include bills aimed at removing obstacles to wider adoption of solar-power generation in the state.
Solar initiatives have been multiplying at the municipal government level as well. In Austin, in addition to council members' approval of the solar array, planning is proceeding on a collaborative effort called the Pecan Street Project, a "smart grid" initiative laying preliminary plans for designing a cleaner, more efficient urban electric system that incorporates a growing number of customers producing distributed solar power at homes and businesses.
Eighty miles south of the capital city in San Antonio (which, like Austin, owns its electric utility), Mayor Phil Hardberger is promoting Mission Verde. It is a multi-faceted plan which, the San Antonio Current's Greg Harman has observed, ambitiously aims at "the greening of Alamo City's real estate, roadways, and industry." Like the Pecan Street Project, the vision for Mission Verde includes a smart grid and distributed solar power.
Collaborative effort by the two cities could be in the offing: Austin officials recently visited San Antonio to discuss the possibility of a solar partnership. "The idea," San Antonio Express-News columnist Jan Jarboe Russell wrote last month, "is that the two cities work together to capture good-paying clean technology jobs that will make Central Texas — everything between the corridor that is Austin and San Antonio — a national leader in solar energy."
Economic considerations
Two state government reports issued in 2008 highlighted solar power's potential in Texas, but likewise noted several obstacles.
Texas Renewable Energy Resource Assessment 2008, a report by the State Energy Conservation Office, noted that Texas has the largest potential for solar-power generation (as well as for making electricity from wind, biomass and geothermal energy) of all the 48 contiguous states.
Still, it identified "three main barriers (that) prevent widespread solar energy utilization" – the need for "significant surface area" for centralized arrays, costs for "large-scale" plants that are "still high relative to other options" and solar power's "intermittency and cyclical nature."
While the solar resource's dispersed nature cannot be changed, the cost of utilizing solar energy can be reduced through technological advances, improved manufacturing techniques, and increasing economies of scale. Intermittency barriers can be overcome with improved collection and storage technologies. It is generally concluded that when this occurs solar energy will become a major contributor to meeting future energy needs in Texas, the nation and the world.
The 2008 Texas State Energy Plan, produced by the Governor's Competitiveness Council, echoed the Energy Conservation Office's report in this pro-and-con passage:
Solar energy benefits from improved economics, the on-peak nature of solar energy production, federal subsidies, zero carbon emissions, and no fuel costs. However, the capital investment costs of solar central station generation and photo-voltaic panels are extremely high and generation is intermittent.
More recently, news organizations have detected a lessening of the cost imbalance between solar and other electricity sources. Last month, for instance, the Associated Press reported that "rooftop solar panels already are producing cheaper electricity than traditional power plants during the day in California and Hawaii" and that "industry analysts say that as early as next year, utilities could build solar power plants able to compete with traditional coal-fired or natural gas power plants."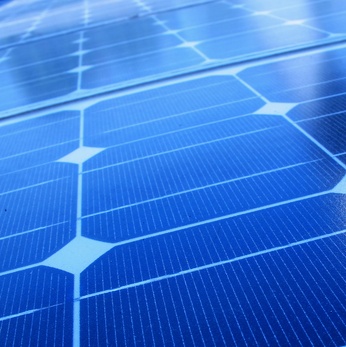 A key reason for that assessment, the AP added, is that "there have been vast improvements in technology as equipment and installation costs have plummeted, thanks in part to manufacturing innovations and a huge plunge in polysilicon (a material used in making solar cells) prices."
Declining investment in the aftermath of last year's financial meltdown has constrained renewable energy's growth in recent months, however. Proponents of solar and wind power have been eying the huge stimulus funding for cleaner-energy measures in last month's American Recovery and Reinvestment Act as a powerful force to help jump-start far wider deployment of those technologies.
Specifics of how the complex bill's spending will be apportioned have begun to grow clearer as experts have studied it.
The Wall Street Journal's Energy Capital blog reported last week that an analysis by HSBC Bank concluded that efficiency measures will get about 60 percent of the act's $37 billion "earmarked for greenery." Solar power, meanwhile "got bigger and broader tax incentives than wind power did, and utilities are generally bullish about large-scale development of solar power," reporter Keith Johnson noted.
(In a new program created by the stimulus act, qualified renewable energy projects, including solar power, may receive Treasury grants of up to 30 percent of the cost, in lieu of the investment tax credit provided by the Internal Revenue Code.)
In Texas, proponents of legislative action to push solar power ahead have been stressing the economic benefits that the state would enjoy as a result. Last month, at the news conference attended by Fraser, environmental groups released an economic report asserting that the incentives offered to citizens and businesses in the joint proposal by Anchia and Shapiro "could lead to (solar) installations on as many as 500,000 roofs in Texas by 2020 at a cost of about 98 cents per month per Texan," creating 22,000 jobs and reducing heat-trapping carbon dioxide emissions by an amount equal to the elimination of 4.3 million cars.
Fraser sounded the same economic theme at the event: "The question facing Texas is whether we will lead the solar energy revolution – bringing good jobs and clean power to our state – or whether we will lag behind."
Austin's ambitious plans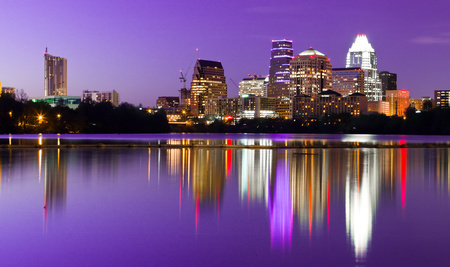 The new solar power array that will serve Austin, though planned to be the nation's largest, would still produce only a little more than one percent, or 30 megawatts, of that city's current total power generation capacity of 2,900 megawatts.
The issue of solar power's higher cost – for citizens and businesses – figured prominently in the Austin City Council's consideration and ultimate approval of the plan for a private company to build a huge solar array on 300 acres east of the city, then sell the electricity that is generated to the city for $10 million a year over the 25 years after the facility's projected 2010 startup.
The city said federal investment tax credits had lowered the cost, and that funding in the federal stimulus package may lower it more.
The Austin American-Statesman reported that partly because of complaints that the project was too expensive, council members decided to sell its electricity at first solely to buyers willing to incur "significantly higher monthly bills." Without enough volunteers, however, remaining costs will be divided among all customers.
One of Austin's major mayoral candidates in this year's election campaign, Carol Keeton Strayhorn, opposes the solar project and has said she would attempt to get the city out of the contract, while the other two major candidates – council members Lee Leffingwell and Brewster McCracken – support it, according to the American-Statesman.
McCracken has based his council service in large part on the promotion of emerging technologies, including solar and other forms of clean energy. He spearheaded the Pecan Street Project, which its partners described at its unveiling in December as a "bold effort to design a new, clean energy infrastructure, business model and proving ground for tomorrow's energy technology."
Participants include the city, its utility Austin Energy, The University of Texas' Austin Technology Incubator, the Greater Austin Chamber of Commerce and the Environmental Defense Fund, along with Austin-based Dell, IBM, Intel, Microsoft and other major technology companies.
In line with smart grid thinking elsewhere, the architects of Austin's Pecan Street Project envision development of digital technologies to boost efficiency and reliability in an urban network. Thousands of electricity consumer/producers would get power from the grid as well as feed that grid when their solar panels produce more than they are using at that time.
In an interview with Texas Climate News about the Pecan Street Project, McCracken said the underlying motivation combines environmental and economic reasons:
"We are trying to promote clean energy companies here and move our utility more heavily into clean energy in preparation for a carbon cap-and-trade system and to align our utility with community values."
The basic idea is that the city's power grid will assume something like the structure of the internet, he said. That, McCracken added, presents "a major software and computing challenge," and he listed key elements of the vision:
Austin as "the home for research and development for a distributed, clean-energy internet."
An electricity system producing "one power plant's worth of clean energy" – 300 megawatts – by 2020, as more than 100,000 homes and businesses generate solar power.
Major investment in job training and a research/development laboratory.
"A very significant investment" in solar and related infrastructure.
Planners' recommendations for how to proceed are scheduled to be presented this summer. The first "tier," McCracken said, will involve existing technologies, such as internet-based meters. Tier 2 will involve things requiring "a bigger public investment with existing technologies," such as solar panels, plus investments in two-way wiring. Tier 3 involves things Pecan Street planners know will be needed but which require technologies not yet available, such as energy storage and sophisticated software systems.
The project, McCracken added, requires public investment to reach policy and economic goals. The private sector is "leery of uncertain returns," he said. "My anticipation is that investor-owned utilities will be cheering from the sidelines for our success. They will see a business model they could use for clean energy, as well."
San Antonio's Hardberger similarly said in his State of the City address in January that he wants his city also to be a leader in creating "a world where energy is generated through renewable energy sources such as wind and solar, originated from thousands of sources such as buildings and homes, stored until needed, and connected with a smart, multi-directional grid." He said improved access to venture capital is key to the San Antonio effort's success.
Grants and partnerships
That was before the stimulus bill was signed into law, making available a vast new source of funding for solar projects that may potentially be tapped by interested Texas cities. Recent experiences in two very different cities – Houston and the Rio Grande Valley's San Benito – illustrate how municipal solar projects to date have relied on federal and other outside help.
In addition to teaming with others, "grants have gotten us where we are" in being able to undertake several recent solar projects, Karl Pepple, director of environmental programming in Houston Mayor Bill White's office, told Texas Climate News.
For instance, Houston was designated last March as one of the U.S. Department of Energy's Solar America Cities, which brought $200,000 in funds to the city, along with technical resources for a partnership project aimed at creating a strategy and plan to make a solar power  infrastructure "cost-competitive" in the region by 2015. As part of the effort, BP Solar donated solar panels worth $200,000 for the Houston Code Enforcement Building and City Hall Annex.
In another Houston project, Houston Endowment, a leading philanthropy (and a funder of Texas Climate News), donated $850,000 last October to help fund the $1 million-plus installation of solar panels on the 16-acre roof of the city-owned George R. Brown Convention Center.
In general, plans call for the Solar Cities America initiative in Houston to:
Implement "significant market-changing activities" including policies and regulations.
Install solar systems at "high visibility locations for demonstration sites."
Introduce solar programs in neighborhoods "such as affordable housing areas."
Help include solar power in school curriculums.
Other partners in the effort include CenterPoint Energy, the Clinton Climate Initiative, Greater Houston Builders Association, Houston Advanced Research Center (publisher of Texas Climate News), Houston Community College Association, Habitat for Humanity, Houston Independent School District, NASA, the State Energy Conservation Office and University of Houston.
(Austin and San Antonio have also been designated as Solar America Cities in the DOE program.)
Under a program of the U.S. Environmental Protection Agency, meanwhile, Houston recently sought proposals for a project to construct a 10-megawatt solar plant on the site of the former Holmes Road Landfill site near the Texas Medical Center. "The redevelopment of the city-owned landfill site into a solar farm will help spur a viable local market for solar energy systems and lead to the creation of the jobs," a city consultant concluded in an analysis.
White has repeatedly stated his interest in pursuing more solar projects in city operations, but officials have to be mindful of upfront costs, Pepple said.
Houston officials calculate that it now takes 20 or so years – down from 40 years – for a solar project's extra initial cost to be recovered through operational savings, he said. Still, he added, "that payback is a tough sell at the municipal level, especially in hard times like these."
In San Benito, a solar array installed to provide electricity that will help power the city's new water treatment plant won the Texas Renewable Industries Association's award as the state's renewable energy project of the year in 2008. A grant from the U.S. Environmental Protection Agency, channeled through the Texas General Land Office, paid for the $325,000 project.
"It was very fortunate for our city in that we had already established a relationship with the North American Development Bank and the key people who knew about the grant," said Moises Madrid,  project coordinator for San Benito.
The solar array's ability to reduce the carbon dioxide output of municipal operations was one of its appeals, he said, and San Benito officials are interested in adopting more measures that reduce both energy costs and emissions. As an example, he cited a directive for efficient driving techniques to cut gasoline consumption.
Other infrastructure projects like the solar array are more challenging, however. Such investments are "harder for a small city with small revenues unless there are grant opportunities," Madrid said. "But we're definitely looking."
Photo credits: Sunny landscape © Josh – Fotolia.com, Texas Capitol – State Preservation Board, Solar panel © Yali Shi – Fotolia.com, Austin skyline © Nicholas Moore – Fotolia.com, Houston City Hall Annex – City of Houston, San Benito solar array – Texas General Land Office