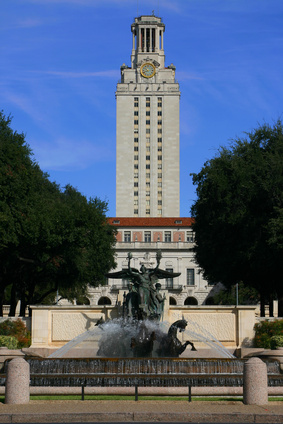 Universities across the U.S. have been stepping up sustainability initiatives lately – typically including explicit efforts to reduce their carbon emissions – and higher education institutions in Texas are part of that trend.
Last week, the University of Texas at Austin held a number of public sessions to brief the UT community on a contractor's findings in the first inventory of greenhouse gas emissions under the university's "direct control."
The inventory, which found a six percent reduction in greenhouse emissions from 2004 to 2006, will serve as a benchmark for future inventories and is a necessary first step toward an action plan for further emission cuts, Dr. Steven Kraal, UT's senior associate vice president for campus planning and facilities management, said in a news release.
"While the university has taken major steps to shrink our carbon footprint by producing energy more efficiently and reducing energy demand, this inventory spotlights areas where we can have the greatest impact on reducing emissions in the future," Kraal said.
The Daily Texan, UT's student newspaper, included these details in its article on the inventory:
Joshua Skov, the principal researcher at Good Company who worked on the inventory, cautioned against definitively comparing UT to other universities.
"It's more important to look where the big emissions sources are and look for the opportunities," Skov said.
He said ways to decrease emissions could include upgrading the physical plant, including upgrading steam-escape vents and technology, but that individual behavior was the most important component of improvement.
"At some point we need to start asking about the way people turn on lights or don't turn on lights," he said. "Maybe even down to the plugging in of computers."
The use of natural gas to generate electricity and steam, as well as to chill water, was the largest of the core group of emissions measured by the inventory, factoring in at nearly 80 percent of total emissions in direct control of the University.
The inventory counted emissions from UT's main and J.J. Pickle Research campuses. The Daily Texan article reported that the tabulation found the university's greenhouse reduction record showed it was "performing somewhere in the mid-range of comparable universities with completed inventories, including the University of California, Berkeley."
UT's announcement said that "emissions per campus member were calculated at 4.5 metric tons of CO2 equivalent." UC-Berkeley's 2006 inventory reported emissions of slightly less per person – 4.35 metric tons of CO2 equivalent.
UC's 2009 Climate Action Plan establishes a blueprint for cutting greenhouse emissions by a third and eventually achieving carbon-neutral operations on the Berkeley campus. According to a description on the UC Web site, "the Plan – which will be updated annually by the Office of Sustainability – examines how far the campus has come in the last two years to meet its ambitious emissions reduction goal – reducing greenhouse gas emissions to 1990 levels by 2014 – faster than required by California law and UC policy."
UT adopted an overall campus sustainability policy last May. The state's other tier-one public university, Texas A&M University, established a sustainability office two months earlier, in March 2008. The latest initiative on the A&M office's Web site was an Office Sustainability Guide, published in February for use by the Division of Student Affairs.
Both UT and A&M have room for improvement in the sustainability department, according to a private organization's latest critical evaluation of activities at hundreds of campuses around the country.
The College Sustainability Report Card, an interactive Web site produced by the Massachusetts-based Sustainable Endowments Institute features "in-depth sustainability profiles" based on "extensive research." The 2009 Report Card, published last September, awarded overall sustainability grades of C+ to both UT and A&M. Both universities received a C in the area of climate change and energy. (UC-Berkeley, by comparison, received an overall grade of B and an A for climate change and energy.)
– Bill Dawson
Photo Credit: © jollyphoto – Fotolia.com